Two new books arrived in my mail this morning. One I had purchased, the other was a gift.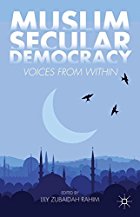 Having skimmed a few pages of each I am already well pleased with my new acquisitions. Stephanie Fisher once commented on one of these, Muslim Secular Democracy, edited by Lily Zubaidah Rahim, and that has only just been released:
It seems to me, from the interview, your summary and the blurb on Amazon, that what she claims is beyond refute. It's historically demonstratable and what I once thought was commonly understood. I do wish those who dismiss Islam with assumptions about a 'heart' etc, would honestly read a bit of history. The more I dwell on it the more convinced I am that this book, combined with Espositos must be read for the sake of a future – for god's sake world, read them and understand….:
Stephanie's remarks about reading and knowing a little history turn out to be a most pertinent message of both my new books.
Another commenter recently asserted, in effect, that the failure of Muslim populations of the Middle East to change their governments demonstrated that they loved oppressive and dark religious authoritarian rule more than freedom and an open society. I wish such readers could have a look over my shoulder as I read the first page of the introduction to Muslim Secular Societies:
In the wake of the political sandstorms unleashed by the "Arab Uprisings," almost every Arab state faces serious political challenges and pressures to reform. Authoritarian governance, both Islamic and secular, has been resoundingly rejected by the Muslim masses. Also resoundingly rejected by the Muslim masses are the violent methods of militant Islamists. (p. 1)
Turn the page and we read this: Continue reading "Two New Books: On Suicide Bombing & Muslim Secular Democracy"