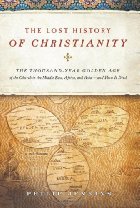 In a recent post I wrote that the Jews in Mesopotamia who were responsible for the Babylonian Talmud would quite likely have had very little contact with the Christianity Westerners are familiar with. An interesting book that gives us a glimpse into the sorts of Christianities these rabbis probably knew is The Lost History of Christianity: The Thousand Year Golden Age of the Church in the Middle East, Africa, and Asia — and How It Died, by Philip Jenkins. But be warned. If you pick it up for snippets of references to that question you risk being drawn into a far more engrossing narrative than you anticipated about the shining lights of civilization in the east at the time all we Westerners know from our schooling is a Dark Age.
On the question of the Christianity that was known to the Jews behind the Babylonian Talmud, what I learned from this book is
the Christianity of the Mesopotamian region was more directly linked historically and linguistically to the earliest Syrian forms of Christianity — with its focus on Thomas and mysticism; they were also known as Nazarenes and called Jesus "Yeshua";
when the Christianity became the ruling religion in the West (4th century) Christians in the Persian kingdom were initially persecuted because they were considered potential fifth columnists;
but as the Western authorities sought religious unity by imposing strictures against "heretical" views, those "heretical" forms of Christianity found a refuge in the Persian dominated East.
The Jews who may have been responsible for those Yeshu and "Nazarene" references in the Babylonian Talmud almost certainly relied upon these Eastern/Syrian Christians who were outcasts from the West for their information about Christianity. (Jenkins does not discuss the relationship of these Christians to the Babylonian Talmud — I am only putting my two plus two together after reading the first few chapters of Jenkins' book.)
Some excerpts of relevance to this question and that I found interesting follow. All the highlighting in the passages is my own. I have linked to names and terms that may not be so familiar to many of us. Continue reading "The Lost Half of Christianity"