I found the following take on Livy's history of early Rome of interest. I reproduce a translation of his own words and conclude with the words of another Roman historian, Arrian (born in the last decade of the first century CE), who likewise found reason to maintain without critical comment myths and divine agents in a history.
Livy's introduction to his work addresses overlaps of myth and history:
Such traditions as belong to the time before the city was founded, or rather was presently to be founded, and are rather adorned with poetic legends than based on trustworthy historical proofs, I propose neither to affirm nor to refute.
It is the privilege of antiquity to mingle divine things with human, and so to add dignity to the beginnings of cities . . . .
(B.O. Foster translation)
Events before Rome was born or thought of have come to us in old tales with more of the charm of poetry than of a sound historical record, and such traditions I propose neither to affirm nor refute. There is no reason, I feel, to object when antiquity draws no hard line between the human and the supernatural: it adds dignity to the past, and, if any nation deserves the privilege of claiming a divine ancestry, that nation is our own; and so great is the glory won by the Roman people in their wars that, when they declare that Mars himself was their first parent and father of the man who founded their city, all the nations of the world might well allow the claim as readily as they accept Rome's imperial dominion.

(Livy Book 1.1. De Sélincourt translation)
Let the myths be myths; let them add their grandeur to the story of Rome's origins. Whether Mars was literally the father of the Romans matters not; that people believe he was is right and proper. The stories are myths? What is your point? Such myths have enabled and maintain Rome's rightful dominion. That's what Livy appears to be saying.
What is important are the moral lessons we can all learn. The past is our textbook to teach us the lessons of right and wrong.
These, however, are comparatively trivial matters and I set little store by them. I invite the reader's attention to the much more serious consideration of the kind of lives our ancestors lived, of who were the men, and what the means both in politics and war by which Rome's power was first acquired and subsequently expanded; I would then have him trace the process of our moral decline, to watch, first, the sinking of the foundations of morality as the old teaching was allowed to lapse, then the rapidly increasing disintegration, then the final collapse of the whole edifice, and the dark dawning of our modern day when we can neither endure our vices nor face the remedies needed to cure them. The study of history is the best medicine for a sick mind; for in history you have a record of the infinite variety of human experience plainly set out for all to see; and in that record you can find for yourself and your country both examples and warnings; fine things to take as models, base things, rotten through and through, to avoid.

(Livy 1.1)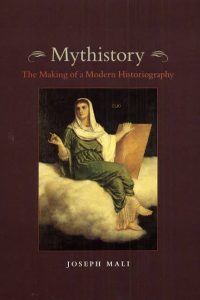 Myths, therefore, embody a value that far exceeds the magic of the supernatural:
Livy knew and explained to the reader that in Roman life and history, such exempla, especially those that pertained to the most crucial period of the foundation of the city, were inevitably historical myths, fabulae rather than monumenta, and thus, by his own account, untrustworthy (corrupta) for historical reconstruction. And yet, the fact that he went on to recount these myths indicates that he found them in some way "trustworthy" – if not for historical reconstruction, then at least for historical interpretation of "what life and morals were like in ancient times. 

(Mali, 37)
Mali's ensuing discussion of the death of Romulus is most interesting. First, Livy's account
One day while [Romulus] was reviewing his troops on the Campus Martius near the marsh of Capra, a storm burst, with violent thunder. A cloud enveloped him, so thick that it hid him from the eyes of everyone present; and from that moment he was never seen again upon earth.

The troops, who had been alarmed by the sudden storm, soon recovered when it passed over and the sun came out again. Then they saw that the throne was empty, and, ready though they were to believe the senators, who had been standing at the king's side and now declared that he had been carried up on high by a whirlwind, they none the less felt like children bereft of a father and for a long time stood in sorrowful silence. Then a few voices began to proclaim Romulus's divinity; the cry was taken up, and at last every man present hailed him as a god and son of a god, and prayed to him to be for ever gracious and to protect his children. However, even on this great occasion there were, I believe, a few dissentients who secretly maintained that the king had been torn to pieces by the senators. At all events the story got about, though in veiled terms; but it was not important, as awe, and admiration for Romulus's greatness, set the seal upon the other version of his end . . . . 

(Livy 1.15-16)
Joseph Mali's comment makes explicit what you might be half-consciously wondering about Livy's words:
Wikipedia: Carracci, Romolo appare a Proculo, (16c.) Palazzo Magnani, Bologna

. . . . but it was not important, as awe, and admiration for Romulus's greatness, set the seal upon the other version of his end, which was, moreover, given further credit by the timely action of a certain Julius Proculus, a man, we are told, honoured for his wise counsel on weighty matters. The loss of the king had left the people in an uneasy mood and suspicious of the senators, and Proculus, aware of the prevalent temper, conceived the shrewd idea of addressing the Assembly. 'Romulus,' he declared, 'the father of our City, descended from heaven at dawn this morning and appeared to me. In awe and reverence I stood before him, praying for permission to look upon his face without sin. "Go," he said, "and tell the Romans that by heaven's will my Rome shall be capital of the world. Let them learn to be soldiers. Let them know, and teach their children, that no power on earth can stand against Roman arms." Having spoken these words, he was taken up again into the sky.'

Proculus's story had a most remarkable effect; the army and commons, cruelly distressed at the loss of their king, were much comforted once they were assured of his immortality.

(De Sélincourt trans.)

Livy is obviously skeptical of the official story of Romulus's disappearance. But, whereas a modem historian would seek to refute this story, Livy chooses to repeat it. Moreover, as we read further in the account we realize that Livy is not really concerned with a historical reconstruction of the event as much as with a historical reconstruction of the story. Leaving aside, and unresolved, the question of what really happened to Romulus then and there, whether he vanished by the storm or by the hands of the senators, Livy concentrates on what happened to him ever after: his deification "as a god and god's son, the King and Father of the Roman City." Livy duly notes that this common, semiofficial "version" of Roman tradition prevailed over the "rumor" of assassination by the senators, not because it is more credible but rather because it is more credulous: "owing to men's admiration for the hero and the intensity of their panic." And these experiential and memorial impressions surrounding the event were, for him, more significant than the actual circumstances in which it occurred, because they initiated a tradition of deification down to his own time. His seemingly innocuous comment that the rumor of Romulus's assassination was rife "even then" tacitly refers to the more recent case of Julius Caesar, in which, in a similar fashion, a ruler who "had been rent in pieces by the hands of the senators" was transfigured into a god. He goes on to describe how this story "gained new credit" through the "shrewd device [consilio]" of Proculus Julius [see inserted box], whose testimony before the assembly on Romulus's godlike reappearance (apotheosis) from heaven with this message to the Romans — "let them cherish the art of war, and let them know and teach their children that no human strength can resist Roman arms" — proved decisive for the moment and for a whole new movement in Roman history. Livy concludes: "It is wonderful what credence the people placed in that man's tale, and how the grief for the loss of Romulus, which the plebeians and the army felt, was quieted by the assurance of his immortality." 

Such comments imply that Livy was well aware of what is now called "the invention of tradition," in this instance that the deification of Romulus was initially a political manipulation of the masses, a fabrication perpetrated by the ruling authorities to masquerade their own deed (the assassination of the king) through symbolic rites of unity and continuity. But Livy was equally, and more acutely, aware of the historicity of tradition, of the fact that traditional beliefs and stories like those concerning Romulus's apotheosis had long passed into and made up Roman history.

(Mali, 38f)
The historical events, or at least what is written up as a historical event, is, Livy infers, poetic tradition, mere fable, but it matters not, since
the alleged consequences of these events — their memories — were historical facts. 

(Mali, 39)