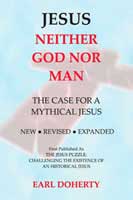 I recently received Earl Doherty's new book, Jesus: Neither God Nor Man. The Case for a Mythical Jesus, and have finally caught up with a chance to begin reading it. It may take a little while since I have a vicious habit of reading several things at once and a need to attend to real life occupations at the same time. But I have made a start by reading the Introduction and have been reminded why I have in the past found exchanges with Doherty both informative and stimulating gateways to knew perspectives. We often disagree, but then again I also tend to find I disagree with myself when I take a re-look at what I wrote a year or more ago.
I cite here a few quotations from Doherty's introduction to his new book that make me look forward to entering new explorations of the evidence with him, and no doubt in dialogue with him, as I read further.
First, however, I might remark that I do not see this particular question — the existence or otherwise of Jesus — as a historical question. It is certainly important for history, but my personal interest is in engaging with the arguments and evidence presented by Doherty with a view to seeing how they might fit in the broader (and more historical) question of Christian origins. Doherty is certainly essential reading for that question. But his focus is, naturally and justifiably, primarily on the cultural question of the origin of what is possibly our central icon.
Enough preliminaries. On to a selection of quotations with a few comments. . . . Continue reading "Introduction to Earl Doherty"