"There are three kinds of lies: lies, damned lies, and statistics."
Recently a commenter posted a raft of figures supposedly establishing as fact that large segments of followers of the Muslim faith are supporters of terrorist violence. The commenter took the figures from an anti-Islamic hate website. The figures themselves are compiled on Muslim Opinion Polls: A Tiny Minority of Extremists?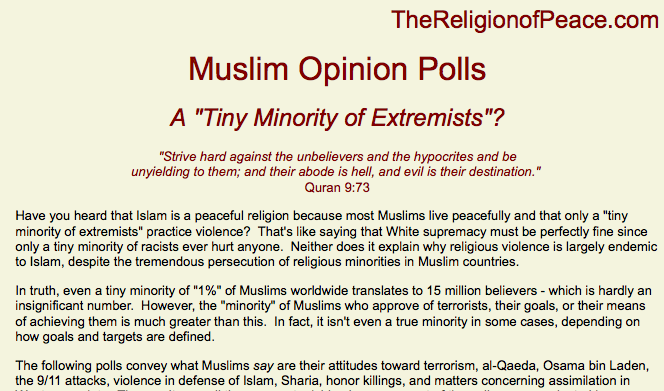 I quote here the figures used to support some dire claims about Muslims along with the results of my own cross-checking of the sources for these figures.
Claim
Almost half of Muslims polled in 2006 supported Osama bin Laden (49.9%).
Fact
This claim is a loaded one. We will see that polling indicates that most Muslims in the Middle East refused to believe that bin Laden was responsible for 9/11. That surely is a significant factor that is important for Westerners to understand. More on this later. Meanwhile . . . .
The poll is no longer available online so we cannot check the source and evaluate the figure against the questions asked and how they were framed and what audiences were targeted. But it does appear that the poll was an online one. That is, people check a tick box online. We don't know if internet users were able to click multiple times from the one computer. Online polls are inevitably problematic in that we have little way to knowing how representative of wider society the respondents are. Continue reading "Damned Lies, Statistics, and Muslims"