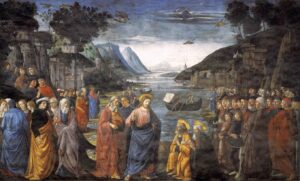 Writing a story about Jesus was not always easy. There was very little by way of sources to help out. Imagination was all too often called for. Take the time when Jesus sends out his twelve disciples to preach in the surrounding towns, for example. What were they going to preach, exactly? They did not yet know that Jesus was the Christ, the Messiah. So they couldn't preach that message. Simply trying to say that the "kingdom of God" was "coming soon" must have seemed a bit flat in the absence of new material of immediate relevance to people's lives to flesh out that message. But miracles. Now they could be said to heal the sick and cast out demons. But that's not really preaching, is it.
But stop and ask what Jesus was doing while his disciples were out "on preaching tour". The towns were hosting his disciples. So where did Jesus go now that he was on his own? Did he take a break and go fishing? That would soon lose its appeal to one who had the power to bring fish up by the hundreds at a mere thought.
More to the point, how did the author of the first gospel narrative about Jesus fill in this gap? He had sent Jesus' companions away after having instructed them in matters of sandals and staves and different household responses and now he was left with Jesus standing on his own. Unless our author could think of different subplot adventures for the various disciples "preaching" some vague message in the towns he had to do something to occupy Jesus for the readers.
But no, since nothing came to mind, our author hit on another solution. The old distraction technique. Now was the ideal time to bring in that delicious little story of how John the Baptist lost his head. He had nowhere else to use it in a story of Jesus but now was the ideal moment. The story of a birthday banquet and a dancing daughter could be colourfully filled out to create a nice interlude for the readers to forget about those preaching disciples and the lost and lonely Jesus for a while.
After that near-chapter length story it was finally appropriate to bring back the disciples from their tour. At least in the readers' minds time had gone by and they did not have to be faced with a return the very next verse or two after they were sent out.
The introduction and placement of the John the Baptist scenario at that point, between Jesus sending out the twelve and their return, functions as a literary salve. A nice curtain interlude from the main plot to allow time to pass off-stage.
Later, the author of the Gospel we identify with Matthew, added many more lurid details to Jesus' instructions for the disciples. Beware, he gloomily warned, of wolves. You are going out to face life-threatening dangers. You will be hauled before magistrates and called upon to answer for your faith. (Faith? They did not yet even know Jesus was Christ!) So in addition to the disciples not having any particular message to preach, those in Matthew were to face dangers that not even Jesus had faced up to that point. No, Matthew was writing from a distance long after the events he narrates. He is writing from the perspective of his own time possibly, I think, quite some decades later. He was retroverting experiences of his own day back into the days of Jesus and his twelve disciples.
Such are some of the little glimpses of how the gospels must have been put together that arise from a thoughtful reading. Thanks in particular, though not exclusively, to the works of Bruno Bauer who made such comments around 170 years ago.