In a single Easter weekend (that still has a day or two to go) . . . .
From happy slaps on the back for the most solemn day of the Christian calendar . . . .


.
to understanding the "real" reason he has critics . . .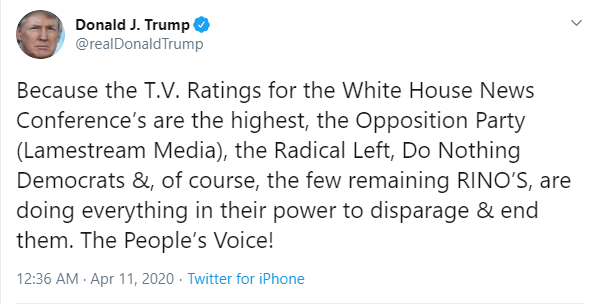 .
to catching up with ten-day-old news and proving he didn't even read it anyway . . .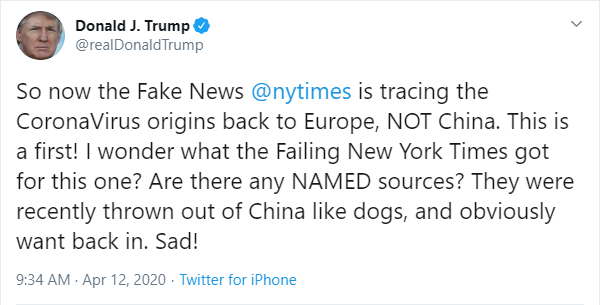 (I first read that "First" news in a 2nd April article of The Intercept: Coronavirus Started in China, but Europe Became the Hub for Its Global Spread. "NAMED sources" in the New York Times article are . . .
Harm van Bakel, a geneticist at Icahn School of Medicine at Mount Sinai
Adriana Heguy, a member of the N.Y.U. Grossman School of Medicine
Maciej Boni of Penn State University
Trevor Bedford, an associate professor at the Fred Hutchinson Cancer Research Center and the University of Washington
Sidney Bell, a computational biologist working with the Nextstrain team
Peter Thielen, a molecular biologist at the Johns Hopkins Applied Physics Laboratory)
.
to not knowing the difference between bacteria and viruses . . . .
So…he doesn't even remember that antibiotics can't touch viruses? They must have told him, they must have told him a hundred times, because that's who he is, but I guess a hundred times he didn't listen. (Ophelia Benson)

Jesus christ, the man is an idiot . . . . He's never more stupid than when he pretends to be smart. (PZ Myers)

TRUMP: "Antibiotics used to solve every problem and now one of the biggest problems the world has is the germ has gotten to brilliant that the anti-antibiotic can't keep up with it. … there's a whole genius to it … not only is it hidden, but it's very smart."
.
To the Dumbing of America . . . 
https://www.youtube.com/watch?v=JohGniYph-c
(I have since discovered Susan Jacoby has an article titled Dumbing of America in a 2008 edition of The Washington Post. To bring her point to the level of the Presidency of the U.S. she compared George W. Bush's "I am the decider" dismissal with F.D. Roosevelt's invitation for his radio audience to have open maps before them so they could more completely follow his speech. Little could she expect what was to come.)

.
Every Single Thing . . . 
Every single thing that could be wrong with a human being is wrong with him. But the single most dangerous thing about Donald Trump is how unbelievably stupid he is. It's not the most dangerous thing in someone who has no responsibilities, but in a President it's the most dangerous thing.

(Fran Lebowitz in interview with Michael Schulman, H/T Butterflies and Wheels)
The following two tabs change content below.
Neil Godfrey
Neil is the author of this post. To read more about Neil, see our
About page.
Latest posts by Neil Godfrey (see all)
---
If you enjoyed this post, please consider donating to Vridar. Thanks!
---