[Note: I'm offering the following as a diversion to get our minds off this terrible timeline. –taw]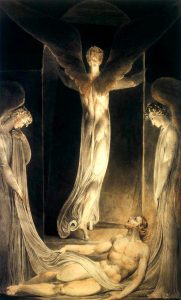 A few years back, I published a post concerning the date of Jesus' birth (Why Is Christmas on the 25th of December?), in which we briefly touched on the idea of symmetry between Jesus' birth and death. I quoted Augustine, who noted the belief, current at the time, that Christ's conception occurred on March 25.
For He is believed to have been conceived on the 25th of March, upon which day also He suffered; so the womb of the Virgin, in which He was conceived, where no one of mortals was begotten, corresponds to the new grave in which He was buried, wherein was never man laid, neither before nor since. But He was born, according to tradition, upon December the 25th. (Augustine, On the Trinity, Book IV, Chapter 5)
Over time, I've become convinced that we can gain more insight into the history of the legends applied to Jesus by examining the symmetry between the incarnation and death legends. Here are a few points to mull over.
Virgin birth/virgin tomb. Mark (Mk 15:46) merely says that the body was laid in a tomb hewn out of rock. Later evangelists felt compelled to explain that the tomb had never been used. See Mt 27:60, Lk 23:53, Jn 19:41.
The first Joseph married the virgin (Mt & Lk). The second owned the virgin tomb. Only Matthew insists that it was Joseph of Arimathea's own tomb.
The wrapping of the body. Shortly after his birth, Luke (and only Luke) tells us Jesus was wrapped in swaddling clothes and laid in a manger. All four evangelists tell us Joseph wrapped the corpse of Jesus before burial. Mark and Matthew refer to a single cloth that covered his entire body (Mk 15:46, Mt 27:59), while John describes "cloths" (Jn 19:40). Luke, curiously, describes the burial with a single cloth (Lk 23:53), but writes about plural "cloths" after the resurrection (Lk 24:12).
What do you think? What other points of symmetry can you find? Do you think the resurrection legends came first? Or was it the birth legends? Or did they arise simultaneously? Or did they inform one another and evolve over time?
Something else to mull over: Did the later birth-in-a-cave narrative come about because of the earlier rock-hewn-tomb narrative?
Happy Easter, everyone, and keep your distance!
The following two tabs change content below.
Tim Widowfield
Tim is a retired vagabond who lives with his wife and multiple cats in a 20-year-old motor home. To read more about Tim, see our
About page.
Latest posts by Tim Widowfield (see all)
---
If you enjoyed this post, please consider donating to Vridar. Thanks!
---