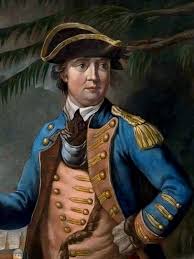 In the winter of 1779 large numbers of these brigands gathered together in the hill country near Philadelphia, at a spot named Valley Forge. They were led by an ex-officer named Washington, who had been impelled by ambition to repudiate his oath of allegiance and place himself at the head of the rebels. From this favorable position they carried out raids on those peaceful farmers in the vicinity who remained loyal to the government. The brigands received much encouragement from the scribblings of a dissolute mechanic named Benjamin Franklin, now almost senile, who in consequence of having printed a number of almanacs for the lower classes considered himself a man of letters. 

Imagined by: Roth, Cecil. 1959. "The Jewish Revolt Against Rome:The War of 66-70 C.E." Commentary, no. 27 (June): 513–22.
Josephus was a traitor. He went over to Roman side so we can imagine that he needed to justify himself in his account of events. If we read a historical narrative of the American War of Independence by Benedict Arnold we might expect a work written in the vein of the above imaginary quotation.
The point: We can't read Josephus's account of the war naively. It is a problem for historians to tease out "the true motives and attitudes behind the actions and personalities which we know only from Josephus's jaundiced pages." (Roth)
The following two tabs change content below.
Neil Godfrey
Neil is the author of this post. To read more about Neil, see our
About page.
Latest posts by Neil Godfrey (see all)
---
If you enjoyed this post, please consider donating to Vridar. Thanks!
---