From E. Gruen's chapter 2, Hellenistic Judaism, available online at DOI: 10.1515/9783110375558
Greek towns dotted Palestine along the Mediterranean coast, in the Lower Galilee, and on both sides of the Jordan. Even Jews in Judea could not isolate themselves completely from Hellenism. Many Jews, especially those in the Diaspora, even lost touch with Hebrew.
Judaism is a very elastic term. It is a mistake to imagine two types of Judaism, a Palestinian Judaism that is "pure" and "Torah" based on the one hand, and a Hellenistic Judaism on the other hand. Rich diversity was found in both.
Diaspora Jews did not confront daily angst over whether or how much to assimilate with their surroundings. They were Greek-speaking and integrated into their local communities and institutions.
Jews used Hellenistic media to express their own traditions and self-definitions.
Jewish works in Greek genres
— they wrote tragic drama modelled on the plays of Greek playwrights — Ezekiel the Tragedian (2nd C bce) wrote a play about Moses that introduced incidents that are more familiar to Hellenistic drama than the biblical story.
— they wrote epic poetry modelled on Homer — Theodotus (2nd C bce) composed a poem about the rape of Dinah and destruction of Shechem, whitewashing the biblical story but demonstrating how everything worked out according to the divine will.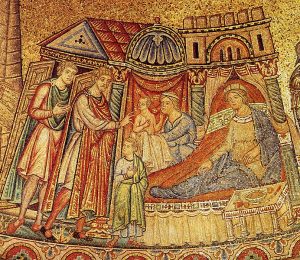 — they wrote novels in the vein of Greek romances — the most well known to us being Joseph and Aseneth. This novel promotes the virtue and power of Joseph and the respect Egyptians have for him, and how those who scorned him at first came to stand in awe of him and even convert to worshipping his god. Even Pharaoh prays to Joseph's god. Relations between Jews and Egyptians is harmonious but only because Egyptians recognize the superiority of Joseph's character and faith.
— they wrote histories modelled on Greek histories — Demetrius (late 3rd C bce) rewrote much of the biblical history but with an attempt to explain and reconcile contradictions and loose ends in the biblical narrative. Eupolemus (2nd C bce) wrote a glorification of the reign of David having him conquer everything from the Euphrates to the Taurus mountains in the north and the Gulf of Aqaba in the south. Solomon, in his account, repays foreigners who helped him build his temple by given them assistance with building their own temples to their pagan deities.
— Another text, the Letter of Aristeas (2nd C bce), presents the Egyptian king marshalling extensive resources just to have the Jewish Scriptures translated into Greek and added to the great Alexandrian royal library. The king, Ptolemy, reveres the Jewish customs and is overwhelmed by the wisdom of Jewish scribes. The Jewish scribes in fact express the noblest of Greek philosophy by speaking of moderation, avoiding extremes, etc. Greek philosophers are inferred to be inferior.
The notion of a barrier that had to be overcome between Jewish and Hellenistic cultures casts precisely the wrong image. The Jewish intellectuals who sought to rewrite their past and redefine their traditions grew up in Diaspora or even Palestinian communities suffused with Hellenism. For them it was their culture. Their ideas and concepts expressed themselves quite naturally in Greek forms. But this in no way compromised, diminished, or undermined their sense of Jewish identity. On the contrary, Jewish thinkers and writers showed little interest in the Trojan War, the house of Atreus, the labors of Heracles, the customs of the Scythians, or the love of Cupid and Psyche. They mobilized the Hellenic crafts of epic, tragedy, philosophy, romance, and historiography to reproduce the record of their own people, to convey their conventions, and to enhance their achievements. (p. 40)
Jewish Construction of Greek Culture and Ethnicity
Continue reading "How Second Temple Jews Related to their Greco-Roman World"