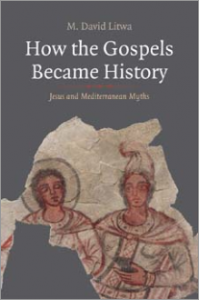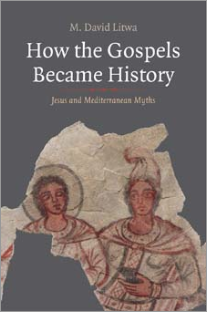 If the gospels are mythical stories that have been presented as history then what value can they have for anyone today and how can we treat the gospels as a source for studying the historical Jesus? Those are the questions M. David Litwa addresses in the last pages of How the Gospels Became History: Jesus and Mediterranean Myths.
In answer to the first question Litwa writes:
Both the scholar and the believer can recognize that gospel stories are transformative, if for different reasons. For the believer, the power often derives from divine inspiration and the salvific function of the myths. For the scholar, the power of gospel myths frequently lies in their versatility and world-making potential. The scholar and the believer can also, of course, be the same person.


(Litwa, p. 212)
I think of Thomas Brodie who does not find any historical core behind the gospel myths, not even a historical Jesus, who nonetheless finds meaning in the myths and has remained a Christian. But Litwa does believe a historical core does lie behind the myths. On what basis does he believe that?
"So let's assume there actually was a corpse. What happened to it? There are only two possibilities. Either it was revivified, the way the Gospels tell it, or it wasn't. If it wasn't, it stayed on earth. There isn't any third possibility. What happened to the body? Did it come alive or didn't it?" [from The Flight of Peter Fromm]

The horns of this dilemma have gored the faith of some people. The meaning of Jesus's resurrection—and of Christianity itself—is widely assumed to hang on its historicity. The value of any sort of "spiritual meaning" is discounted if there is no historical and physical basis for it. . . .

. . . [Peter Fromm] identifies the real with the historical (in the sense of "what happened"). Yet in the game of historical writing we never actually know exactly what happened. Historicity is not a cross from which the truth hangs in all its glory. It is at best a social agreement that someehing happened in the past. This assertion is not merely an outgrowth of postmodern philosophy; the ancients suggested something similar. The sophist Nicolaus (late fifth century CE) wrote that historical narratives are about past events acknowledged by consensus (homologoumenos') to have happened. I emphasize "by consensus." Historians do not have direct access to a past occurrence, though they might agree that it happened.

(Litwa, p. 213)
Litwa would say I am being too specific and should say that it is the consense of "historians" more generally. My response to the idea that most people take for granted the historicity of Jesus is found in an earlier post: Is it a "fact of history" that Jesus existed? Or is it only "public knowledge"? I prefer to narrow the point to "biblical scholars" because they are the ones who have set about to study Jesus.
Compare Johnston's point: [A hero's multiple versions/'plurimdiality'], and the intimate connection to [the hero] that this fostered in individuals, helped to create and sustain for some (perhaps all) the very assumption that he existed, which, in turn, sustained the practice of his cults.
It follows that Litwa knows that Jesus was crucified because that is the consensus of biblical scholars —
The current consensus regarding the "historical Jesus" is that he lived in Palestine, that he was a Jew crucified around 30 CE by Roman authorities.

(Litwa, p. 213)
and a few pages on  —
I do not deny the historical basis for some gospel stories (notably the crucifixion)32

32. Here one might talk of "aspects of historicity," as in Paul N. Anderson, Felix Just, and Tom Thatcher, eds., John, Jesus, and History, vol. 2, Aspects of Historicity in the Fourth Gospel (Atlanta: SBL, 2009).

(Litwa, pp. 218, 266)
The irony! The attempts to make a case for "aspects of historicity" in the Gospel of John in the cited volume are often the same tropes that in the earlier discussion were said to make myths believable! All page references in the following section are to the Anderson, Just and Thatcher volume Litwa cited above. (The following section is my response to Litwa's insistence that there is a historical basis to some of the gospel stories.)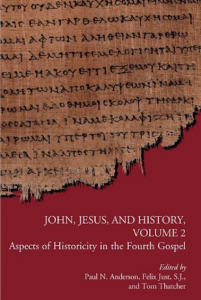 — role of eyewitness testimony
e.g. Culpepper engages the recent work of two scholars (Howard M. Jackson and Richard Bauckham) who argue that John 21:24 is an autobiographical note indicating that the author of the Gospel is the Beloved Disciple. In this view, the Gospel of John is based on the eyewitness testimony of a follower of Jesus and makes that claim explicitly in the narrative. (p. 372)
— context of mundane history and life
e.g. [W]hile the Johannine Prologue opens the Fourth Gospel as a confessional piece used in worship, it also bears witness to first-hand encounter with the object of its confession: the fleshly Jesus grounded in mundane history. (p. 380)
e.g. Miller and others, however, find it historically plausible that Jesus himself had an encounter with a Samaritan woman. Evidence for this includes . . . the Gospel's familiarity with Samaritan beliefs about the location of worship and the coming of an eschatological prophet, and the fact that some Galileans did travel through Samaria on their way to and from Jerusalem. (p. 100)
e.g. There are several factors of historical realism in this narrative. . . . [T]he narrator's featuring factors of personal hygiene and comfort contribute to the mundane realism of the presentation. … In conclusion, given the cultural context, it is highly plausible that a Jewish person in first-century Galilee would perform a footwashing. Therefore, it is plausible that Jesus performed a footwashmg as he gathered for a final meal with his disciples in Jerusalem. On the bases of Jewish and Hellenistic literature, religious and societal customs, other presentations of fopMashing in the New Testament literature, and various aspects of historical realism, this scenario in John demands renewed consideration as a historical event . . . (pp. 259, 260)
— detailed knowledge of topography
e.g. There does not seem to be any apparent theological motivation for linking these disciples to Bethsaida, which enhances it the likelihood that reflects early tradition that might be historically accurate. (p. 96)
e.g. Miller and others, however, find it historically plausible that Jesus himself had an encounter with a Samaritan woman. Evidence for this includes the remarkable accuracy of the geographical references to Jacob's well . . . . (p. 100)
e.g. Whereas modern interpreters have characteristically doubted the historicity of the narrative because of the narrator's explicit comment on the meaning of the name Siloam, "sent .. (9:7), von Wahjde's essay obliterates the basis for such moves. The name of the pool is indeed theological, but there also was a real pool by that name. Its newly discovered features call for a radical reevaluation of the originative historical backdrop of John 9. (p. 231)
— alternative reports (including Johnston's observation that the narrative variations and episodic character of Greek myths engaged imaginations in a way that "made them more real" to believers)
e.g. [James McGrath] notes that in John's account of the temple cleansing there are unique details that do not seem to be derived from the Synoptics and yet do not appear to have been introduced for theological reasons. Such details include the whip of cords, the oxen, and the sheep. John may have derived these from an independent tradition. (p. 97)
e.g. Since the tradition concerning these parallel ministries created problems that needed to be addressed, it might well have been historical. (p. 99)
e.g. On the one hand, van Os affirms the historical reliability of the Gospel of John: in addition to cohering with the outline of events at the Last Supper known from the Synoptic traditions, the composer of the Fourth Gospel appears to have regarded many of the traditions that he received (possibly from the Beloved Disciple) as authoritative, so he used them much more cautiously than later Christians would. Jesus traditions found in John can be trusted. (p. 371)
e.g. Labahn suggests that renarration may be the main way that historically reliable and enduring memories of Jesus and his ministry can be discovered. . . . it is the diversity of the memories, not the underlying principles, that gives the portrait of the historical Jesus its vitality. (p. 375)
e.g. Johannine-Synoptic similarities and differences inform Johannine historicity in a variety of ways. On the one hand, parallels with Synoptic renderings suggest a Johannine alternative presentation of an event similar to other ones:
the woman at the well is similar to the Syrophoenician woman in Mark and elsewhere (Miller);

 

the healing of the royal official's son from afar is similar to the healing Q of the centurion's servant in (Judge);

the feeding of the five thousand is parallel to all five Synoptic feeding narratives (Evans, Anderson);

the healing of the blind man is similar to Synoptic healing narratives and concerns for ritual purity (von Wahjde, Klink);

Jesus' being anointed (his head or his feet?) by a woman and some association with and Martha in Luke (Bauckham, Witherington, Tovey) is interesting;

the trials of Jesus are fraught with historical realism filling out Synoptic presentations (Bond);

and the love commandments of Jesus in John reflect a community-appropriation of his teachings in ways that complement the Synoptic injunctions to love one's neighbors and enemies (Burridge).
. . . . In the light of these analyses, Johannine-Synoptic similarities and differences function to confirm John's historicity in some analyses and disconfirm it in others.
(pp. 383-84, my formatting)
The tropes that have been identified as making myths credible as history are used to assess "the historical basis of some gospel stories".
Litwa wishes New Testament scholars were more knowledgeable of "classical and comparative mythology":
Compare
the post
on Ronald Hock's chapter "Why New Testament Scholars Should Read Ancient Novels".
New Testament scholars are often trained as historians and literary scholars but are rarely given proper instruction in classical and comparative mythology. Perhaps it is time to redirect some of the energy that goes into examining the "historical Jesus" into studying Jesus as one of Western culture's historicized myths. . . . 
What, then, is the end of our story? The four gospels are a profoundly significant corpus of history-like myth — and not just for religious readers. For all who treat mythology in literature courses, classes in mythology, or in Western civilization, the stories of Jesus should be studied and treasured. These stories, moreover, should be compared with other stories of collective importance throughout the globe and across the centuries. They should appear in our handbooks and journals of comparative mythology and find a place in conferences and other venues that go far beyond the of confines of biblical studies. The study the gospels has a sure place in the humanistic university if, that is, its stories are reclassified as myths — myths that in manifold ways can still become our own.
(pp. 221 f)
The question we must ask, then, is this: On what basis does the "consensus" agree that there is any historical basis to the gospel narratives at all?
Litwa's answer that the New Testament scholar attempts to discern what is plausible and that, since there are degrees of plausibility, what is the most plausible:
The "historical" is a human construction, and what defines it, as Jens Schröter observes, are the current conditions of plausibility. The "reality" of the historical Jesus is determined by what is "plausible in light of current presuppositions of understanding."26 By admitting this, one also admits that there is no stable reality of Jesus and that our shifting sense of what is reality in part determines the Jesus who is considered to be plausible today.27


(p. 216)
Litwa adds in the endnotes:
26. . . . the final sentence of Schröter's long essay: "The result [of Jesus research] is a historical construction that makes the claim to be plausible under current conditions of knowledge" . . .

27. Plausibility has become a major criterion for historicity. . . .


(pp. 265 f)
The word plausible is used 70 times and plausibility 67 times in the Anderson, Just and Thatcher volume on "aspects of historicity" quoted above. Judgements of historicity are made according to what is the most plausible. Of course, that does not mean certainty but if a consensus develops around a few data points that are deemed to be highly plausible then that is what is taken to be bedrock historical fact.
You would be correct to be thinking that one cannot logically leap from plausibility to concrete fact but Litwa explains why in his view we can go no farther than plausibility:
Both the modern and postmodern historian represent what is taken to be "real," but they understand reality in different ways. The modern historian typically assumes that the object of his or her discourse is real because it corresponds to an event in the past. (Since the past is gone, however, no historian's account can actually be verified.) The postmodern historian can also claim that his or her material corresponds to something. What it corresponds to is not some event in the past but a reality in the human imagination that has been informed by the traces of the past (both material and textual). . . . 

An event becomes an event by passing through the laboratory of the human imagination. What humans remember as an event is something that has been crafted and cooked in the human mind. Hayden White remarked almost forty years ago, "How else can any 'past' which is by definition comprised of events, [and] processes … that are considered to be no longer perceivable, be represented in either consciousness or discourse except in an 'imaginary' way? Is it not possible that the question of narrative in any discussion of historical theory is always finally about the function of imagination in the production of a specifcally human truth?"29

. . . 

As works of the imagination, historiography and mythography are never completely opposed.

(Litwa, pp. 216-17)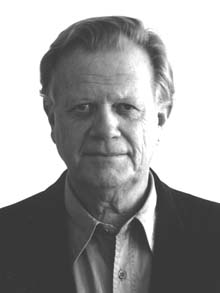 The essay by postmodernist historian Hayden White that Litwa cites (note 29) is "The Question of Narrative in Contemporary Historical Theory". White is not talking about knowing and verifying the reality of past facts (e.g. the existence of the ancient Roman emperors, the Jewish War of 70 CE, etc.) but rather he is talking about the narratives created by historians from these verifiable facts. (White even refers to historians who do not create narratives but focus on analytical discussions of the facts verified by physical and literary evidence.) Facts alone are not "history". Facts alone are often meaningless. We need to interpret them and weave them into stories to write "history".
However, I believe Litwa, like a good number of other New Testament scholars who have addressed the question of historical knowledge, has misapplied the postmodernist's discussion. When White speaks of history as an imaginative narrative and that says that a historian can only reconstruct past events in his or her imagination, he is not referring the supposed impossibility of verifying the "fact" of a past event or person. The mere "fact" of a past event or person is not of itself history.
Litwa is correct when he says
"What happened" is, all too often, chaotic, meaningless, and even absurd. On a Friday afternoon outside Jerusalem in 29 CE, it seems, a man was nailed naked to a cross and left there to asphyxiate. Let us affirm that he was innocent. This state of affairs only makes his death more absurd. The brute (and brutalizing) "fact" of this violent death actually means nothing in itself. Only when the event is understood according to mythic patterns — a primordial sacrifice, a martyr's death, a victory over daimons, and so on — does it begin to mean something and become collectively important. Only when it is seen as a product of the imagination is the story itself redeemed.

(Litwa, pp. 217 f)
Yes, we must represent past events in our imaginations. But it is misleading to say that "since the past is gone . . . no historian's account can actually be verified." The facts of what happened are not usually to be identified with a historian's narrative of those events. An account or narrative or story of events is distinct from the raw bare facts themselves. Facts that happened in the past can be verified. That's because they left things, including manuscripts, that verify for us that Augustus Caesar, for example, ruled the Roman empire, that George Washington was the first president of the United States, that Socrates was known to have stimulated Athenians to question issues in their lives. We have masses of documents and physical remains that verify the events of the Second World War for us.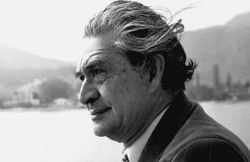 Yes, the bare fact of Jesus' death is meaningless. Interpreting that event through mythic tropes does give it meaning. But the problem facing New Testament scholars is that the sorts of evidence we have that enable us to verify the "facts" of other ancient figures and events are lacking for Jesus. See, for example, discussions of what we can and can't know about ancient history from our written sources by the ancient historian Moses I. Finley. I will quote just one extract here:
One simple example will suffice. When asked by the Pharisees for 'a sign from Heaven', Jesus replied, 'There shall be no sign given unto this generation' (Mark viii, 11-12). Goguel comments:
This saying is certainly authentic, for it could not have been created by primitive Christianity which attached a great importance to the miracles of Jesus … This leads us to think that Jesus did not want to work marvels, that is to say, acts of pure display.
It follows that stories like those of Jesus walking on water are 'extremely doubtful'. His healing, on the other hand, may be accepted, and, in conformity with the beliefs prevailing at the time, 'it is true that these healings were regarded as miracles both by Jesus himself and by those who were the recipients of his bounty.'
This application of the 'psychological method' is neat, plausible, commonsensical. But is the answer right? Not only in this one example but in the thousands upon thousands of details in the story upon which Goguel or any other historian must make up his mind? I do not know what decisive tests of verifiability could possibly be applied. The myth-making process has a kind of logic of its own, but it is not the logic of Aristotle or of Bertrand Russell. Therefore it does not follow that it always avoids inconsistency: it is capable of retaining, and even inventing, sayings and events which, in what we call strict logic, undermine its most cherished beliefs. The difficulties are of course most acute at the beginning, with the life of Jesus. One influential modern school, which goes under the name of 'form-criticism', has even abandoned history at this stage completely. 'In my opinion,' wrote Rudolph Bultmann, 'we can sum up what can be known of the life and personality of Jesus as simply nothing.' 

(Finley, p. 178)
Finley was pointing out that there is relatively so very little in ancient history that can be verified and genuine historical work with verifiable events and situations covers a far more limited range than we often think, but the means of verification for anything about Jesus are non-existent.
The irony of Litwa's position is highlighted when we learn that New Testament scholars are seeking to find historical plausibility and through consensus "history itself" by appealing to the factors that he has already explained made even ancient Greco-Roman myths seem real to ancient persons.
What White is saying is that we can only represent past events in our imaginations. That should be a truism.
How else can any "past," which is by definition comprised of events, processes, structures, and so forth that are considered to be no longer perceivable, be represented in either consciousness or discourse except in an "imaginary" way?

(White, p. 33)
It does not follow that the events themselves cannot be verified as having happened. All news reporting is about past events that serious journalists work at verifying. Court cases are about past events that can only be imagined by those present in the courtroom but the whole rationale for the court process is to verify what happened.
Thus endeth my discussions of M. David Litwa's How the Gospels Became History. I have found engagement with Litwa's book informative and enlightening. And I think the publisher for sending me a review copy.
---
Anderson, Paul N., Felix Just, and Tom Thatcher. 2009. John, Jesus, and History. Volume 2: Aspects of Historicity in the Fourth Gospel. Atlanta: Society of Biblical Literature.
Finley, M. I. 1972. Aspects of Antiquity: Discoveries and Controversies. Harmondsworth, Middlesex, England: Penguin.
Litwa, M. David. 2019. How the Gospels Became History: Jesus and Mediterranean Myths. New Haven, CT: Yale University Press.
White, Hayden. 1984. "The Question of Narrative in Contemporary Historical Theory." History and Theory 23 (1): 1.
---
To order a copy of How the Gospels Became History: Jesus and Mediterranean Myths at the Footprint Books Website with a 15% discount click here or visit www.footprint.com.au

Please use discount voucher code BCLUB19 at the checkout to apply the discount.
The following two tabs change content below.
Neil Godfrey
Neil is the author of this post. To read more about Neil, see our
About page.
Latest posts by Neil Godfrey (see all)
---
If you enjoyed this post, please consider donating to Vridar. Thanks!
---