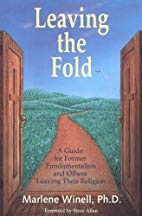 I concluded my previous post with "Why do I need the middle man (or god or spirit or totem pole)? Is there not a more efficient and honest way?" That sounds flippant, perhaps. In reality life after years of relying on the crutch of faith can be very difficult at first. One no longer has a pole that enables getting over the impossible bar. Self-doubts can come back at the most inconvenient moments.
Chance had me listening to a radio interview with a psychologist who had a fundamentalist background and who had written a book, a "guide for former fundamentalists and others leaving their religion." Everyone is different so my own experiences of psychological recovery would be relevant to only a few others, but Marlene Winell's book covers a wide range of insights and exercises or pathways for people damaged by their religious experiences to recover and enter "normal life" as healthy, "normal" individuals. I especially appreciated her various suggestions relating to seeing oneself as a child, lovable, accepted no matter what, as a pathway to overcoming self-loathing and maintaining a positive and healthy self-acceptance.
No doubt there are many other books that are on the same topic and that others have found very helpful in their recoveries. But Winell's Leaving the Fold was the one that helped me and to which I often returned to keep on an even keel.
Feel free to add other books that you or others you know have found especially helpful in psychological, emotional recovery after religious indoctrination and negative pressures.
(Ed Babanski has a book by the same title, Leaving the Fold, but I think that has a slightly different emphasis. It is a collection of various types of testimonies of former fundamentalists who have found different directions after their life of faith.)