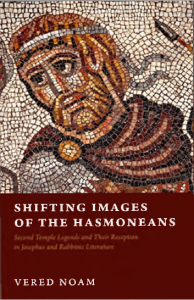 Of special interest to many readers are questions over the authenticity of passages about Jesus and John the Baptist in Josephus's Antiquities.
We know the tell-tales signs that a passage has been inserted into Josephus's Antiquities:
It breaks the narrative flow of the surrounding passage;
It contradicts what is known about information from other sources or even elsewhere in Josephus's work;
It can be out-of-place chronologically;
It appears to assume certain details are found elsewhere in Antiquities but that are not found anywhere else;
It introduces details in which Josephus appears to have no interest in the rest of his work.
But what if Josephus himself was responsible for those interpolations? A study by Vered Noam sets out evidence for thinking that Josephus was responsible for a series of additions to an otherwise completed narrative history. We know that textual "corruptions" were very common throughout antiquity (for some details see Forgery in the ancient world) so the question that we need to ask as we read Antiquities is: Is this interpolation by Josephus or some subsequent copyist?
To illustrate a case for an interpolation by Josephus into his own work I copy a table from Vered Noam's Shifting Images (p. 69). Close to twenty years after completing the Jewish War (75-79 CE) Josephus modified and expanded that earlier narrative by adding — interpolating — new material in Antiquities (93/94 CE). (I have added the older passage location references — e.g. III. 7 — that many of us relying on Whiston translation know better than the Loeb Classical Library numbering.)
Comparison of Antiquities and War
Antiquities 13
War 1
275-81

(X. 3)

Conquest of Samaria and
Beth-Shean
64-6

(III. 7)

Conquest of Samaria and
Beth-Shean
282-3

(X. 3)

John Hyrcanus and the
heavenly voice
284-7

(X. 4)

Egyptian Jewry
288

(X. 5)

Hyrcanus's success and
Jewish envy
67

(III. 8)

Hyrcanus's success and
Jewish envy
The first passage interpolated to make up the new Antiquities narrative departs from the political and military exploits that were Josephus's initial interest and propaganda for gentile audiences; the added anecdote introduces a theme much more at home among Diaspora Jews who found their identity primarily in traditions and texts of a maligned Judaism. This is but one of several interpolations that point to a different interest of Josephus twenty years after the destruction of his home-base of worship and cultural identity.
Whereas in War Josephus denounces the fomenters of the Jewish revolt that led to the destruction and praises the Flavian dynasty, which in Josephus's eyes was forced to destroy the temple against its will, in Antiquities Josephus takes upon himself the role of an advocate for persecuted, maligned Judaism. Daniel R. Schwartz has pointed out fresh proofs of Josephus's growing attachment to Jewish tradition while composing Antiquities, suggesting that the shift was grounded in the typical insight of Diaspora Jews that the taken-for-granted aspects of territory, language, and the desire for sovereignty no longer defined their national identity. . . . Recently Michael Tuval devoted a comprehensive study to this topic. He traces Josephus's transformation from a Jerusalem priest whose Jewish identity was grounded in the temple and its cult, reflected in War, to a Diaspora Jew whose identity derived from ancestral tradition, canonical texts, and study and observance of Jewish law, found in Antiquities. (16f)
I should make clear that this post addresses but one facet of Noam's larger and more meaningful point. Noam compares parallels between much later rabbinic literature and related stories as we find in Josephus's Antiquities. She demonstrates that the rabbinic parallels were not taken from Josephus but from a third source common to both the rabbis and Josephus. In this way we can begin to glimpse remnants of historical traditions, written or oral, that were extant in Second Temple times but have not been preserved in any other literature.
The brief story of John Hyrcanus hearing the voice in the temple belongs to a distinctive genre of "priestly temple legends". Another one that many of us are more familiar with is the story of the high priest of Jerusalem going out to meet Alexander the Great. A high priest stands between God and the people at a moment of crisis. The drama is not found in a gory description of a battle but in an account of God communicating with his mediator in the temple.
We can see how this heavenly voice story interrupts the narrative flow of military conquest and consequent envy over that success. Here is the section first from the Whiston translation with the interpolation in indigo, followed by Noam's translation:
But as to Callimander, he attacked the enemy too rashly, and was put to flight, and destroyed immediately; and as to Epicrates, he was such a lover of money, that he openly betrayed Scythopolis, and other places near it, to the Jews, but was not able to make them raise the siege of Samaria. And when Hyrcanus had taken that city, which was not done till after a year's siege, he was not contented with doing that only, but he demolished it entirely, and brought rivulets to it to drown it, for he dug such hollows as might let the water run under it; nay, he took away the very marks that there had ever been such a city there.
Now a very surprising thing is related of this high priest Hyrcanus, how God came to discourse with him; for they say that on the very same day on which his sons fought with Antiochus Cyzicenus, he was alone in the temple, as high priest, offering incense, and heard a voice, that his sons had just then overcome Antiochus. And this he openly declared before all the multitude upon his coming out of the temple; and it accordingly proved true; and in this posture were the affairs of Hyrcanus.
Now about the high priest Hyrcanus an extraordinary story (παράδοξον) is told (λεγται) how the Deity communicated with him, for they say (φασί γάρ) that on the very day . . . on which his sons fought with Cyzicenus, Hyrcanus, who was alone in the temple, burning incense as a high priest, heard a voice saying that his sons had just defeated Antiochus . . . . (283) And on coming out of the temple he revealed this to the entire multitude, and so it actually happened. This, then, was how the affairs of Hyrcanus were going.
Tell-tale signs of interpolation, apart from the disruptive subject matter (incorporating motifs of temple, prophecy, heavenly signs of events about to happen or that have happened far away) itself:
the expressions "is told" and "for they say" indicate that a folktale is being introduced
the account is closed with "and so it actually happened" and then Josephus signals the end of the anecdote by adding "this, then, was how the affairs of Hyrcanus were going", so returning the reader back to his main narrative.
in this passage alone Josephus uses the expression "high priest Hyrcanus" — elsewhere he always speaks of him as Hyrcanus alone; we thus have an indication of a rabbinic or older Jewish source.
There is much more detail than I can comfortably cover in a blog post but I hope I have given some hint of the sorts of arguments advanced by Vered Noam.
Here is an abbreviated list interpolation indicators identified not only by Noam but other scholars of Josephus as well:
The traditions with rabbinic parallels appear only in Antiquities, not in War — thus interpolated into and existing narrative;
They are generally closed unites, with clearly marked beginnings and ends;
They stand out as breaks in the surrounding narrative — removing them only enhances the larger narrative flow;
They stand out as independent traditions that are incongruent with the narrative context (e.g. stories about internal Jewish affairs in the midst of accounts of military and political events);
The interpolation creates tension with or contradicts the surrounding narrative (e.g. break in chronological order, duplication or repetition, a person or group might be characterized quite differently from their character elsewhere in Antiquities;
There are external markers or literary features to mark the introduction and close of the new material — see #8 to #11 following;
Sometimes there will be "unrealized cross-references" to other material;
Sometimes Josephus will introduce the new material as an oral tradition with expressions such as "they say";
There are certain recurring patterns suggesting interpolation (e.g. brief precis of the contents of the interpolation, followed by the phrase "the reason for this was" and similar formulas, and then the source itself;
Repetitive resumption: thus after the interpolation Josephus returns to the final sentence of the preceding unit;
"About this time" often introduces new and incongruent material;
So back to John the Baptist and Jesus . . . 
I have given but one small part of one of six detailed discussions of Josephan interpolations in Antiquities. So you have the general idea.
So how does the above affect our discussions about the authenticity of any part of the Jesus passage (Testimonium Flavianum) and John the Baptist?
If nothing else, I think the above should help us avoid focusing too much attention on the technical indicators (as per #1 to #11 above) of interpolation. Of course if there are other technical indicators of interpolation that do not overlap with any of the above then surely they will carry significant weight. Arguments relating to what we know about Josephus as a person, his values and interests, will certainly become central.
–o–
Special thanks to Greg Doudna for alerting me to Noam's Shifting Images.
---
Noam, Vered. 2018. Shifting Images of the Hasmoneans: Second Temple Legends and Their Reception in Josephus and Rabbinic Literature. Oxford University Press.
---
The following two tabs change content below.
Neil Godfrey
Neil is the author of this post. To read more about Neil, see our
About page.
Latest posts by Neil Godfrey (see all)
---
If you enjoyed this post, please consider donating to Vridar. Thanks!
---