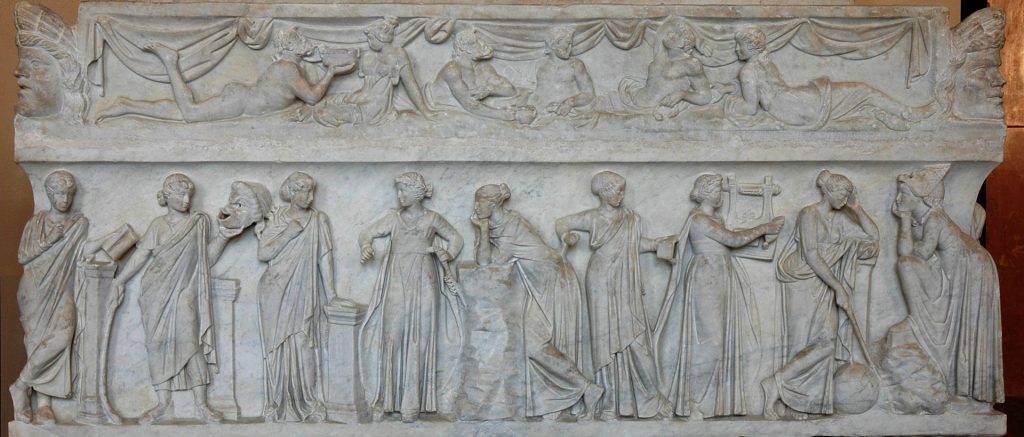 The ancient community of scholars attached to the Alexandrian Museum had a "religious character" since it was headed by a royally appointed priest and devoted to the service of the goddesses known as the Muses. This community produced the classical canon consisting of Homer, Hesiod, nine lyric poets, various playwrights and philosophers. Another collection of divinely inspired texts followed.
What is noteworthy about this development of the classics or "canon" of Greek literature is the way in which it anticipates the similar development of the "canon" of the Hebrew Bible. It begins with Homer as the undisputed authoritative "canonical" work for all Greeks in the same way that the Pentateuch became the most important work for the Jews. To Homer and Hesiod, the great epics, the Alexandrians added other categories and works, but none drawn from their own time. They were all the great works of a past era. For the most part, the works were accepted as those of the first rank, without dispute, not only within the Hellenistic world, but especially by the Roman literati as well. . . . . 

One important aspect of the so-called Alexandrian canon is the fact that it comprises lists of persons, epic and lyric poets, orators, historians, philosophers, and so on, along with their genuine written works and excluding the works that were spuriously attributed to them. Canonicity therefore entailed known authorship.

Now a problem with most biblical literature is that it is anonymous. Yet it is precisely this impulse to follow the Hellenistic practice of creating an exclusive "canon," a list of the classics of biblical literature that also came from the age of inspiration, that leads to the impulse to ascribe all of the works within this inspired corpus to individual authors: Moses, Joshua, Samuel, David, Solomon, and so on. Indeed, it is this notion of authorship that accounts, more than anything else, for the inclusion of some works, such as Song of Songs and Ecclesiastes, into this fixed corpus.

Furthermore, there can be no canon, whether classical or biblical, without known authors, because anonymous works were undatable in antiquity; and if they could not be attributed to "inspired" persons from the age of inspiration, they had to be excluded. It may also be noted that most pseudepigraphic works were specifically attributed to "canonical" authors or the notables who belonged to that ancient period.

(John Van Seters, The Edited Bible, pp. 40-41 — bolding and formatting mine. Italics original.)
The following two tabs change content below.
Neil Godfrey
Neil is the author of this post. To read more about Neil, see our
About page.
Latest posts by Neil Godfrey (see all)
---
If you enjoyed this post, please consider donating to Vridar. Thanks!
---