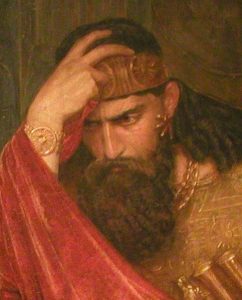 While thumbing through Cristiano Grottanelli's Kings and Prophets: Monarchic Power, Inspired Leadership, and Sacred Text in Biblical Narrative, I remember now why I snatched it up a couple of years ago. For some time now, I've been working on a simple thesis that would explain the silence regarding Jesus' actual teaching in the epistles (of Paul, pseudo-Paul, and others).
The Threefold Office
Simply put, I suggest that the root of the issue arises from the earliest Christians' conception of the messiah and to which office or offices he belonged. We see for example, in Paul's discussion of the lineage of David, the concept of a kingly messiah. On the other hand, we see in the book of Hebrews a detailed conception of the messiah as priest.
However, in the earliest texts we see practically no hint of Jesus as prophet. Not until the gospels, written decades later, do we find concrete evidence — the strongest, of course, coming from Jesus himself. First in Mark:
But Jesus said unto them, A prophet is not without honour, but in his own country, and among his own kin, and in his own house. (6:4, KJV)
Copied in Matthew:
And they were offended in him. But Jesus said unto them, A prophet is not without honour, save in his own country, and in his own house. (13:57, KJV)
Edited in Luke:
And he said, Verily I say unto you, No prophet is accepted in his own country. (4:24, KJV)
And referred to in John:
For Jesus himself testified, that a prophet hath no honour in his own country. (4:44, KJV)
These statements are obviously late and apologetic in character. They seek to explain why Jesus' own family, village and nation rejected him. But they also point to a seismic shift in the conception of Jesus and which category (or categories) he belongs to. The identity of Jesus is bound up in Christians' conception of him as king, priest, and (lastly) prophet.
These categories, by the way, would be further crystalized by later church writers such as Eusebius (Church History, Book I, 3:8) — 
And we have been told also that certain of the prophets themselves became, by the act of anointing, Christs in type, so that all these have reference to the true Christ, the divinely inspired and heavenly Word, who is the only high priest of all, and the only King of every creature, and the Father's only supreme prophet of prophets.
— and finally into the doctrine of the Threefold Office. Before that, with the Twofold identity of Jesus as priestly king, we have the Christ of the Epistle to the Hebrews who says nothing, but only acts to show his righteousness and obedience. We have the Christ of John's Revelation who makes proclamations and judgments. Without that third office, Christ cannot be a teacher who inculcates disciples on Earth.
Poor Old King Saul
Some characters in the OT have combined the offices of warrior leader, prophet, and sacrificer. In the tribal era of the judges, charismatic war chieftans channeled God directly (filling the office of prophet) and performed ritual sacrifices. But by the time of the monarchy, these offices had to remain separate. The warrior king, of course, was a new thing. Before Saul, no human had borne the title of melekh.
Saul has always intrigued me. Truth be told, I've always felt sorry for him. You may have noticed that Vridar's Facebook cover image is the Suicide of Saul.
It seems Saul couldn't do anything correctly. He makes a fool of himself mixing in with ecstatic prophets.
And he too stripped off his clothes, and he too prophesied before Samuel and lay naked all that day and all that night. Thus it is said, "Is Saul also among the prophets?" (1 Sam 19:24, ESV)
The people know that he has stepped out of his category. What is Saul? Is he a king, and a prophet? How is that possible?
He disobeys Yahweh and performs an unlawful sacrifice, to the disgust and rage of Samuel.
[13] And Samuel said to Saul, "You have done foolishly. You have not kept the command of the Lord your God, with which he commanded you. For then the Lord would have established your kingdom over Israel forever. [14] But now your kingdom shall not continue. The Lord has sought out a man after his own heart, and the Lord has commanded him to be prince over his people, because you have not kept what the Lord commanded you." (1 Sam 13:13-14, ESV)
Saul is a king, not a priest, and not a prophet. Yet in this transition period, he doesn't understand his proper place. In fact, he appears on the brink of madness.
Napoleon's ulcer
And here we see that nugget theory of history recently discussed by Neil again raise its clownish head. Grottanelli warns against such readings of the text, based on that urge to salvage some narrative, historical logic from religious writings. They are, he argues, unified documents with narrative structure, albeit constructed from earlier traditions.
Even though this unity is a constructed and later development, it nonetheless responds to an intriguing design which, with many subtleties, informs every book of the text and the text as a whole. This tendency to avoid studying the books of the Old Testament as a unity that transcends its diverse sources, coupled with the search for "true" historical facts reconstructed on the basis of textual fragments, has generated the most childish of misunderstandings.

This being the case, it is not banal to state that the books of the Old Testament should be studied as any other text. It is right to apply to them, under the same constraints that apply to any other text, every new methodological approach that would clarify its entire semantic sense, its ideological intent, and its social and political value. They comprise a message, as does any other text, replete with a sender and a receiver. The books of the Old Testament are not simply a cauldron in which older texts or oral traditions are badly fused. (Kings and Prophets, pp. 87-88, emphasis mine)
The most common of these childish misunderstandings has to be the search for historical nuggets among constructed legends. He continues:
A few steps in this direction have been taken. They have left intact, however, a pseudohistorical prejudice, due to a naive reading that is still in search of the "true anecdote." Such an approach fails to recognize that these texts comprise a semantic system in whose context the specific, individual propositions can be explained. At issue here is the opinion, which recurs even today among many scholars, that, at least for the second half of his life, King Saul was a poor unbalanced neurotic. In the final analysis it is to this historical fact (historical like Napoleon's ulcer!) that Saul's failure and David's success are attributed.

The belief in such a historical "fact" arises from a rationalistic interpretation of those biblical passages where Saul acts in strange and absurd ways because he is possessed by an evil spirit. But this rationalism is not rational. It removes these specific biblical passages from the entirety of the biblical narrative concerning Saul and his successor David. This is precisely the context in which Saul's "strange behavior" should be set in order to uncover the meaning the text attributes to them, which is, in fact, the only "true" meaning that we moderns ought assign to them as well. (Kings and Prophets, p. 88, emphasis mine)
Saul's folly
Grottanelli contrasts Saul's improper spirit possession, treading upon the turf of the prophets, and illegal sacrifice, impinging on the priest's prerogative, against David's correct behavior.
Throughout much of his career, David is followed, not by generic "prophets" or "priests," but by the prophet Nathan and the priest Abiathar, who consults urim and tummim for him on all important occasions, especially in war. The figure of Nathan is particularly significant for David and for Israel, because it is through him that Yahweh communicates the oracle that promises an eternal reign to the Davidic dynasty (II Sam. 7:1-19). (Kings and Prophets, p. 98)
But Saul's failures as a spirit-possessed prophet and a sacrificing priest, as bad as they are, pale in comparison to his failures on the field of battle — now confused, now cowardly, finally dying ignominiously by falling on his own sword (or else killed by an underling).
But even this is not enough: the king's corpse is beheaded, the head being taken as a trophy, and his weapons hung in the temple of a foreign god (I Sam. 31:8—10). Finally, even the recovery of Saul's corpse by his friends results in a funerary rite, which, although not given an explicitly negative cast in the biblical passage (I Sam. 31:11-13), passes beyond the strange to something negative in the context of the religious tradition of Israel. This is especially true if the treatment of Saul's body can be likened to death by burning, which was reserved, in the Old Testament, for perpetrators of incest and for those who looted lands that were under a ban. (Kings and Prophets, p. 99)
Again, if we try to rescue history from such a purposefully didactic, legendary narrative we are engaging in pseudo-history. The function of the stories of Saul and David is to contrast the first king, who got everything wrong, with his successor, the ideal monarch of the fabled kingdom of Israel and Judah. That said, Grottanelli is not "erasing history" or being "overly skeptical" (whatever that means):
Let us not forget that the narrative form is the "most ancient form" of ideological expression, as is attested by primitive mythologies. Plato himself does not disdain this form of expression (recall the myths of Er and of the cave), but uses it alongside the discursive-dialogical form. An observation of this kind would not in the least deny every form of historicity (in the narrow and banal sense of the term) to the biblical narrative, but would only deny that type of historicity that attempts to attribute Saul's failure to his mental disequilibrium, thus losing sight of the true value, indeed "historical," of the biblical text as the conveyor of an ideology. (Kings and Prophets, p. 103, bold emphasis mine)
Enter Jesus
As noted earlier, the people, on seeing their king dancing with the prophets, possessed by the spirit and stripping off his clothes, wonder what it could mean. Saul had not only crossed category boundaries, but he was putting himself on the level of people without pedigrees. Recall that prophets came from the ranks of ordinary folk, as they should. They are "guarantors" of the faith, speaking directly from God. They don't need an impressive lineage to prove themselves.
The prophets come, therefore, from "the people" (is this the "other side of the coin" in the criticism of Saul, who was both "noble" and "prophet"?) and not, for example, "from Levi," like the priests, or "from David," like the kings. The prophets are, therefore, "like Moses," that is, like the charismatic leader of old, who enjoyed a direct relationship with the deity. This same Moses we find in the New Testament, as a mark of continuity, alongside Elijah and Jesus. As a healer and a seer from the countryside of Galilee, Jesus reminds the powerful of Jerusalem of their wickedness toward the prophets, and he acts through the power of the Spirit, which descended on him as it did on Saul. The continuity of the "prophetic function," that true guarantor of Yahwism, did not pass away. (Kings and Prophets, p. 104) 
Conclusion
[Note: I have no reason to believe Cristiano Grottanelli would agree with anything that follows.]
When and under what circumstances did this prophet from the north, this true guarantor of Yahwism need to arise? I suggest that a cataclysmic Black Swan event is at the root of it. The Temple's destruction and the utter defeat of the rebels in Judea signaled a break with the past. The kings and priests had failed. The Temple cult came to an end. The failure was absolute and complete.
At this point Yahwism split, one faction keeping the Torah through the study of the law, prayer, fasting, and rituals of commemoration. The other took a different path, venerating a second power in heaven, first as the true successor to kings and priests (especially the latter, as a method of ultimate atonement), and then as the true and final prophet of Yahweh.
The Gospel of Mark reveals this new conception of Jesus in bold, narrative form. He clashes with the cult leaders of his day and predicts the destruction of the Temple. He argues and wins against the Pharisees, the scribes, and the experts in the Torah, all of whom are stand-ins for the religious competition in Mark's own time.
I want to make clear here that while the "prophetizing" of Jesus is compatible with mythicism, it doesn't require it. Jesus may well have existed. What concerns me is the nearly complete lack of interest in Jesus' life, times, and teachings in the earliest writings of Christianity. If Paul conceived of Jesus as the successor to David and the author of Hebrews thought of him as the ultimate priest, then we have a working hypothesis for why they did not conceive of him as a great prophet.
To put it more bluntly, I think Paul thought of himself as an apocalyptic prophet, but I don't believe Paul ever thought of Jesus as an apocalyptic prophet.
And now new questions arise. Did the historical Jesus actually teach? And if he did, were those real teachings lost, or were they preserved in the oral tradition? If the historical Jesus was not a teacher, then where does the material in the gospels come from? From the Baptist cult, which they absorbed? Finally, in these scenarios, is a historical Jesus necessary to explain the evidence we have?
The following two tabs change content below.
Tim Widowfield
Tim is a retired vagabond who lives with his wife and multiple cats in a 20-year-old motor home. To read more about Tim, see our
About page.
Latest posts by Tim Widowfield (see all)
---
If you enjoyed this post, please consider donating to Vridar. Thanks!
---