An interesting article appears in the current issue of Translational Issues in Psychological Science: it describes research (based on analysis of inaugural addresses, presidential documents, State of the Union Addresses, and general election debates) into the level of analytical thinking among United States presidents from Washington to Trump. (H/T Alternet)
The article, The exception or the rule: Using words to assess analytic thinking, Donald Trump, and the American presidency, by Kayla Jordan and James Pennebaker, assigns an "average analytic score" of 96.53 for George Washington at 96.53 and 43.99 for Donald Trump.
The scores for all the presidents are listed and analysed, but there appears to me to be one correlation that is not addressed at all in the discussion. It relates to a change or turning point with Woodrow Wilson. Let me explain.
The first twenty-six presidents, Washington to Taft, all have average analytic scores bouncing around the high 90s.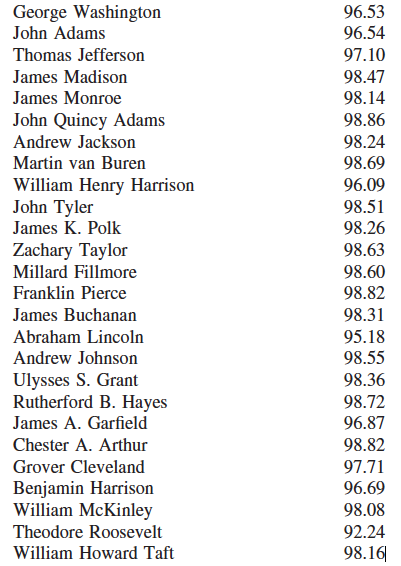 Then Woodrow Wilson appears and the 90s are touched only once after that: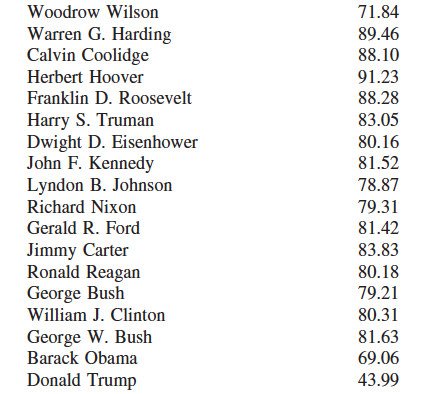 I can't say it's a fact, of course, because I have not myself analysed the documents from which the scores were derived or the advice that went into the preparation of them.
But I can't help but wonder if there is any causal relationship here to the introduction of "scientific" propaganda techniques through the Committee on Public Information (or Creel Committee). One of the more famous names on the Committee was, of course, Edward Bernays, a nephew of Sigmund Freud.
The age of propaganda through researched psychological techniques began in America with Woodrow Wilson's efforts to persuade Americans to get involved in "World War 1".
I don't think the propaganda machine has removed itself totally from political usefulness ever since. The Cold War era was obviously a time of propaganda warfare, and one has to be an ostrich not to have noticed the efforts of "public relations" machinery in American presidential elections and political image work ever since.
Another graphic in the article that points to the Woodrow Wilson turning point: Continue reading "The Decline in Analytic Thinking among U.S. Presidents and the Rise of Propaganda"