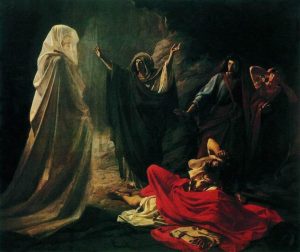 In the previous post we began to discuss the fundamental difference between the Bayesian and frequentist approaches to probability. A Bayesian defines probability as a subjective belief about the world, often expressed as a wagering proposition. "How much am I willing to bet that the next card will give me a flush?"
To a frequentist, however, probability exists in the physical world. It doesn't change, and it isn't subjective. Probability is the hard reality that over the long haul, if you flip a fair coin it will land heads up half the time and tails up the other half. We call them "frequentists," because they maintain they can prove that the unchanging parameter is fixed and objectively true by measuring the frequency of repeated runs of the same event over and over.
Fairies and witches
But does objective probability really exist? After reading several books focused on subjective probability published in the past few decades, I couldn't help noticing that Bruno de Finetti's Theory of Probability stands as a kind of watershed. In the preface, he says that objective probability, the very foundation of frequentism, is a superstition. If he's correct, that means it isn't just bad science; it's anti-science. He writes:
My thesis, paradoxically, and a little provocatively, but nonetheless genuinely, is simply this:

PROBABILITY DOES NOT EXIST.

The abandonment of superstitious beliefs about the existence of Phlogiston, the Cosmic Ether, Absolute Space and Time, . . . , or Fairies and Witches, was an essential step along the road to scientific thinking. Probability, too, if regarded as something endowed with some kind of objective existence, is no less a misleading misconception, an illusory attempt to exteriorize or materialize our true probabilistic beliefs.

. . .

Probabilistic reasoning — always to be understood as subjective — merely stems from our being uncertain about something. It makes no difference whether the uncertainty relates to an unforeseeable future, or to an unnoticed past, or to a past doubtfully reported or forgotten; it may even relate to something more or less knowable (by means of a computation, a logical deduction, etc.) but for which we are not willing or able to make the effort; and so on. (de Finetti 1973, p. x-xi, emphasis mine)
Frequentism, as de Finetti explains it, depends on the classical view of probability, "in that it considers an event as a class of individual events, the latter being 'trials' of the former." In other words, each roll of the die is an instance of a class, a trial run "equally probable" and "stochastically independent" of the other events in the set.
Confusing an object or a concept with its description
However, from a subjective viewpoint, these statements are nonsense. Giulio D'Agostini, in "Role and Meaning of Subjective Probability: Some Comments on Common Misconceptions," writes:
Many scientists think they are frequentists because they are used to assessing their beliefs in terms of expected frequencies, without being aware of the implications for a sane person of sticking strictly to frequentistic ideas. Certainly, past frequencies can be a part of the information upon which probabilities can be assessed. Similarly, probability theory teaches us how to predict future frequencies from the assessment of beliefs, under well defined conditions. But identifying probability with frequency is like confusing a table with the English word 'table'. This confusion leads some authors, because they lack other arguments to save the manifestly sinking boat of the frequentistic collection of adhoc-eries, to argue that "probability in quantum mechanics is frequentistic probability, and is defined as long-term frequency. . . .

Probability deals with the belief that an event may happen, given a particular state of information. It does not matter if the fundamental laws are 'intrinsically probabilistic', or if it is just a limitation of our present ignorance. The impact on our minds remains the same. (D'Agostini 2000, p. 5, emphasis mine)
So frequency is not probability, but rather information that helps us evaluate probability. D'Agostini, going further, says:
Even the idea of 'repeated events' is rejected [citing de Finetti here], as every event is unique, though one might think of classes of analogous events to which we can attribute the same conditional probability, but these events are usually stochastically dependent . . . (D'Agostini 2000, p. 7, emphasis mine)
But now I'm confused
Given all that we've covered so far, imagine my surprise when Dr. Richard Carrier recently wrote on Facebook:
Probability is measuring a frequency.
Confused, I asked Neil if he could bring it up to him since, at the time, I wasn't a friend (just a follower). I wrote:
I'm not a friend (because he's maxed out on friends), so I can't ask him why a Bayesian such as he would be defining probability in frequentist terms. As I understand it, Bayesians view probably in one of two ways: (1) as the measurement of the plausibility of propositions or (2) a personal belief that one tests repeatedly with more information.

In either case, Bayesian probability is *not* the measurement of frequency.

If you get a chance, could you ask him to clarify?
Not long afterward Carrier wrote:
This is fully explained in Chapter 6 of Proving History. Degrees of belief are frequencies of being right on comparable evidence. And BT is used with standard physical frequencies all the time (medical testing, spam filtering). And epistemic probability (frequency of being right) converges on a physical probability (e.g. of persons having cancer; of an email being spam) as information (evidence) increases.
And he followed up with a friend request, which was nice.
So now I need to reconcile these multiple world views. On the one hand, we've got subjective Bayesians who are perfectly comfortable with the idea that we all evaluate the world differently, from our own perspectives. And that isn't just a problem that we have to live with; it's a good thing. It's part of being human. For them, probability has everything to do with people. Without humans observing and evaluating the world, probability would not exist. But for frequentists, probability is a real and concrete, physical thing. For them, Bayesian subjectivity is a kind of joke.
Can't we all just get along?
However, Carrier comes along and says that really they're the same thing.
The debate between so-called 'frequentists' and 'Bayesians' can be summarized thus: frequentists describe probabilities as a measure of the frequency of occurrence of particular kinds of event within a given set of events, while Bayesians often describe probabilities as measuring degrees of belief or uncertainty. But there really is no difference. That's what I'll set out to prove here. 

Probability is obviously a measure of frequency. (Carrier 2012, p. 197, emphasis mine)
I don't see that this is obvious at all, but I'm willing to hear him out. Next time, we'll take a close, hard look at Chapter 6, "The Hard Stuff" in Carrier's Proving History. — specifically, the section entitled "Bayesianism as Epistemic Frequentism," in which he lays out a kind of Grand Unified Field Theory of Probability and says (I'm not exaggerating here) that all Bayesians are in fact frequentists.
I'm inclined to disagree, but I'll try to keep an open mind.
The following two tabs change content below.
Tim Widowfield
Tim is a retired vagabond who lives with his wife and multiple cats in a 20-year-old motor home. To read more about Tim, see our
About page.
Latest posts by Tim Widowfield (see all)
---
If you enjoyed this post, please consider donating to Vridar. Thanks!
---