What a hoot! Bart Ehrman is listed alongside Richard Carrier as an authority citing reasons to doubt the historical existence of Jesus! (For those not in the know, Ehrman has expressed deep loathing of Carrier and has written a book arguing that anyone who thinks Jesus did not exist is bonkers.)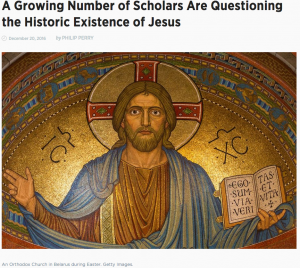 That's in the Big Think article by Philip Perry, A Growing Number of Scholars Are Questioning the Historic Existence of Jesus, the same article Breitbart's Thomas D. Williams views as an attempt by Jesus mythicists to undermine that foundation of Western values, Christmas.
A review of Philip Perry's articles indicates that he has a gift for framing eye-catching topics. In his article under the heading "growing number of scholars questioning the historic existence of Jesus" he addresses the views of
Reza Aslan (who argues Jesus was a revolutionary leader; several mainstream biblical scholars have scoffed at Aslan's work partly on the grounds that it did not consider more recent scholarship on the historical Jesus)
Richard Carrier
Bart Ehrman
Joseph Atwill (who argues the gospel Jesus was a conspiratorial creation of the Roman political and military leaders; Perry adds a video link to Atwill's views)
And David Fitzgerald even gets a mention with his book, Nailed.
How could Ehrman be listed here under the title indicating he is one of the "mythicists"?
Ehrman focuses on the lack of witnesses. "What sorts of things do pagan authors from the time of Jesus have to say about him? Nothing. As odd as it may seem, there is no mention of Jesus at all by any of his pagan contemporaries. There are no birth records, no trial transcripts, no death certificates; there are no expressions of interest, no heated slanders, no passing references – nothing."
And some online critics of Ehrman have pointed out that he fails to follow through on the logic of some of his own arguments.
But Perry does have a point when he writes in conclusion: Continue reading "Jesus Lives and therefore Lived — If You Believe"