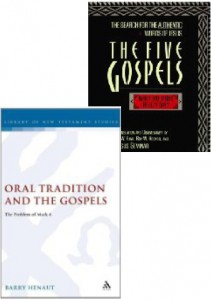 The parables of Jesus are among many people's favourite treasures in the Bible and the focus of much erudite and popular research outputs by some of the most renowned scholars in the field. In The Five Gospels Robert Funk, Roy Hoover and the Jesus Seminar confidently point to the triadic structure (groups of threes) as well as the repetitions and catchwords — all characteristics of oral sayings — in the Parable of the Sower (Mark 4) to assert that this parable most likely originated as the very words of Jesus himself. The same year (1993) saw Barry Henaut's publication, Oral Tradition and the Gospels: The Problem of Mark 4, that comprehensively demolished the claim that triadic structures, repetitions and mnemonic catchwords are unique to oral communications and demonstrated that the same features were also characteristic of ancient literary compositions that were written to be read aloud to audiences.
.
This post follows on from What Is a Parable? My original intent was to post the outline of Michael Goulder's reasons for concluding that the parables we know so well from the gospels were the literary creations of the evangelist authors of those gospels and did not derive from anything Jesus said.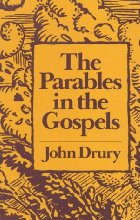 Before I had a chance to continue with that plan one most helpful reader alerted me to John Drury's book The Parables in the Gospels: History and Allegory.
I'll keep this post's main focus on the Gospel of Mark, widely thought to be the earliest gospel written. Matthew, Luke and (a significant number of scholars believe) John knew and adapted Mark's material to serve their own theological and literary purposes.
I know we remember all this but. . .
From the earlier What Is a Parable? post we saw that the Greek word in the Bible that we translate as "parable" was derived from the Greek version of the Old Testament (the Septuagint/LXX) and embraced what in Hebrew was a word (mashal) that embraced a wide range of figurative expressions. It could be a pithy proverbial saying, an extended allegorical tale, a prophetic oracle, a riddle, a song of derision or a byword. It was generally a saying with a hidden meaning that needed to be deciphered. It generally professed to explain God's will behind some historical condition. It was always an integral part of its surrounding narrative.
That last mentioned trait alone is a significant reason for believing such parables were the creations of the authors of the works in which they appeared. Continue reading "Jesus Did Not Speak in Parables — the Evidence"