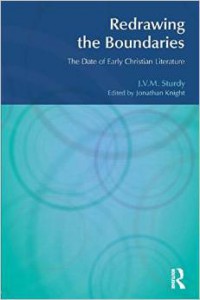 We know that forgery and interpolation of texts were very common in the ancient world so it is odd to hear some theologians insist that we should discount the possibility of any of Paul's letters had been so doctored unless and until we find very compelling reasons — usually only by means of manuscript evidence — to think otherwise. Is this some hangover from the days when the Bible was supposed to be sacred and inerrant?
We do know not all biblical scholars take this advice, however. Here is a conveniently set out list of scholars who have argued that specific verses in the "authentic" Pauline letters were added by Christian scribes after Paul had departed the scene. The list is compiled from John Sturdy's notes and published in 2007. Sturdy died in 1996 so the list includes no scholars who have added arguments for interpolations since then.
The publication, Redrawing the Boundaries: The Date of Early Christian Literature, was from a manuscript that Sturdy had been working on but never finished. His intent was to refute the early dating that had been published by in 1976 by John Robinson: Redating the New Testament. "This is simply mischief!", said Sturdy more than once of Robinson's book.
Here's the list. Continue reading "List of scholars believing Paul's letters were interpolated"