The previous post in this series was focused on chapters 1 – 4 of 1 Corinthians. I proposed that the theme of the disruptive wisdom at Corinth was eschatological and that it featured an earthly kingdom of God. And I suggested that the points of contact between the wisdom discussion in Corinthians and the earthly kingdom described in the book of Revelation may indicate that the party of Cephas at Corinth had some connection with the Revelation community. I also showed how Paul's resistance to a reign-on-earth doctrine is compatible with my hypotheses that he was Simon of Samaria and his gospel was the Vision of Isaiah.
This scenario of such widely divergent sexual attitudes peacefully co-existing in the church founded by the Apostle makes me suspicious. My Simonian hypotheses offer an alternative explanation for the juxtaposition . . . .
This post will look at chapters 5 through 7. These abruptly introduce a new subject and present a picture of the Corinthian church that is very hard to accept at face value. Supposedly it was a church composed of Christians whose bizarre ethics somehow combined extreme sexual libertinism (chapters 5 and 6) with strict sexual asceticism (chapter 7)! Not only are some Corinthian Christians going to prostitutes, the community as a whole is apparently boasting about the incest of one their own who has his father's wife. Yet at the same time some of them are considering a life of virginity. The Apostle has to tell them that it is no sin to get married. And he has to advise those already married not to abstain from sexual intercourse with their spouses.
This scenario of such widely divergent sexual attitudes peacefully co-existing in the church founded by the Apostle makes me suspicious. My Simonian hypotheses offer an alternative explanation for the juxtaposition, one that reasonably squares with the Corinthian controversy as a whole. We are dealing with two authors, not one. The author of the original letter was Simon/Paul; the author of chapters 5 and 6 was the second-century proto-orthodox interpolator. These two chapters express the interpolator's negative assessment of the Simonian church at Corinth. They interrupt, as I will show later in the post, the original situational continuity that existed between chapters 4 and 7 (whether or not this latter chapter was part of the original letter or just a follow-up response to questions provoked by it).
Chapter 4 of 1 Corinthians ended with the Apostle offering himself as an example to be imitated (1 Cor. 4:16). He promised to send Timothy to the Corinthians "to remind you of my ways in Christ" (1 Cor. 4:17). But the proto-orthodox disapproved of many of Simon/Paul's "ways," and chapters 5 and 6 were inserted to register that disapproval. Whereas he wrote to his flock "not to shame you, but to admonish you as my beloved children" (1 Cor. 4:14), that was not the case with the interpolator. He is blunt: "I say this to shame you" (1 Cor. 6:5).
.
The man who reportedly had the father's wife
Chapter 5 begins by saying that it is "widely reported" that among the Corinthian brethren there is sexual immorality "of a kind unheard of even among Gentiles," namely "a man has the father's wife" (1 Cor. 5:1). The command is given to expel the man from the community and to deliver him to Satan "for the destruction of his flesh," (1 Cor. 5:5). Yet the Corinthian church has apparently not been concerned about the situation. They were even proud of it: "You are puffed up" (1 Cor. 5:2). Their attitude is all the more puzzling in that the Apostle says he told them in a previous letter not to associate with whoremongers, avaricious people, extortioners, idolaters, revilers, or drunks. He offers a belated clarification that he meant brothers who are such, not non-Christians.
I find it hard to accept that there could have been that kind of disconnect between the ethical understanding of the founder of the Corinthian church and his flock. And the reference to an earlier letter could just be a fabricated excuse for the implausible disconnect. Did the Corinthian church really think that it was ok to associate with Christian idolaters and whoremongers but not with pagan ones? I doubt it. The situation described in chapter 5 is not only impractical (as the passage itself concedes: "You would have to go out of the world" – 1 Cor. 5:10), it is also unrealistic. Something else is going on here.
The nature of the "widely reported" incest is that "a man has the father's wife" (1 Cor. 5:1). That description, it strikes me, is how a proto-orthodox Christian could view Simon's outrageous claim that his companion Helen was divine Wisdom. To the proto-orthodox, Wisdom was personified as some kind of female consort of God who assisted him with the work of creation:
Does not wisdom cry out? And understanding lift up her voice? She stands at the top of the high places… I was set up from everlasting, from the beginning, before the earth was… When he established the heavens, I was there… When he made firm the skies above, when he established the fountains of the deep… then I was beside him, like a master workman, and I was daily his delight, rejoicing before him always…. And now, my sons, listen to me. Blessed are they who keep my ways… For whoever finds me finds life and obtains favor from the Lord. (Proverbs 8)
So when Simon came along and divulged to certain initiates of his that the woman he was taking around with him was divine Wisdom, was he not a man who reportedly had the Father's woman?
The interpolator, "although absent in body, but present in spirit" (nudge nudge wink wink), pronounces judgment on the guilty party and directs his readers "to deliver this man to Satan for the destruction of his flesh, so that his spirit may be saved on the day of the Lord" (1 Cor. 5:3 & 5). The expression "destruction of his flesh" seems not only to refer to death but to have been chosen with some particular purpose in mind. It makes a very appropriate choice in the mouth of a proto-orthodox Christian wishing death to Simon. For, according to the dichotomous doctrine of the Father of Gnosticism, the flesh will be destroyed and only the spirit will be saved.
The Greek word 'mikros' means 'little' and is an equivalent of the Latin word from which the name 'Paul' derives.
This interpretation of chapter 5 can explain why the Corinthians were said to be "puffed up" about the situation. The interpolator knew that they not only came to believe Simon's claims about his own identity, but also those about Helen. There is nothing surprising about a Simonian church at Corinth being proud of Simon and Helen. And this take may also explain why the author chose to compare the incestuous man to a "little" leaven that leavens a whole lump. The Greek word 'mikros' means 'little' and is an equivalent of the Latin word from which the name 'Paul' derives.
The interpolator tells the church to throw out that leaven and he ties the command to a proto-orthodox understanding of Passover:
Get rid of the old leaven that you may be a new lump, as you really are unleavened. For Christ, our Passover (lamb), has been sacrificed. Let us, therefore, celebrate the festival, not with the old leaven, the leaven of malice and evil, but with the unleavened bread of sincerity and truth. (1 Cor. 5:7-8)
Simon is the old leaven of malice and evil. His identity as the incestuous man is the reason for the interpolator's idiosyncratic list of sinful brothers to avoid (1 Cor. 5:11). If 'murderer' is not on the list, for example, it is because Simon was not accused of murder. The interpolator closes his condemnation with the words: "Drive the evil man from your midst!" (1 Cor. 5:13)
It may be, then, that just as Simon was surreptitiously censured as the "man, whoever you are" (in Romans; see part 2 of the series) and "the lawless one" (in 2 Thessalonians; see part 3), so here he was mocked and condemned as the man who reportedly had the Father's wife. If this take is correct, it would seem to indicate that the passage was written, at least in part, as an inside joke. For only those who were aware of what the interpolator was doing to the Apostle's letters could have appreciated the humor involved in his arranging to make his new Paul ridicule and pass judgment on the old one.
Saint versus saint before a pagan judge
In verses 1-11 of chapter 6 the interpolator's shaming of the Corinthian church continues. He begins by saying:
How is it that any of you dare, when you have a grievance against another, to bring the case before the unjust, and not before the saints?
What troubles him the most is not that brother has cheated and defrauded another brother—he only gets to bemoaning that in verse 8—but that the victim(s) brought the case to a Roman court of law. He does allow that such cases can be brought before the saints for judgment but he would prefer that the victimized had just put up with the injustice.
Why not rather allow yourselves to be wronged? Why not rather let yourselves be defrauded? (1 Cor. 6:7)
This advocacy of a turn-the-other-cheek attitude clashes with the original author's criticism of it further on in the Corinthian correspondence:
For you tolerate it if a man makes slaves of you, or preys upon you, or takes advantage of you, or puts on airs, or strikes you in the face. (2 Cor. 11:20)
I suspect that what we have here are different reactions by two different people, i.e., Simon/Paul and a later interpolator, to one and the same incident. That is to say, the passage in chapter 6 of 1 Corinthians was written by the proto-orthodox interpolator of the letter and it is his reaction to the incident that is center stage in 2 Corinthians, the injustice committed by an unnamed Christian against the Apostle and his church. In 2 Cor. 10-13 the Apostle prodded the Corinthian church to take action against the offender. (I hold, as do many, that these chapters were part of the Apostle's so-called "severe letter" and were written before the missives located in chapters 1-9 of 2 Corinthians). And in chapters 2 and 7 of 2 Corinthians we have the Apostle's praise for the action they took: "For this is why I wrote, to know your proven character, whether you were obedient in everything" (2 Cor. 2:9); "Behold what earnestness this godly sorrow produced in you, and defense, and indignation, and fear, and yearning, and zeal and infliction of punishment. In every way you have shown yourselves to be innocent in the matter" (2 Cor. 7:11). What they did, I submit, was take the offender to court and win their case. The humiliation they caused the man by forcing him to court was their punishment of him and the proof that they were loyal to Simon/Paul.
Scholars debate the precise nature of the injustice but have reached some general conclusions, namely that
the wrongdoer was a member of the Corinthian church; he was influenced by Jewish-Christian opponents of Paul; his offense took place on the occasion of Paul's second visit to Corinth; the wrong was an injury in which money was somehow involved; the context of the injurious action was the collection for the poor saints in Jerusalem; the Corinthians were somehow complicit in the wrong done to Paul (L.L. Welborn, An End to Enmity: Paul and the "Wrongdoer" of Second Corinthians, p. 22).
Simon/Paul approved of the litigation; the proto-orthodox interpolator—writing about eighty years later—condemned it.
And it has long been noticed that the word for the wrongdoing in 2 Cor. 7:12 (adikeō) is the same that is used in 1 Cor. 6:7-8. Commentaries regularly refer back to the term's use in the first letter to illustrate its sense in the second. But if there were in fact two contributors to the letter—Simon/Paul and a later interpolator—it seems likely that we are dealing not with two similar incidents but with two different reactions to one and the same incident. Simon/Paul approved of the litigation; the proto-orthodox interpolator—writing about eighty years later—condemned it.
As for the injustice itself, I see a scenario like the following as plausible:
A Christian with some kind of tie to the Jerusalem church berated Simon/Paul to the church at Corinth and, among other things, accused him of initiating the Jerusalem collection for his own benefit. To insure that the money already collected would in fact reach the Jerusalem saints, the man in question somehow managed to get possession of it—without the permission of the Apostle or his church—and was probably intending to deliver it himself or get someone else to do so. But when the Apostle learned what had happened, he scolded the Corinthians for letting the confiscation occur and told them to get the money back.
That the Corinthian church went to the secular authorities was shocking to the proto-orthodox interpolator. As we have seen, he tags those authorities as "the unjust" in the first verse of the passage. But Simon/Paul had a different view of them. It is expressed in Romans 13:1-4:
Let everyone be subject to the governing authorities. For there is no authority except from God, and those that exist have been appointed by God.Therefore he who sets himself against the authorities resists what God has appointed, and those who resist will incur judgment. For rulers are not terrors to the man who does good, but to the evildoer. If you wish not to fear the authority, do what is good, and you will have praise from it. For he is God's servant to you for good. But if you do evil, be afraid, for he does not bear the sword in vain; he is the servant of God to execute his wrath on the evildoer.
Finally, if 6:1-11 is indeed an interpolation, it should be noted that it is the interpolator's belief—not Simon/Paul's—that is expressed by the words:
Do you not know that the saints will judge the world? And if the world is to be judged by you, are you incompetent to try trivial cases? Do you not know that we are to judge angels? How much more, matters pertaining to this life! (1 Cor. 6: 2-3)
And so I don't think this passage can be safely used to argue that Paul expected an earthly kingdom in which Christians would function as judges.
Consorting with prostitutes
I will not spend much time here on 1 Cor. 6:12–20 since I have already discussed that passage in part 6 of the series. In brief, I doubt that the Corinthian Christians were using the services of prostitutes. In reality, their "sin" was that they accepted Simon/Paul's teaching on the nature of the visible things of this world, including the body. These things, he taught, were given an importance by the Law that was undeserved. They were inferior, perishable, and will in fact ultimately be destroyed, not transformed: "Food is for the stomach and the stomach for food—and God will destroy both one and the other." (1 Cor. 6:13). He taught that the visible things of this world were not made by the highest God. And the ordinances of the Law that forbade touching or eating certain things were not put in place by that God.
To the proto-orthodox interpolator's way of thinking, Simon/Paul's doctrine disrespected the Creator's work and will. And for him the Apostle's relationship with Helen, an ex-prostitute, represented a particularly revolting instance of disrespect for one's body. The interpolator made his new Paul swear off that relationship:
Shall I then take the members of Christ and make them members of a prostitute? Never! (1 Cor. 6: 15)
I think that once the words of the Apostle are fully disentangled from the interpolations in his letters, it will be seen that he rejected parts of the Law that he considered unworthy of the highest God, but he was not an immoral libertine.
Why the sudden interest in celibacy?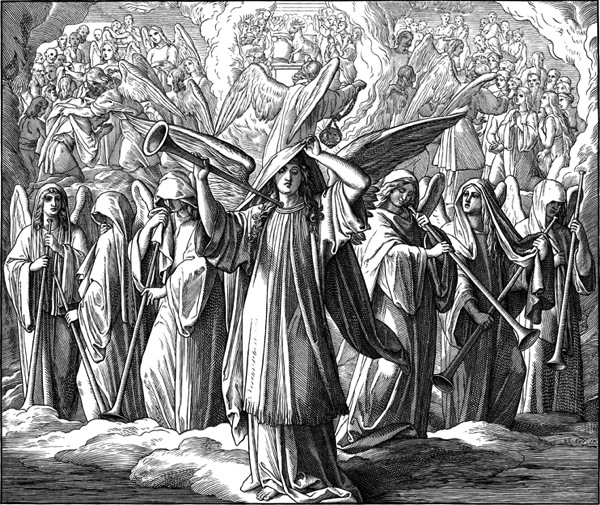 At chapter 7 the shaming of the Corinthian church stops and a more respectful tone prevails. We learn that something had prompted the Corinthian faithful to ask the Apostle if "it is a good thing for a man not to touch a woman" (1 Cor. 7:1). From Paul's response we can gather that their question was not academic. Some of them, including married members of the church, were seriously thinking of becoming celibate. This prospective change was not due to anything the Apostle had said to them, for the guiding principle he inculcated was: "Continue as you were at the time of your calling." He says that "this is my rule in all the churches" (1 Cor. 7:17). Why then the sudden desire for celibacy at Corinth?
If my hypothesis is correct that the disruptive wisdom criticized in chapters 1 – 4 had some connection to oracles now lodged in the book of Revelation, a plausible explanation becomes available. For Revelation contains an oracle that is apt to make Christians question the goodness of sexual intercourse and to elicit the kind of response the Apostle gives.
And I heard a voice from heaven like the roar of many waters and like the sound of loud thunder. The voice I heard was like the sound of harpists playing on their harps, and they were singing a new song before the throne and before the four living creatures and before the elders. No one could learn that song except the 144,000 who had been redeemed from the earth. These are they who have not defiled themselves with women, for they are virgins. These are they who follow the Lamb wherever he goes. They have been redeemed from among men, the firstfruits for God and the Lamb. (Rev. 14:2-4)
This oracle not only prophesies that Christian men who forego sexual intercourse will belong to a group that has special status with the Lamb, it can easily be understood to mean that sexual intercourse somehow defiles. This would naturally cause married Christians to consider abstaining from further sexual relations, and it would motivate unmarried Christians who had not yet "defiled" themselves to commit to a life of virginity. If this Revelation oracle was part of the wisdom being preached by the Apostle's competitors at Corinth, it would explain his counsels in chapter 7, both those in the first half of the chapter that reassure the married, and those in the second half that concern virgins.
The Apostle seems to turn the defilement issue around by saying that precisely "because of fornications" (1 Cor. 7:2, porneia, i.e., sexual immorality) Christians should get married and that, once married, they should not forego sexual relations with their spouses. In other words, it is the abstention from lawful sexual intercourse that will lead to the defilement of fornication outside of marriage. And in the course of his argument he goes even further: there is actually something sanctifying about the marriage of a Christian, and this is so even in the case where the other spouse is an unbeliever.
The unbelieving husband is sanctified by his wife, and the unbelieving wife is sanctified by her husband. Otherwise, your children would be unclean, but as it is they are holy. (1 Cor. 7:14)
The way too that the question in 1 Cor. 7:1 is worded makes me think that the Revelation oracle may be in the background. The group of virgins in Rev. 14:4 is made up entirely of men. Nothing is said about a corresponding sodality for women. Or about defilement that women incur from men. Similarly, in 1 Cor. 7:1 the wording ("It is a good thing for a man not to touch a woman") gives no indication whether women would do well not to touch men. The presentation, as in Revelation, is one-sided.
In clear contrast, the Apostle himself repeatedly sets out his response in parallel statements, each one for men having a corresponding one for women (vv. 2-4; 10-11; 12-13; 14; 16). Thus, for example:
Because of fornications, each man should have his own wife and each woman her own husband. Each man should give to his wife her conjugal rights, and likewise the wife to her husband. For the wife does not rule over her own body, but the husband does; similarly the husband does not rule over his own body, but the wife does (1 Cor. 7:2-4).
This difference in framing may indicate that the question was provoked by an outside influence whose provenance was the community behind the book of Revelation, a community that apparently included a group of males who made a commitment to celibacy.
This scenario would also explain why, when the subject turns to virgins (verses 25 – 40), the Apostle does not address any virgins directly. Note how in the following passage he first speaks directly to men who are apparently considering celibacy, but then finishes in the third person when he speaks about virgins:
Now concerning virgins, I have no command of the Lord, but I give my opinion as one who by the Lord's mercy is trustworthy. I think that in view of the present distress it is well for a man to remain as he is. Are you bound to a wife? Do not seek to be free. Are you free from a wife? Do not seek marriage. But if you marry, you do not sin; and if a virgin marries he does not sin. (1 Cor. 7:25 – 28)
Why did he not continue in the second person with something like: "And you who are virgins do not sin if you marry?" It may be because he knew that the new wisdom-purveyors at Corinth were behind the sudden interest in celibacy, and that they had not yet convinced any of the men in the Corinthian church to imitate the male virgins of Revelation 14.
Notice too that in the above passage the Apostle abandons his earlier careful parallelism and writes as if he were only addressing men. We read the words
Are you bound to a wife? … Are you free from a wife?
But there is no corresponding "Are you bound to a husband? … Are you free from a husband?"
Likewise, in the next verse the Apostle writes:
I tell you, brothers, the time is running out. From now on, let those who have wives act as not having them. (1 Cor. 7:29)
But the expected parallel, i.e., "Let those who have husbands act as not having them," is nowhere to be found.
Now it is true that in verses 32 to 35 he does address all the members of his church—married and unmarried, male and female—and he acknowledges that the unmarried will have fewer distractions as the end of this world fast approaches. And one verse in that section does seem to connect virgins with females:
The unmarried woman and the virgin is careful for the things of the Lord, that she may be holy both in body and in spirit…
But there are many reasons to be suspicious of this verse. The first part of it ("The unmarried woman and the virgin") is acknowledged to be the most textually corrupt part of chapter 7, there being four variant readings of it in the extant manuscripts. One immediately obvious difficulty is that it has a compound subject but a verb that is singular. Moreover, the words "that she may be holy both in body and spirit" are a problem both in form and content. In form they deviate from the Apostle's otherwise punctilious parallelism in chapter 7. In verse 32 the unmarried man was said to be careful for the things of the Lord, "how that he may please the Lord" (verse 32). But here in the corresponding verse for unmarried women that clause gets replaced with one about holiness in body and spirit. In content the substitute clause clashes with what the Apostle had just said about married spouses sanctifying each other (1 Cor. 7:14). And nowhere else in his letters does he say that unmarried women are holier in body and spirit than other Christians. It would seem, then, that some subsequent tampering has occurred here.
It looks like textual corruption has also occurred at verse 28 in the chapter. Most manuscripts have a feminine article before the word "virgin" at verse 28, and that is why most translations render the verse as: "If the virgin marries she does not sin. " But there are some early manuscripts that lack the definite article. And so the verse can legitimately be translated as: "If a virgin marries he does not sin." And there are scholars who think that the best reading is in fact the one that omits the article. See, for example, The Scrolls and Christian Origins by Matthew Black, p. 85, n. 3. My own suspicion is that the feminine article was added by our proto-orthodox interpolator and that his hand is responsible too for causing what Gordon Fee refers to as "a notorious crux" in 1 Cor. 7:36-38 (The First Epistle to the Corinthians, p. 350). Let's take a look at that.
My own suspicion is that the feminine article was added by our proto-orthodox interpolator and that his hand is responsible too for causing what Gordon Fee refers to as "a notorious crux"
If a man keeps his virgin(ity) …
The difficult passage reads as follows:
But if anyone thinks that he is behaving improperly with regard to his virgin, and if at a critical stage and so it must be, let him do what he will, he does not sin. Let them marry. But he who stands firm in his heart, and is under no compulsion, but has authority over his own will, and has resolved in his heart to keep his own virgin, he does well. So that both he who gives (his virgin) in marriage does well; and he who does not does better.
Father and daughter?
Scholars have never been able to make much sense of this. "Three main interpretations of this difficult passage have been proposed, and none of them is without its problems" (Joseph A. Fitzmyer, First Corinthians, p. 322). Some have argued that the man and virgin in question are father and daughter. But this runs into numerous legitimate objections. For example, why didn't the Apostle use either the word 'father' or 'daughter' somewhere in the passage? And why is his grammar so careless? Surely father and daughter can't be the "them" in the counsel "Let them marry." And, as J. Héring points out,
Is it not grotesque to praise the unswerving constancy of the father in a decision which costs him nothing, and in which it is his daughter, who is not consulted, who bears the full weight of the sacrifice? (The First Epistle of Saint Paul to the Corinthians, p. 63)
Man and virgin engaged?
Others have proposed that the man and virgin are engaged, that there had been a formal engagement to marry but the marriage had not yet taken place. This too runs into significant objections. For example, there are no known instances where parthenos without a specifying adjective means "fiancée." And the word gamizō in verse 38 has a causative sense. It means "give in marriage"— not "marry" (gameō, the word that is used repeatedly in the chapter up until gamizō is introduced in verse 38). Some scholars have surmised that the word may have also had the meaning "marry" but, as Fitzmyer notes, "no one has been able to document such a meaning of gamizō apart from this occurrence" (First Corinthians, p. 327). And, again, is it not strange that the Apostle, without including a single word of consideration for the man's betrothed, would counsel the man to break off the engagement? What has become of the solicitude the Apostle displayed earlier in the chapter for "mutual consent" (1 Cor. 7:5)?
Celibate marriage?
A third proposed interpretation is that the man and virgin had entered into some kind of "spiritual marriage" with each other. They were married but had agreed or made vows to preserve their virginity in the marriage. There are problems with this solution too. For example, there are no other indications that such marriages existed in the first century. And if the man and virgin were already married, why does the Apostle say: "Let them marry?" And "how would the idea of a spiritual marriage be reconciled with what Paul has written about the physical relationship of Christian marriage in vv. 1-5?" (Fitzmyer, First Corinthians, p. 325) And there is still the problem of how to account for the Apostle's apparent disregard for the man's virgin.
But what if there was no one else affected by that decision? That is, what if he was deciding whether to keep his virginity—not his virgin?
What all three of the main interpretations have in common is that they fail to convincingly explain how the Apostle could have been so unmindful of the virgin affected by the man's decision. But what if there was no one else affected by that decision? That is, what if he was deciding whether to keep his virginity—not his virgin? There are at least a couple of scholars who have recognized that the passage would make better sense if the case it envisioned was that of an unmarried man who had made a commitment to virginity, but none to another party. No particular woman was yet the object of the man's affection. The man had "resolved in his heart" (1 Cor. 7:37) to observe virginity, but was having second thoughts. He was finding his commitment too difficult to honor. The Apostle basically tells him that in those circumstances he does better to keep his virginity, but if he can't and opts to give it up by marrying, he does not sin.
Here is J.N. Darby's translation of verses 36 and 37:
But if any one think that he behaves unseemly to his virginity, if he be beyond the flower of his age, and so it must be, let him do what he will, he does not sin: let them marry. But he who stands firm in his heart, having no need, but has authority over his own will, and has judged this in his heart to keep his own virginity, he does well. (my bolding)
James F. Bound is another scholar who has argued that the "any one" in verse 36 refers to a male virgin, and that "his virgin" refers to the man's own virginity ("Who Are the 'Virgins' Discussed in 1 Corinthians 7:25-38?," Evangelical Journal, Spring 1984, pp. 3-15). That interpretation, Bound contended, is the one that best fits the context. But why is it, then, that the word parthenos (virgin) is used, and not parthenia or partheneia (virginity)?
Bound argued that Paul was using "virgin" as a metaphor for "virginity." He pointed out that several other metaphors are used in chapter 7 apparently in the interest of modest discretion when discussing sexual matters. For example, in 7:1 the expression "touch a woman" is used for "have sexual relations with a woman." In 7:3 "duty" or "due" is used as a euphemism for conjugal intercourse. In 7:5 "defraud" is used for "withhold sexual intercourse from one's spouse." In 7:9 the word "burn" is used for "feel strong sexual desire or passion." So perhaps the Apostle considered the word "virginity" insufficiently discreet for reference to someone's "no sexual intercourse" commitment.
Personally, I don't see any real gain in discretion by the use of "virgin" instead of "virginity." And the word "virginity" is used in the New Testament at Luke 2:36. One could of course legitimately object that GLuke was written later and somewhere else than 1 Corinthians, and so the word may have been perceived somewhat differently then and there. In any case, Bound's explanation still doesn't explain the words "Let them marry." The Apostle goes from speaking—though admittedly in general—about a man (singular) having trouble keeping his virginity. But then he gives his advice regarding "them" (plural). Immediately after that he switches back to the singular.
Given these problems with Bound's solution, I would like to propose a different one. If my Simonian hypothesis about the Pauline letters is correct, it may be the proto-orthodox interpolator who is responsible for the confusion. He may have changed "virginity" to "virgin" in order to turn this passage about male virgins into one about both males and females. A passage about a subject that had lost much of its relevance in the mid-second century (a special association of men determined to forego sexual intercourse) was converted into something of wider interest to the proto-orthodox: men and women living celibate lives. That such was one of their concerns comes out, for example, in Justin's First Apologia:
And many, both men and women, who have been Christ's disciples from childhood, remain pure at the age of sixty and seventy years… (ch. 15).
Likewise in the Apologia of Athenagoras:
Nay, you would find many among us, both men and women, growing old unmarried, in the hope of living in closer communion with God. (ch. 33)
Thus my suspicion is that the interpolator of Simon/Paul's letters changed "Let him marry" to "Let them marry" and substituted "virgin" for "virginity" in 1 Cor. 7:36-38. It was these changes that caused the notorious crux. In the original version of chapter 7 the virgins discussed were the male virgins of Revelation 14:4. The Corinthians, in their letter to the Apostle, had informed him of the celibacy oracle being preached by his competitors, and had asked: "Is it good thing for a man not to touch a woman?" His answer, basically, was that celibacy was a gift that not everyone possessed (1 Cor. 7:7). But if one had the gift, then "yes," it is a good thing, but only in the sense that it leaves one with fewer distractions in serving the Lord during these final days of the world. There is nothing holier about it, and even those who have initially embraced it do not sin if they ultimately decide to get married.
Other interpolations in the chapter?
Gordon Fee finds the final two verses of chapter 7 "something of a surprise" (First Corinthians, p. 355). C. K. Barrett thinks the verses are "almost an afterthought" (The First Epistle to the Corinthians, p. 186). Perhaps, says Hans Conzelmann, we have here another "subtle thrust at the pneumatics in Corinth" (1 Corinthians, p. 136).
The passage in question is this:
A wife is bound to her husband as long as he lives. If the husband dies, she is free to be married to whom she wishes, only in the Lord.But in my opinion she is happier if she remains as she is. And I think that I too have the Spirit of God.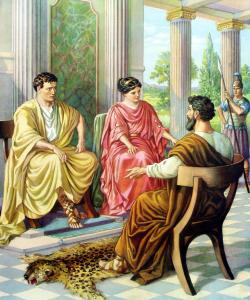 This may indeed be a subtle thrust but it may have come from the interpolator. Simon/Paul would be the object of the thrust, not the one giving it. For he may be the Simon/Atomus who, according to Josephus, went on Felix's behalf and persuaded Drusilla to leave her husband and marry the procurator (Antiquities 20, 7, 2). If so, the new Paul is setting the old one straight about the indissolubility of marriage.
And the words "only in the Lord" may have in view the lenient attitude Simon/Paul expressed regarding mixed marriages in 1 Cor. 7:12–14. Already in that passage the words "I say—not the Lord" put some distance between the leniency and the Lord. That distance may be the interpolator's work. And I wonder if he intended to add something harsher there but somehow misplaced it. For about midway in 2 Corinthians there is a passage (6:14-7:1) that even many mainstream scholars view as an interpolation:
Do not be yoked with unbelievers. For what partnership have righteousness and iniquity? Or what fellowship has light

with darkness?What accord has Christ with Belial? Or what has a believer in common with an unbeliever? And what agreement has God's temple with idols? For you are the living God's temple; according as God has said, "I will dwell among them, and walk among them; and I will be their God, and they shall be to me a people. Therefore come out from them, and be separate from them, says the Lord, and touch nothing unclean; then I will receive you,and I will be a father to you, and you shall be my sons and daughters, says the Lord Almighty."

Since we have these promises, beloved, let us cleanse ourselves from every defilement of body and spirit, and make holiness perfect in the fear of God.
These are sentiments that are more at home in the book of Revelation than in the Pauline letters. The call to "Come out from them," for example, is reminiscent of the "Come out from her, my people" in Revelation 18:4. And the title "Lord Almighty" in 2 Cor. 6:18 is used nowhere else in the New Testament except in Revelation. There it is used nine times.
So it may be that the interpolator was going to correct the Apostle by using an oracle from the Revelation community itself, but somehow managed to put it in the middle of the wrong letter to the Corinthians.
Next

 
As usual, I have overestimated how much I would be able to include in this post. I was hoping to at least begin to discuss 1 Corinthians 15. It will have to wait. But I am determined to get to it next (skipping, for now, over chapters 8 to 14). Whether in fact I will stick with that plan is anyone's guess.
The following two tabs change content below.
Latest posts by Roger Parvus (see all)
---
If you enjoyed this post, please consider donating to Vridar. Thanks!
---