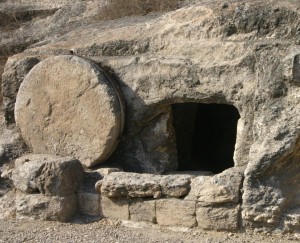 This post is about the miracles in what is generally considered the earliest written surviving gospel, the Gospel of Mark.
Dutch pastor and biblical scholar Karel Hanhart in The Open Tomb: A New Approach, Mark's Passover Haggadah (± 72 C.E.) argues that Mark's empty tomb story has been sewn together with semantic threads mostly from Isaiah in order to symbolize the fall of Jerusalem and its Temple in 70 CE and the emergence of Christianity as a new force among the gentiles. That is, the story of the burial and resurrection of Jesus was not understood as a literal miracle about a person being buried in a tomb and rising again. The first readers, with memories of the national calamity and Jewish Scriptures fresh in their minds, would have recognized instantly the many allusions in Mark's closing scene of the empty tomb to the Temple's fall, the end of the old order as predicted by the Prophets, and the promise of the body of Christ surviving and thriving throughout the nations post 70 CE.
A later or more geographically distant generation for whom the fall of Jerusalem had little personal significance would easily have lost sight of the original meaning of the burial and resurrection miracle and read literally the narrative of Joseph taking Jesus' corpse from Pilate and placing it in the tomb, his rolling the stone to block the entrance, the women coming to anoint the body, their seeing the young man inside and running off in fear when he tells them to tell Peter where to find Jesus.
I will not in this post engage with Karel Hanhart's specific arguments identifying the "Old Testament" and historical sources of Mark's closing scenes. That's for another time. Here I take a step back and look at the reasons we should read Mark's miracle stories symbolically rather than literally. Be warned, though. I do not always make it clear where Hanhart's arguments end and my additions begin. Just take the post as-is. If it's important to know the difference then just ask.
Form critics long ago categorized the miracle stories into different types: healings, exorcisms, nature miracles. Classification like this has allowed scholars to say some types are historical and others not. We can imagine dramatic healing or exorcism that is largely performed through powerful psychosomatic suggestion. But nature miracles? Walking on water? Nah.
The trouble with this division, as Hanhart points out, is that the Gospel of Mark makes no such distinctions in the way any of the miracles are narrated. The narrative audience response is always the same: fear and astonishment. So let's ask the question: What was "Mark" doing? Was he expecting his readers to take the miracles — all of them — literally or symbolically?
And if we answer, "Symbolically", then surely we should include the final miracle — the empty tomb story — in that answer, too.
None of the Synoptic evangelists made such a distinction [healing miracles, nature miracles, . . .]. And Mark placed the open tomb story on the same literal or symbolic plateau, or both, as the stilling of the storm and the transfiguration. The audience response was the same in each case, one of awe and fear (4:41; 16:8). (p. 5)
And if we answer symbolically, we need to explain what message Mark was trying to convey.
Hanhart points to the following reasons Mark gives readers to enable them to understand that he is not writing a literal history.
One of these reasons is the repeated silence as a response to the miracles. This silence is especially bizarre given that it is sometimes the direct result of Jesus command to "tell" others about what they have seen. Conversely, when he commands silence, people tell. So the women who see the miracle at the empty tomb are commanded to tell Peter and the other disciples but they tell no-one; the leper who is cleansed and commanded to be silent tells everyone. There is something bizarre going on here. Or should we say something symbolic, coded. It is hardly a narrative about people behaving realistically.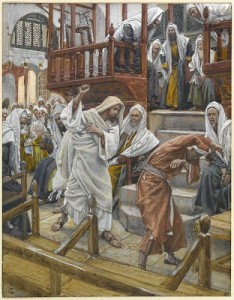 Recall also the first exorcism in the gospel. Jesus is in a synagogue in Capernaum when he is confronted with a man possessed. The demon in him shouts out the real supernatural identity of Jesus and Jesus orders it out of the man. The crowds do not respond with, "What a great miracle!" Oddly, what they say in response is "What new teaching is this?" (Mark 1:27)
Now that reminds us of what Mark writes after he tells us about Jesus teaching a lot of parables from the boat to people onshore. He concludes in Mark 4:34, "Without a parable he spoke not unto them." That has led a few scholars to go so far as to suggest that the entire gospel is a parable. Is the first exorcism really a teaching parable for readers? Is that why the narrative audience speaks about it as a "teaching"? Such a response is not a natural or real-world one. Hanhart would say it is a coded clue to Mark's meaning.
Then consider the occasion when Mark relates the Pharisees asking Jesus for a sign from heaven. Jesus replies: "No sign shall be given this generation" (Mark 8:12). But that's crazy — if read literally. We have just read in the same gospel of Jesus performing one astonishing miracle after the other! He had just fed four thousand people with one boy's picnic lunch. He had performed the same type of miracle not long before with 5000 people. How can Jesus say he would give no sign to that generation when we are reading up till that moment of one great sign after another being performed by Jesus?
Worse, even Jesus' disciples, those closest to him who watch his every move and are in on-the-know, even these disciples ask Jesus how on earth they can feed 4000 hungry people in a desolate area even though only a short while earlier they had participated with Jesus in his miracle of feeding 5000. That sort of denseness among the disciples makes no sense at all in a historical or biographical narrative. Read literally the gospel story becomes a farce.
Then what about Mark's Jesus predicting three times that he would rise again "after three days"? Hanhart himself notes what many of us have also questioned:
Did Mark not realize this "mathematical error? A child knows that if someone dies on Friday afternoon and is "discovered" to have risen on Sunday morning, the intervening period does not comprise three days. (p. 7)
Recall, further, the several names Mark uses that were surely meant to convey more than the simple identity of a place or a particular person. Legion, Jairus, Bartimaeus, Barabbas, . . . . And place-names, too. I won't repeat details here since I've discussed these sorts of puns at least once before at some length. See More Puns in the Gospel of Mark for one such post and a link to an earlier one.
Then we have the curious doublets echoing echoing back and forth. In the opening scenes of Mark people come looking for Jesus very early in the morning, before daylight, but are unable to find him. In the closing scenes we have others coming to find Jesus but again he's left — and it is just after daybreak this time. There is emphasis on the time and the time's association with the same sort of event: looking for Jesus and not finding him. This sort of thing certainly sounds to me as though the author is writing something other than a straightforward historical narrative. Surely we are meant to read such echoes symbolically.
Certain words appear to take on a symbolic meaning through their repeated association with certain types of events. Doors are often mentioned in association with crowds trying to hear or get to Jesus. One of the most bizarre scenes is where a crowd is so large that four men who want Jesus to heal their paralyzed companion climb to the roof of the house and "hew out" the roof in order to lower him down to Jesus inside. And after going to all that trouble the healed man promptly gets up and walks right out through the front door with his pallet as if there was a royal carpet laid out for him — the crowds have suddenly vanished to allow him carry out Jesus' command. Then at the end of the gospel we find Jesus is inside a tomb "hewn out" of a rock with the doorway barred by a huge stone — that later somehow moves aside by itself. What is going on here?
Mark often uses unusual words for things. Unless we know Koine Greek we need to read Mark with a good commentary to be aware of these words. The tomb is not a simple tomb or grave (taphos) but a "memorial tomb" or "monument" (mnemeion). Such things heighten curiosity, as Hanhart observes.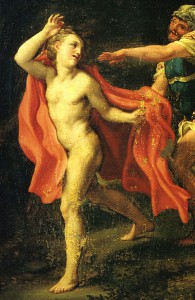 And we all know the mystery of the young man fleeing naked at the moment of Jesus being "handed over" to the priestly and Roman authorities. The several theories to explain this scene as biography or history do not satisfy. If he were really meant to be the author himself then how is it that he next appears in the tomb of Jesus? And why was there any attempt to grab him in the first place since Mark makes it clear that none of the disciples was in danger of being arrested once Jesus was taken? And why does the author inform readers that he was so unusually dressed? Surely no-one else was out there in the night air with nothing but a sindona (linen cloth) wrapped around their otherwise naked body? And why did Mark thrust in the face of readers the striking image of "naked"? And how many others were wearing the same type of sindona that was to be used to wrap Jesus' body? How can we be reading literal history here?
Nor can we overlook the many images in Mark's gospel that evoke scenes from the Old Testament. Jesus travels towards the sea with a huge multitude following him and soon afterwards ascends a mountain from where he appoints twelve disciples to be with him. The parallels with Moses leading Israel to the Red Sea and establishing the twelve-tribed people of God at Mount Sinai have not been lost on commentators. When the blind man only begins to see after Jesus first stage of healing him he sees "men as trees walking". Does Mark really want us to recall the parable of trees all moving to get together to anoint a king in Judges 9:8? If so, why?
And what do all of these semantic and narrative curiosities have to do with the historical background of the author and his original audience?
If we have so many indications throughout the Gospel of Mark that warn us against trying to read it literally, then what did the empty tomb story mean to the original readers?
The following two tabs change content below.
Neil Godfrey
Neil is the author of this post. To read more about Neil, see our
About page.
Latest posts by Neil Godfrey (see all)
---
If you enjoyed this post, please consider donating to Vridar. Thanks!
---