Social-Scientific Criticism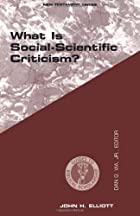 In an earlier post — Casey: Taking Context out of Context — we discussed the disturbing habit in NT scholarship of explaining away textual difficulties by playing the high-context card. For example, in What Is Social-Scientific Criticism? John H. Elliott of the Context Group writes:
Further, the New Testament, like the Old Testament and other writings of antiquity, consists of documents written in what anthropologists call a "high context" society where the communicators presume a broadly shared acquaintance with and knowledge of the social context of matters referred to in conversation or writing. Accordingly, it is presumed in such societies that contemporary readers will be able to "fill in the gaps" and "read between the lines." (John H Elliott. Kindle Locations 125-128)
Similarly, Bruce Malina explains why Paul's writings are often "misunderstood":
The New Testament was written in what anthropologists call a "high context" culture. People who communicate with each other in high context societies presume a broadly shared, generally well-understood knowledge of the context of anything referred to in conversation or in writing. (Bruce J. Malina; John J. Pilch. Social-science Commentary on the Letters of Paul (p. 5). Kindle Edition.)
Hoping to explain away the messianic secret, David F. Watson says:
The necessity of protective secrecy was exacerbated in the ancient Mediterranean context by the "high-context" nature of the culture. A high-context culture is one in which people are deeply involved in the everyday activities of those around them and in which information is widely shared. . . . Within the high-context setting, secrecy would be an important and necessary means of protection. (Watson, Honor among Christians: The Cultural Key to the Messianic Secret, p. 25)
Useful but misused
I want to be clear up front. I would never argue that social-scientific criticism is in itself a misguided approach, but I do wish to point out a few observations that indicate a pattern of misuse. We continually read that the people in Jesus' and Paul's time lived in a high-context culture, with little in the way of demonstration.
However, a scientific approach demands that scholars provide evidence for their assertions. Besides proving that NT writers lived in high-context cultures, scholars must also prove it follows that their writings will always reflect that high context. Because it is stated flatly as a "known fact," we miss out on important points of the discussion. For example:
Cultural context occurs along a continuum. In other words, a culture that is either 100% low or 100% high context is a caricature. The fact that we can (arguably) understand Paul's epistles today shows that not everything he wrote required a special understanding of his context. So we have to ask, to what degree were early Christian cultures high context?
People adapt to situations and adjust their degree of explicitness accordingly. How might that phenomenon affect the way the fourth evangelist wrote compared to Mark or Paul? What factors might contribute to an author's deviation from a cultural predisposition toward high-context behavior?
According to cultural anthropologists, cultural context is just one of several ways we can describe a society, and they all interact with one another. What are the other dimensions? Do any of them have a bearing on whether a person in a high-context society might engage in low-context communication?
Anthropologists and sociologists also tell us that besides culture, human nature and our distinct personalities have a bearing on our behavior. We are not merely the products of our cultures. Geert Hofstede puts it this way:
Culture is learned, not innate. It derives from one's social environment rather than from one's genes. Culture should be distinguished from human nature on one side and from an individual's personality on the other, although exactly where the borders lie between nature and culture, and between culture and personality, is a matter of discussion among social scientists. (Hofstede, Cultures and Organizations: Software of the Mind, Third Edition, p. 22)
Power distance: the relationship between Paul and his churches
In a peaceful revolution—the last revolution in Swedish history—the nobles of Sweden in 1809 deposed King Gustav IV, whom they considered incompetent, and surprisingly invited Jean Baptiste Bernadotte, a French general who served under their enemy Napoleon, to become king of Sweden. Bernadotte accepted and became King Charles XIV John; his descendants have occupied the Swedish throne to this day. When the new king was installed, he addressed the Swedish parliament in their language. His broken Swedish amused the Swedes, and they roared with laughter. The Frenchman who had become king was so upset that he never tried to speak Swedish again.
In this incident Bernadotte was a victim of culture shock: never in his French upbringing and military career had he experienced subordinates who laughed at the mistakes of their superior. Historians tell us he had more problems adapting to the egalitarian Swedish and Norwegian mentality (he later became king of Norway as well) and to his subordinates' constitutional rights. He was a good learner, however (except for language), and he ruled the country as a highly respected constitutional monarch until 1844. (Hofstede, p. 69)
Above, I mentioned the existence other cultural value dimensions and the importance of considering them if we wish to gain some insights on the social background to NT writings. One such dimension is power distance.
The dominant culture in the United States has what Hofstede calls a "low power distance" structure. Power distance has to do with the level of inequality in a society. For example, in the U.S., you might call your boss by his first name and freely offer your opinions about the best way to do things. He's above you in the org chart, but not so far above you that you can't speak your mind. On the other hand, in high power distance societies, your boss might never ask your opinion. At lunch, you'll probably never sit with him, but instead eat with your peers. You show him deference and would never think of calling him by his first name.
U.S. society is not completely egalitarian, of course. Inequality is a fact of life in any human society. It's a question of degree. Hence, the power distance scale simply measures the amount of inequality that people in a given society are comfortable with.
Power distance can therefore be defined as the extent to which the less powerful members of institutions and organizations within a country expect and accept that power is distributed unequally. Institutions are the basic elements of society, such as the family, the school, and the community; organizations are the places where people work.

Power distance is thus described based on the value system of the less powerful members. The way power is distributed is usually explained from the behavior of the more powerful members, the leaders rather than those led. (Hofstede, Cultures and Organizations: Software of the Mind, Third Edition, p. 61, italics original)
How should we assess the power distance between Paul and his converts in Galatia and Corinth? Remember the tone Paul took in Galatians 3:1-4.
1. You foolish Galatians! Who has bewitched you? It was before your eyes that Jesus Christ was publicly exhibited as crucified!

2. The only thing I want to learn from you is this: Did you receive the Spirit by doing the works of the law or by believing what you heard?

3. Are you so foolish? Having started with the Spirit, are you now ending with the flesh?

4. Did you experience so much for nothing?—if it really was for nothing. (NRSV)
Paul is figuratively (and literally!) writing in all caps here. His harsh tone and explicit language show that he views himself as an authority figure over the Galatians and that he expects the Galatians to accept their subordinate position. He is not offering advice; he is dictating instructions.
Likewise, when addressing the Corinthians, Paul is appalled that they would follow different factions. How can there be any factions within the body of Christ? It's inconceivable. He takes them to task in chapters three and four, concluding with:
4:14. I am not writing this to make you ashamed, but to admonish you as my beloved children.

4:15 For though you might have ten thousand guardians in Christ, you do not have many fathers. Indeed, in Christ Jesus I became your father through the gospel. (NRSV)
He then finishes the chapter with this zinger:
4:21. What would you prefer? Am I to come to you with a stick, or with love in a spirit of gentleness? (NRSV)
We conclude that Paul would prefer to change their minds with fatherly exhortation, but he would maintain that applying a fatherly spanking is not out of the question. The fact that these letters were copied and shared with other churches would tend to prove that the Galatians and Corinthians were comfortable with this relationship. In Hofstede's lingo, Paul's churches accepted and expected a high degree of inequality, which indicates a high power distance index.
How does power distance affect cultural context?
The research shows that Paul would be very direct and very explicit with his congregations, because of the high power distance index. Paul was their leader. Paul was their father in faith.
Recently, I was listening to a series of lectures by David Livermore, entitled Customs of the World: Using Cultural Intelligence to Adapt, Wherever You Are. If you are an Audible subscriber, check it out.
Livermore doesn't discuss high- and low-context cultures until lecture 8, "Communication: Direct versus Indirect," and with good reason. In earlier lectures he talks about other dimensions of culture, including individualist vs. collectivist, high vs. low power distance, low vs. high uncertainty avoidance, etc. So by the time we get to the subject of high and low context we're prepared to think of it with respect to other dimensions.
High power distance cultures are usually high context, but keep in mind that the other cultural dimensions keep influencing behavior at the same time.

Here's what I mean by that. Peers in a high power distance culture would typically be quite indirect in the communication with each other, as an expression of their high-context orientation. However, a boss is likely be very direct with a subordinate in a high-context culture and high power distance. Or a parent is likely to be very direct with a child.

So in this case status and authority trump being indirect. That is to say, power distance trumps where a culture is on context.

[The italicized text in the above quoted material represents Livermore's vocal inflection. The bold text reflects my emphasis, because it's a refutation of the high-context apology for Paul's silence on the historical Jesus.]

Could somebody please read that last paragraph to Casey? Steph, if you're out there, let him know that power distance trumps culture. The research shows that Paul would be very direct and very explicit with his congregations, because of the high power distance index. Paul was their leader. Paul was their father in faith.
Moreover, as I pointed out in the previous post on cultural context, Paul was writing to instruct and often correct his readers. In this situation, it is unthinkable that Paul would be coy, indirect, or implicit. And finally, Paul, at least as he comes across in his letters, was the sort of person who would not shy away from telling us exactly what he thought.
Implications
What can we take away from the preceding analysis? Earlier, I alluded to a pattern of misuse. Unfortunately, it appears many scholars who flirt with the social sciences or dabble in history would rather skim their sources than read for understanding. Worse, they tend to find evidence that supports their hypotheses, and then stop looking. That isn't how the scientific approach is supposed to work.
We saw the same truncated process in James McGrath's misapplication of Jan Vansina's oral tradition research. McGrath found what he was looking for — a reference to embarrassment as an indicator of veracity — liked what he found, and stopped looking.
When we read through the references to high and low context in New Testament research, we see obvious signs of skimming. The authors consistently proclaim the "fact" that all ancient near east societies were high-context cultures and that all documents produced by such cultures are necessarily high-context documents. Subsequent authors are content with citing Malina's original assertions, showing absolutely no interest in any deeper implications.
Current research that shows different situations have a profound effect on a person's directness of communication. How could anyone reasonably familiar with cultural anthropology be unaware of that research?
Considered within the framework of situational social dynamics and high power distance, Paul's writings look like what they are: explicit, low-context communications from a strong leader to his subordinates. He explains what he wants the readers to do or not to do. He reinforces the exhortation with a philosophical argument or a midrash on the OT. Finally, he caps it off with a quotation from the Tanakh, as the authoritative last word. Paul must have had a reason for not quoting Jesus, but that reason cannot have anything to do with his membership in high-context society.
Conclusion
If you read Malina's proclamations about high-context culture and think to yourself, "Yeah, that makes sense," that's not a scholarly conclusion; it's an uninformed opinion.
After the recent debate on biological evolution between Ken Ham and Bill Nye, I happened upon "22 Messages From Creationists To People Who Believe In [sic] Evolution" at BuzzFeed. Number 4 (see also number 6) in the list always amuses me: "Does not the second law of thermodynamics disprove evolution?" It's a question that shows a lack of knowledge in science, as well as a lack of curiosity in the question itself. You know full well that this person knows nothing about any other law of thermodynamics. And you know that he must never have googled the question, because it's easily debunked. Finally, you know that even if you explained it to him, it would have absolutely no effect on his belief in creationism.
Unfortunately, we see the same kind of behavior in biblical scholarship. Instead of carefully studying research from other disciplines to find applications within the study of the Bible, scholars tend to skim to find an "explainer" — a mined nugget that will explain away a given problem or set of problems.
On my bookshelf, I have a small stack of works on memory research and how it applies to the NT. They're in my reading queue, and I'm still in the process of figuring out what the authors are getting at. Yet I'm already beginning to suspect many of these writers are basing their conclusions on unexamined assumptions about what the NT is and a misapplication of a discipline they don't fully comprehend. In much the same way, scholars have misunderstood and misapplied oral tradition research, content to find a handful of plausible explainers that prove their points.
We can tell there's little real interest in the basic research, because subsequent authors tend to quote the first couple of NT scholars who made the original assertions. They'll even engage in "quoting quotes." That is, if you know the original research as well as the excerpts that, say, James Dunn used in Jesus Remembered, you may find that later authors will use the same quote. See, for example, Eddy and Boyd's reference to Vansina about the oral tradents as a "walking reference library" in The Jesus Legend (Kindle Locations 4592-4593). They cite Vansina from page 37 of Oral Tradition as History. But Dunn has used "walking reference library" in several books. It's one of his pet phrases.
So the question arises: Are they quoting the original from Vansina? Are they familiar with his work? Have they really read Parry and Lord? Or have they never read the original texts, merely quoting the quotes? (Secondary quote-mining is a poor substitute for scholarship.)
It matters, because if scholarly consensus has any real weight, then scholars need to have a true understanding of the issues. It isn't enough for them to be convinced by Dunn's arguments, if they don't know the work that went behind it. If you read Malina's proclamations about high-context culture and think to yourself, "Yeah, that makes sense," that's not a scholarly conclusion; it's an uninformed opinion. Is it really all that different from the creationists who read something on a web site and think, "Yeah, why are there still monkeys?" (See question number 22) or "Yeah, evolution does violate the law of entropy"?
The following two tabs change content below.
Tim Widowfield
Tim is a retired vagabond who lives with his wife and multiple cats in a 20-year-old motor home. To read more about Tim, see our
About page.
Latest posts by Tim Widowfield (see all)
---
If you enjoyed this post, please consider donating to Vridar. Thanks!
---