In Thomas Brodie's view Jesus was an imaginative literary creation of the New Testament writers. But that does not lessen his religious and spiritual significance for anyone who believes in and seeks to deepen their understanding of God. The Jesus figure was "not a petty literary exercise" but a vehicle for a new revelation or vision of the nature of God. Not just one but several people contributed their own inspirations to what this figure represented and that's why we have diverse views of Jesus in the New Testament writings.
The name "Jesus" was the natural one given that it is the Greek form of the name of Moses' successor, Joshua. He encapsulated a new understanding of God that succeeded the Mosaic revelation. He emulated and surpassed the old figures of Moses, Elijah, the Anointed One (Christ) and, being identified with the Yahweh of old, widened and deepened "for all time" the believer's vision of the nature of God.
Brodie's conceptualization of this vision of Jesus as "the heart of reality . . . the measure of reality; and . . . the enigmatic form of reality — shadowed beauty" surpasses my own naturalistic comprehension and view of reality so I can only leave it to those more mystically minded than I to read Brodie's explanation for themselves. (Brodie himself says he does "not have a clear sense of what Jesus Christ means", so I suspect I should not feel embarrassed for failing to understand some of his attempts to explain.) I think I can grasp some of the details, however.
(Moreover, hopefully word will leak out of this further evidence that I am not interested in "attacking" religion or anyone's sincere religious beliefs. It is the blatant hypocrisy, snobbery and intellectual dishonesty of a handful of Bible scholars and students that I have derided.)
Brodie might complain that I attempt to reduce the points to comprehensible brevity here and miss the "inexpressible" nature of what he wishes to express, but I will object to Brodie's failure to comprehend the alternative vision of reality as found among the likes of naturalists like Dawkins (whom he appears either to have had no interest in reading for himself or to have misunderstood). I hope to give a reasonably fair idea of Brodie's position here, however brief.
Symbol of "Heart of Reality"
Christ died for our sins and rose to save us:
These words are beyond full comprehension (how does someone's death actually redeem others from sins?) but they convey "a vision of reconciliation with fresh strength and clarity, so fresh that the revealing of the figure of Christ brings creation to a new level and inaugurates a new covenant. . . . It brings life to a new level."
The idea of reconciliation with the divine is itself old. Contrast the Christ method with one of its earliest images, that of God "repenting" or "regretting" having wiped out all sinners in a great flood.
Reconciliation is linked with something radically new — God's son/Son:
How could "the one and only God" have a child? Intimations of such a concept are found in the Old Testament. Recall Isaiah's Emmanuel and the parable acted out by Hosea. Recall also the sending of the beloved son Joseph to Egypt to save the lives of his sinful brethren.
The ultimate implication is that within God and God's creation there exists a dynamism that absorbs the world's forces of sin and death — an idea which overlaps with that of Buddhism that the heart of reality is compassion. It also overlaps with Muslim tradition, where Allah is known, above all, as 'Allah, the Merciful, the Compassionate'. (p. 205)
Brodie compares God's nature to the way a person can simultaneously have different roles: parent, child, colleague. . . .
Conclusion (my bolding, as in all quotations):
Ultimately the picture of God giving his Son is a vivid way of saying that God gives God's own self, so that within God reconciliation is already established. This is the universal that is pictured in the New Testament account of Jesus . . . . The challenge for humanity is to tune in to this space where reconciliation already exists. (pp. 206-207)
What of the crucifixion? Brodie sees this image as conveying the understanding that
God in some sense is at the heart of evil . . . Only something as horrendous as the crucifixion can communicate the full complexity of God's presence, and so the crucifixion became central to Christianity. The horror, of course, is part of something larger, something involving a form of resurrection, of greater life. Childbirth captures the apparent contradiction, often mixing pain and life. (p. 207)
Jesus rising from the dead:
The account of Jesus' resurrection . . . is . . . a symbol of truth — of an extraordinary mystery of life and of the renewal of life. (p. 209)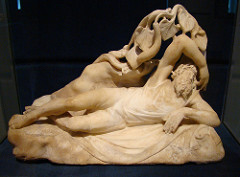 Comparing the image of Jonah:
The image of God's compassion in Jesus need not be taken literally — just as, in its own way the image of God's compassion in the book of Jonah need not be taken literally — but the image of Jesus clarifies something important about God. (p. 209)
What in the Church would change?
It is possible . . . to maintain essentially the same gospel accounts, rituals and devotions as before, not because they reflect specific events of the past, but because they use life-like stories set in ancient times to evoke the deepest truth . . . (p. 211)
Symbol of "Measure of Reality"
I can understand people wanting and finding comfort in spiritual ideas such as those listed above, but of course to sustain belief in those spiritual concepts it follows that they must believe in something beyond the material and measurable universe itself. (I use "material" and "measurable" loosely and mean to encompass those units of incomprehensibly small things/energies being discovered and all those weird phenomena beyond Newtonian physics.)
So Brodie believes that there is much more to "everything" than what he perceives as a crude reductionism that is being popularized today by Richard Dawkins and his like. Brodie specifically refers to "altruism":
Richard Dawkins . . . reduces everything in humans to the mechanics of selfish genes, mechanics that know nothing about altruism. Altruism may indeed by tainted at times, but the evidence for its existence is solid, and Dawkins' refusal to allow such features to human beings means that his picture of the human mind is fiercely reduced. The mind is rendered absent . . . (p. 212)
I don't know how anyone who has read anything more than a few extracts of Dawkins works could think that "reductionism" robs us of meaning, awe and beauty so it may be pertinent to note that not a single work of Dawkins appears in Brodie's bibliography. Rather, Brodie links his comments on Dawkins and the view he represesnts to is a work (Absence of Mind) by a kindred religious spirit, Marilynne Robinson. Learning more about what we have always thought was "the mind" and about motivations of human behavior does certainly confront our traditional beliefs and assumptions. But just because we increasingly understand the mechanisms of, say, altruism, does not in the slightest diminish its value for us personally or socially. No parent is going to think any less of their feelings towards their children because they understand parental love in biological and chemical terms.
No, the fact that the mysteries and overwhelming dimensions of life and the universe, of consciousness, of beauty and all things we associate with the "human spirit", can all be explained (or are on their way to being explained) as the products of simple chemical and electrical interactions, only adds to the wonder of all that we experience. Every life is all the more precious, not less, if it is really so fleeting with no hope for a resurrection. Altruism is no less real or valued and honoured for our understanding of its genetic causes. We lose none of our humanity for more deeply understanding humanity. I personally think the naturalistic view calls for a certain courage to face reality "as it is".
But I can understand how another person will disagree and think differently. I know I could not understand the way I think now when I was infused with a God consciousness (or some might less kindly call it a God complex, as I know I do in other contexts). I know I could not comprehend life without a belief in a hereafter or belief that there was something more than the material.
So we have different world views. The religious mind will still see something beyond "nature" and for Brodie and Christians that will be the idea of Jesus.
Symbol of Shadowed Beauty
Brodie turns to spirituality and religious concepts to find beauty in human existence and key themes in the Bible.
Beauty occurs yet again in the various images of God or the the Lord God; taking clay to form a human; providing companionship; walking in the garden, making clothes; showing concern for the victim, Abel; and concern for the killer, Cain; . . . . The presence of beauty continues in Christ, especially in giving him names and titles. . . . (p. 214)
And when there is horror Brodie speaks of encountering the "divine figure" even there and even there encountering "the underlying beauty".
Instead of caving in to despair or bitterness, a person keeps their sights on something true and good and genuinely beautiful . . . (p. 217)
For Brodie,
What is important is that, while the loss of Jesus as a specific individual human may bring sadness, union with the living Jesus — the universal living figure of truth and goodness and shadowed beauty, the Gospel figure who touches the leper, embraces the children, and lays down his life for our sins — union with this Jesus brings new life. (p. 218)
The final chapter of Brodie's Memoir is about belief and reason. That will be the final in this series.
The following two tabs change content below.
Neil Godfrey
Neil is the author of this post. To read more about Neil, see our
About page.
Latest posts by Neil Godfrey (see all)
---
If you enjoyed this post, please consider donating to Vridar. Thanks!
---