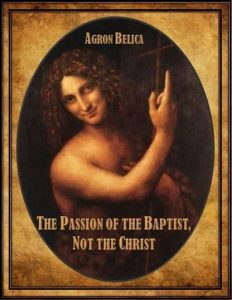 If anyone was upset at Reza Aslan's book Zealot, a fairly tame view of Jesus by standards of orthodox biblical studies, they will self-destruct when they hear about another Muslim's take on Jesus. . . .
Agron Belica has already written The Crucifixion: Mistaken Identity, John the Baptist and Jesus the Christ. This work was preceded by a warm-up preface of sorts: Deliver a Messiah: Mistaken Identity. The book being advertized through Salem-News is The Passion of the Baptist, Not the Christ.
It's interesting to look at the way the book is being promoted. I first was made aware of it through Gilad Atzmon's regular newsletter. His blog post repeats what that contained. Atzmon finds it interesting just as Richard Dawkins was interested to hear Joseph Atwill's thesis on the Roman invention of Christianity. It's a harmless curiosity. I don't believe either of these men will take either of these ideas and shout them from rooftops with conviction. They'll simply take them as an interesting set of ideas to speculate about.
That won't stop Fox interviewers or mainstream biblical scholars and theologians from going ballistic, however. If any of them take notice I can hear already their offended cries: But Agron Belica is not one of us! He is not trained in our schools! Therefore he is not qualified to write what he does and we think everyone should scoff at the book and insult its author and avoid reading it.
What is different about this work is that it is apparently based on a study of three pillars:
Gospels
Josephus
Quran and other Islamic texts
John the Baptist could not have been beheaded since this was a punishment reserved for Roman citizens, Agron argues. The story of his beheading serves another agenda. It was John who was really crucified to liberate the Messiah to continue his mission — even as far as Kashmir, possibly. It is the Muslim view that Jesus was not crucified, so it is at least interesting, I suppose, to see how a Moslem might piece together the various strands of evidence beginning with his immersion in the Quran.
(I am reminded of Robert Eisenman's James, the Brother of Jesus. It sounds like another one of those hypotheses that is built on a string of disparate texts that are threaded together to create "circumstantial evidence" for the speculative scenarios.)
I gather that Agron himself is not a formally trained scholar. So it's interesting to see the way this lack is handled by the book's promoters. All the blurbs are by Doctors and "Real Scholars". There's even a video of about 8 minutes showing Agron getting around with an elderly "PhD", Dr Jay R. Crook — no narration, just music and images of a close association.
http://www.youtube.com/watch?feature=player_embedded&v=w_jrbJHl1pA
Another scholarly promoter is Dr. Laleh Bakhtiar. She explains that Agron's qualifications are higher than those of mere intellectual scholars. He is a truth-seeker closer to God than most, she seems to be saying, so we can listen to him with deeper appreciation.
This promotion comes through Salem-News Com. It appears to be written by a "researcher journalist", Lisa Spaulding, but consists mostly of a series of "PhD" endorsements of the book.
Agron's own site promotes his earlier work, The Crucifixion: Mistaken Identity, John the Baptist and Jesus the Christ, in more modest tones. Here we read that this work is primarily speculation and based mostly on circumstantial evidence intended to open up reader's minds to another point of view when one starts from a different base — the Quran and Josephus, and interpreting the Gospels through those sources.
Another interesting related thought is the hypothesis (recently revived again(?) by Robert Price) — that John the Baptist and Jesus originated as a single figure and bifurcated by the time the Gospels were written.
The following two tabs change content below.
Neil Godfrey
Neil is the author of this post. To read more about Neil, see our
About page.
Latest posts by Neil Godfrey (see all)
---
If you enjoyed this post, please consider donating to Vridar. Thanks!
---