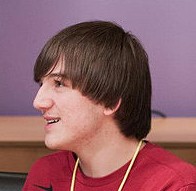 Imagine a sixteen year old high school boy relying entirely upon Google, Wikipedia and freely available online scholarly publications claiming to have found a new explanation for Christian origins that was radically different from anything proposed to date. I suspect he will be ignored. If he makes enough noise to attract some popular attention he will be dismissed as a crank.
How could it be any different? Biblical studies are fundamentally ideological.
It is different in the hard sciences where tests for correctness can be devised to give an objective result open to all to see and accept. In the field of cancer research it is quite possible for a sixteen year old high school boy relying entirely upon Google, Wikipedia and freely available online scholarly publications to devise "a new, rapid, and inexpensive method to detect an increase of a protein that indicates the presence of pancreatic, ovarian, and lung cancer during early stages when there is a higher likelihood of a cure."
The result of his project was a new dipstick type diagnostic test for pancreatic cancer using a novel paper sensor, similar to that of the diabetic test strip. This strip tests for the level of mesothelin, a pancreatic cancer biomarker, in blood or urine, to determine whether or not a patient has early-stage pancreatic cancer. The test is over 90 percent accurate in detecting the presence of mesothelin. According to Andraka, it is also 168 times faster, 1/26,000 as expensive (costing around three cents), over 400 times more sensitive than the current diagnostic tests, and only takes five minutes to run. He says the test is also effective for detecting ovarian and lung cancer, due to the same mesothelin biomarker they have in common. [Wikipedia article]
199 out of 200 scientists whom Jack Andraka approached asking for the assistance to conduct put his theory to the test rejected his idea. Of course, in Biblical Studies there is no way for the community to come to agreement on the validity of a radically new theory from a sixteen year old high school kid who relies entirely on Google, Wikipedia and online research. The ideological nature of the discipline will never allow it. There can be no objective laboratory tests to demonstrate its validity with any sort of relative objectivity.
Andraka the Bible student would be scoffed at as not having qualifications, not having published, not being a "real Scholar". And the one out of 200 who might be sympathetic to his views would probably have to remain silent for fear of ridicule and security of tenure.
If there's a point to this post it is simply to raise the question and provoke some thought on a number of points that we hear raised so often by the institutional elites of the seminaries and certain religion departments in universities.
The following two tabs change content below.
Neil Godfrey
Neil is the author of this post. To read more about Neil, see our
About page.
Latest posts by Neil Godfrey (see all)
---
If you enjoyed this post, please consider donating to Vridar. Thanks!
---