"The Book of Genesis"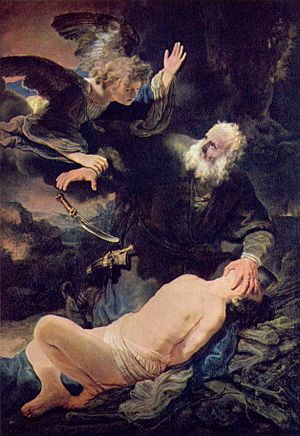 Recently, Gary Rendsburg's audio course on Genesis became available at The Great Courses web site for just $29.95, and I couldn't resist. In future posts, I would like to review this series of lectures more completely, but for now, let me just say that it's pretty good — especially with respect to internal literary analysis — but it does have some serious problems.
Professor Rendsburg, a self-confessed maximalist who believes Abraham was a historical figure and rejects the Documentary Hypothesis (DH), does acknowledge that many of his positions are not currently the consensus viewpoints, but he does an inadequate job of presenting other viewpoints. I don't criticize him for holding contrary opinions. After all, this is Vridar. But if a lecturer is going to discuss minimalism or the DH, then he or she should at least present them fully and correctly.
Through a glass, darkly
As I said, I want to take a more detailed look at Rendsburg's course in the future, with special emphasis on the DH. However, this post is about something else altogether: namely, the way scholars steeped in either the Old Testament (or Hebrew Bible, if you prefer) or the New Testament seem to have a limited, if not skewed, understanding of the surrounding contemporaneous world.
We should, of course, err on the side of forgiveness, say, when a New Testament scholar expresses surprise on discovering that for many decades people have theorized that Shakespeare didn't write the plays or the sonnets. Sure, you thought everybody knew that, but it isn't his bailiwick. And if that same NT scholar thinks the DH can be proved by comparing variations of the divine name in the Psalms, well even there we could make excuses (but I won't), since the OT is also not his within his realm of expertise.
However, we cannot countenance the lack of knowledge when it comes to the surrounding cultures of the subject matter that an academic claims to know on a professional, scholarly level. If you assert that you know how the ancient Hebrews or Israelites compared to their neighbors, then you'd better understand those other cultures as well as possible.
Immortality: The "ultimate quest"?
Specifically, how much emphasis did the religions of the Ancient Near East place on the attainment of eternal life? According to Rendsburg:
Continue reading "Rendsburg on Genesis and Gilgamesh: How Our Focus on the Bible Can Distort Our View of the Past"