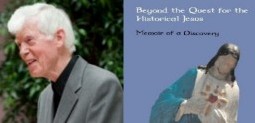 Continuing the series on Thomas Brodie's Beyond the Quest for the Historical Jesus: Memoir of a Discovery, archived here.
.
Chapter 15

PAUL'S BIOGRAPHY – INCREASINGLY DIFFICULT
.
Chapter 15 of Thomas Brodie's discovery memoir (Beyond the Quest for the Historical Jesus: Memoir of a Discovery) surveys what can happen when one applies comparative literary analysis to the letters attributed to Paul. The third case study Brodie outlines is one I particularly love. How can one not be attracted to a scholarly synopsis that introduces a case for a view that one has long held independently as a consequence of one's own personal analysis?
When I compare the conclusion of Acts (a conclusion generally regarded as problematic or otherwise incomplete) with other ancient (including biblical) literature I am almost sure there is nothing problematic about the ending of Acts at all. It is based upon the conclusion of Israel's "Primary History". That is, the conclusion of Acts is strikingly similar to the concluding chapter of 2 Kings. (I have posted detail on this before.) And of course once one recognizes that, the logical question to ask is whether the events of Acts leading up to that conclusion bear a similarity to the events in 2 Kings leading up to the liberal captivity of the king of Judah. In other words, does Paul's journey to Rome evoke substantial literary connections with the exile of the captive "Jews" to Babylon? I believe it does. So I cannot help but take pleasurable notice when Brodie makes the same point.
Regrettably there is a dark side to this chapter, or at least to the way a key point the chapter makes was completely botched in a review by a certain associate professor and world authority on parallelomania studies between science fiction and religion. But I will save that for the "Who holds the pen?" section.
It's an interesting time to be posting this review and overview. We currently have a series by Roger Parvus with a quite different take on the nature and origins of the Pauline letters. So plenty of scope to exercise our synapses. Continue reading "Making of a Mythicist, Act 4, Scene 4 (The Crumbling Evidence for Paul)"