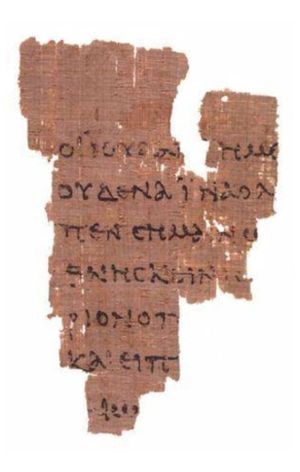 With thanks to Larry Hurtado and the PhD student who brought this to his attention, I have accessed a recently published article that, as Dr Hurtado himself says, "all concerned with the study of NT manuscripts should read":
Pasquale Orsini & Willy Clarysse, "Early New Testament Manuscripts and Their Dates:  A Critique of Theological Palaeography," Ephemerides Theologicae Lovanienses 88 (2012): 443-74. 
As Hurtado himself points out, "the authors are both professional/trained palaeographers, and Clarysse is the founder of the extremely valuable Leuven Database of Ancient Books (LDAB), which provides data on all published/edited manuscripts from the ancient world, and can be accessed online here."
The point of the recent article? Again, Hurtado:
The object of the recent article is a critique of the tendencies of a few scholars in NT studies to push for early datings of NT manuscripts, sometimes highly improbably early datings.
Of course the one manscript that is of most popular and controversial interest is P52, that small scrap of text from the Gospel of John. I won't repeat all the details here since they are widely known and readily available on Wikipedia. The main point of interest of this fragment is that it is generally dated to around 125 CE, and that since it was found in Egypt, this date accordingly is evidence that the Gospel of John, generally thought to have been composed in Asia Minor, must have been some time earlier than 125 CE. And since the Gospel of John is widely considered the latest of the canonical gospels, this fragment can serve as evidence for the traditional dating of the Gospels — the last decades of the first century.
Larry Hurtado does not appear to be particularly interested in P52 since he makes no mention of it in his post, though he does mention around 15 other manuscripts.
So for the benefit of those who are curious, here are the relevant points and conclusion of Pasquale Orsini & Willy Clarysse.
C.P. Thiede has argued for a first century date for P52. (Papyrologists have generally reacted negatively to Thiede's general arguments for earlier dating of manuscripts.)
B. Jaroš also has assigned dates for manuscripts much earlier than those proposed by Nestle-Aland, but Orsine and Clarysse point out the fragile foundations of these early dates, being dependent as they are upon comparisons with less than absolutely firm dates of related manuscripts. Orsine and Clarysse object that the dates of Jaroš are assigned sometimes on the basis of comparing single letters apart from the general graphic aspect.
Orsine and Clarysse also criticize Jaroš for referring to Comfort-Barrett's work on manuscript dating (also arguing for early dates) as if it represented a consensus, "thought this is clearly not the case."
Here is how Orsine and Clarysse classify the famous P52 fragment (with my own formatting):
Two forms of writing originated in bureaucratic and chancery practices.

The first type (comprising a large number of New Testament manuscripts) was used in the main central and peripheral offices in the second and third centuries . . . .  it is round, unimodular and looped, and the strokes end in apices (in the lower parts) and small hooks (in the upper parts); sometimes curves and flourishes are added at the end of letters.

Typical examples are

PSI V 446 (Pap. Flor. XXX, n° 122, pl. CXI; TM 19292),

an edict of the praefect Marcus Petronius Mamertinus, written 133-137,

and P. Oxy. LVIII 3917 (P. Oxy. LVIII, pl. 2; TM 27301),

an early second century letter, sent by the praefect's office to a strategos.

From this type derives the above-mentioned "Alexandrian stylistic class", which itself is the origin of the Alexandrian majuscule. The New Testament manuscripts belonging to this type are P32, P46, P52, P66, P85, P87, P90, P104, P116, P118, and 0171.
Back to Jaroš and Comfort-Barrett and their early date for P52:
Jaroš attributes five manuscripts to the late first or early second century AD: P46 (AD 75-100), P52 (AD 80-125), P64+67+4 (AD 75-100), P87 (AD 75-125), P104 (AD 75-125); Comfort–Barrett (with corrections of COMFORT, 2005) attribute only two manuscripts to the early second century AD: P52 (AD 100-125) and P104 (AD 100-150 in the first edition and AD 100-125 in the second edition).
But Orsine and Clarysse object:
The manuscripts P46, P52, P87, P104 belong to a specific type of bureaucratic and chancery script.

P52 can be compared with PSI V 446 (AD 133- 137; TM 19292) and P. Flor. I 1 (AD 153; Pap. Flor. XXX, n° 124, pl. CXIII-CXIV; TM 23525). P52 may be compared with P. Fay. 87 (PARSONS–TURNER, 1987, pl. 48; TM 10930), written in 156 and one of the earliest dated witnesses for some fundamental characteristics of the "Alexandrian stylistic class".

P104 is very similar, from a graphic point of view, to P52: Comfort–Barrett and Jaroš instead proposed PSI XI 1213 (NORSA, 1929-1946, pl. 9a; LDAB 886) and P. Oxy. LXII 4301 (P. Oxy. LXII, pl. I; LDAB 888) as parallels. These comparisons are inappropriate, however, since both P104 and P52 are written in round majuscule.
In conclusion, Orsine and Clarysse chastise biblical scholars for embracing unsupportably early dates for their manuscripts:
There are no first century New Testament papyri and only very few can be attributed to the second century (P52, P90, P104, probably all the second half of the century) or somewhere between the late second and early third centuries (P30, P64+67+4, 0171, 0212).

Biblical scholars should realise that some of the dates proposed by some of their colleagues are not acceptable to Greek palaeographers and papyrologists.
The article includes a wonderful table of 11 scripts for comparison, as well as cross-references for 91 manuscripts and the dates assigned to them Comfort-Barrett, Jaroš, Nestle-Aland and Orsine and Clarysse.
For P52 we find:
Comfort-Barrett: 100-125
Jaroš: 80-125
Nestle-Aland: 100-150
Orsine-Clarysse: 125-175
And in case you missed the point, here is the abstract of the article:
ABSTRACT. — The date of the earliest New Testament papyri is nearly always based on palaeographical criteria. A consensus among papyrologists, palaeographers and New Testament scholars is presented in the edition of NESTLE–ALAND, 1994. In the last twenty years several New Testament scholars (THIEDE, COMFORT–BARRETT, 1999, 2001 and JAROŠ, 2006) have argued for an earlier date of most of these texts. The present article analyzes the date of the earliest New Testament papyri on the basis of comparative palaeography and a clear distinction between different types of literary scripts. There are no first-century New Testament papyri and only very few papyri can be attributed to the (second half of the) second century. It is only in the third and fourth centuries that New Testament manuscripts become more common, but here too the dates proposed by COMFORT–BARRETT, 1999, 2001, and JAROŠ, 2006 are often too early.
One gets the impression that if a later date for P52 is thought to be a "new" date, it is so only for biblical scholars. It looks like few paleographers have ever been persuaded by the hopes of many of their New Testament peers.
The following two tabs change content below.
Neil Godfrey
Neil is the author of this post. To read more about Neil, see our
About page.
Latest posts by Neil Godfrey (see all)
---
If you enjoyed this post, please consider donating to Vridar. Thanks!
---