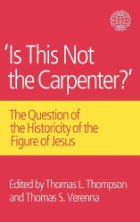 This post concludes my treatment of chapter 6 of 'Is This Not the Carpenter?', "Does the Christ Myth Theory Require an Early Date for the Pauline Epistles?" by Robert M. Price.
Price concludes his article with a discussion of the place Marcion might have had in the history of gospel origins. Specifically, what if Marcion was responsible for much of the Pauline corpus or even wrote the letters himself? Would not this mean that the Gospels preceded Paul's letters and would not one of the "pillars of the Christ Myth hypothesis" fall?
What follows is my outline of Price's argument.
The conventional view of Marcion is that he appears controversially armed with a number of letters of Paul and a single Gospel. This Gospel, we are usually informed, was a shorter version of what we know as the Gospel of Luke, Marcion having deleted from the original Gospel all the passages he believed were falsely interpolated contrary to the original faith taught by Paul.
There have been other opinions. Some have argued that Marcion's gospel was for most part an original and early version of what became our Gospel of Luke, an Ur-Lukas. Paul-Louis Couchoud argued this. More recently, Matthias Klinghardt argued a similar case. (Hence my previous post.) Price does not mention Joseph Tyson here, but he also argued much the same, and I linked to that series of posts on his book in my post on Klinghardt's argument. The idea of a Proto-Luke stands independently of any Marcionite association, however. It has been argued by B. F. Streeter (link is to the full text online) and Vincent Taylor. G. R. S. Mead suggested Marcion had no Gospel but but only a collection of sayings, not unlike Q.
So what to make of this diversity of opinion over what Marcion actually possessed? Price has a suggestion:
This diversity of opinion translates into uncertainty as to whether we are dealing with Marcion's own canon or whether we are hearing, in this or that secondary source, of the canon of subsequent Marcionites. (p. 113)
Major scholars who have written on Marcionism have concurred that the followers of Marcion continued to make changes to their texts. They did not think of their literature as a final "canon" so much as a heritage that needed increasingly more insightful editing. If Marcion himself did edit much of it then his followers certainly continued to do so after his death. (Two major Marcion scholars, von Harnack and John Knox, make this clear.)
So the question arises: How can we know that whatever writings of the Marcionites Tertullian was attacking around 200 C.E. (and Tertullian is one of our major sources for what we know of Marcionism) — how can we know that the Marcionite texts Tertullian knew were the same as those Marcion himself used? Marcion was active in the early part of the second century, at least fifty or more years before Tertullian wrote his attack on Marcionism.
Price goes one step further and raises the possibility that Marcion in fact did not have a Gospel at all, but only Pauline epistles. It was his followers who created Proto-Luke or Ur-Lukas.
Two reasons for thinking Marcion had no Gospel at all
The first reason Price offers is that it appears to him that
Marcion was responsible for significant portions of our current letters of Paul, and
that these letters contain no traditions of deeds and sayings of the Gospel Jesus
So therefore one may conclude that Marcion knew nothing of any Gospel-like Jesus narratives.
The second reason Price presents is one that crosses over a problem I have always found with arguments that our Gospel of Mark was a Marcionite Gospel. The Gospel of Mark is heavily reliant upon Old Testament narratives. This Gospel re-writes many OT passages and narratives in a form of midrash (the term is justified given Jewish scholars of midrash themselves state that the Gospels are in large part midrashic re-tellings of the Jewish Scriptures) and Marcion, who rejected the validity of the Jewish scriptures, would never have written such a Gospel. But Price presents a case that makes sense of this, and of how followers of Marcion could have done so.
This second reason Price gives for doubting Marcion had a Gospel at all is that virtually all the Gospel stories are so heavily reliant upon Old Testament passages. This is not some mythicist fantasy. Price footnotes some of the scholars who have demonstrated this phenomenon:
J. Bowman
T. L. Brodie
J. D. Crossan
J. Duncan M. Derrett
D. Miller and P. Miller
W. Roth
W. R. Stegner
R. E. Watts
ET Alia
Jesus in the Gospels is acting out (more successfully or dramatically) the same things done by Moses, David, Joshua, Elijah, Elisha, and so forth.
One can make a compelling argument for virtually every Gospel story's derivation from Old Testament sources. (p. 114)
Why the sudden rewrite of the Jewish Scripture as a book about Jesus?
Price asks a question I feel slightly embarrassed for not having asked myself in quite such a confronting way:
Why this sudden interest in rewriting the Jewish Scripture as a book about Jesus?
Price's answer is interesting. He reminds us that "Catholic policy" was to retain the Old Testament but to reinterpret it allegorically as being about Jesus and the Church. So what would happen if a body of Christians rejected the OT as the Marcionites did? Price suggests that in this case they would have to re-write the OT to make it explicitly about Jesus.
One had to rewrite the Old Testament to make it explicitly about Jesus! (p. 114)
This sounds logical but I cannot help but ask what is the evidence for this? Can it be anything more than speculation? Besides, though one can see in the Gospel of Mark many subtle and implicit allusions to OT passages (see my post on Kee's article for scores of such allusions in the final 3 chapters alone), what would such allusions mean to anyone not familiar with the OT? They can only retain their literary power among readers who know the OT. Might one not as easily reply that the Gospels were rewrites of the OT for those who still looked in some way to the OT? One should also note that the Gospels were not the first efforts to rewrite an OT story. Thomas L. Thompson shows in The Bible in History (also titled The Mythic Past) that stories were reiterated throughout the OT literature itself. Moses' crossing the Red Sea is reiterated in Joshua's crossing is reiterated in David's crossing Kidron is reiterated in Elijah's and Elisha's crossing is reiterated in the dividing of the waters at creation is reiterated in Jesus' emerging from waters to see the heavens divide. Rewriting biblical stories is a very biblical thing to do — it is just what the adherents of the OT did. So I am not so sure of Price's reasoning here.
I understand Price to be saying that non-Marcionites — others from among the 'catholics' — attempted to "preach Christ" for the benefit of those who rejected the OT as an allegorical tool by re-writing the Bible as a story about Jesus. The Marcionites then countered with their own such Gospels. This is what my understanding of Price's argument but I am open to others clarifying his position for me further.
But back to Price's viewpoint.
Price acknowledges that Marcion himself would never have done this — that is, scoured the OT for passages to use as raw material from which to create a narrative about Jesus. Marcion is said to have believed the OT should be understood literally, not allegorically.
Price says that the Marcionites would only have begun writing such OT narratives as a reaction to the efforts of others. Others started doing it first, but Price is not entirely clear on who these others were.
But once the game was started the Marcionites joined in.
Gospel of Mark
Here is where Price brings in the Gospel of Mark. As many have noted, this Gospel
holds what can hardly be called other than a Marcionite view of the buffoonish twelve disciples and a Gnostic view of secret teaching which, despite their privileged position, the twelve simply do not grasp. (p. 114)
Then there's the Transfiguration which declares the authority of Moses and Elijah — the Law and the Prophets — is at an end now that Christ is here. Then Jesus tells his followers he has come to give his life as a ransom for many (Mark 10:45), but we never learn in the Gospel to whom the ransom was paid. Marcionites knew it was paid to the Creator God. Price adds, "and no non-Marcionite theologian has produced a better candidate."
Many have also expressed a passing curiosity over the name of the Gospel as "Mark" and whether this "reflects an awareness of the fundamentally (though not completely) Marcionite character of the book." (Price, p. 115)
[I]t is quite possible that Mark the secretary of Peter is an unhistorical character, a 'safe' version of Marcion to have authored the Gospel, much as Eusebius posited a 'John the Elder' as the author of Revelation once he no longer wanted to ascribe that book to John son of Zebedee.
Gospel of John
This Gospel is "heavily Marcionite", says Price. In this Gospel there is the clear Marcionite two gods concept — the Creator God and the unknown true God revealed only by Jesus:
Moses and the Jews know nothing of God
Though Deuteronomy says Moses saw God face to face this Gospel denies that flatly and says no man has seen God
Jesus' Father is not the God worshiped by the Jews (8:54-55)
All who came to the Jews before Jesus were robbers (presumably including the prophets) (10:8)
The Father is unknown to the world (17:25)
The Torah/Law had nothing to do with grace and truth (1:17)
Jesus raised himself from the dead (10:17-18)
I have many questions I'd love time to explore about the relationship between Mark and John — both are clearly "non-orthodox". If they were not produced by Marcionites it does appear they originated from those who held to several beliefs that were also prominently Marcionite.
If Price is correct, it would seem that one must conclude that the Gospel of Mark was preceded by other Gospels. I wonder is such a view raises many problems and questions about the nature of Mark that would beg to be addressed.
Q
Price even sees Marcionism in Q where it says (Luke 10:22) that no-one knows the Father but Jesus.
What? Not Israel? Not Moses? Not John the Baptist? . . . 'No one knows the Father except the Son and any to whom the Son may deign to reveal him.' That's straight Marcionism. Is it not?
Gospel of Thomas
Thomas 52 informs us that Jesus called the prophets of the OT spiritually dead, another Marcionism. Price interestingly tells us that before this text was discovered in 1945 interpreters understood the last part of this passage — the only part known to them — as Jesus criticizing rabbinic teachings about the Messiah. Joachim Jeremias said Marcionites twisted the passage to mean that Jesus was referring to the OT prophets as spiritually dead. But the discovery of the Gospel of Thomas showed that Jeremias was wrong. The Marcionites had the correct interpretation.
How the Gospels got started
So the composition of Gospels, being rewrites of the Old Testament, was a counterblast to the Marcionite rejection of the Old Testament. Once the trend began, Marcionites made their own contributions to it, and thus to the process of historicizing an originally mythic Jesus. (p. 116)
Marcion had no Gospel. Price thinks it must have been later Marcionites who ascribed a Gospel to him.
Thus we retain the pillar of the Christ Myth hypothesis that the writer of the Pauline epistles (even if Marcion, not Paul) did not know the (historical or historicized) Jesus tradition on display in the Gospels . . . .
Conclusion
This completes a rather scrappy, disjointed coverage of chapter 6 (sorry). I approached this chapter in haste thinking it was covering all too familiar territory, then various other time constraints did the rest. Here is Price's concluding paragraph (that I quoted at the end of my first attempt to cover this chapter):
Though today's leading proponents of the Christ Myth Theory tend to hold to a conventional, mid-first-century dating of the epistles, a good twenty to forty years before the (conventional) dates assigned the Gospels, one suspects this is almost a circumstantial ad hominem fallacy, accepting conventional dates mainly for the sake of argument in order to embarrass the orthodox who hold to these dates for apologetical reasons. Christ Myth theorists are not above pursuing an apologetical agenda of their own, which may explain their reluctance to apply the same ruthless scepticism to the Pauline epistles as they do the Gospels. If they did (like their nineteenth-century forbears did), they would find the picture becoming a bit fuzzier, to be sure, but there might also be significant gains. In a brief survey of remarks on the age and integrity of the Pauline epistles by Robertson, Couchoud, Smith and others, we have detected pregnant hints of arguments for the historical priority of the Christ Myth as attested in the epistles over the Jesus epic met with in the Gospels, and this regardless of either the relative or the absolute dates of the Gospels and epistles. (p. 116)
The following two tabs change content below.
Neil Godfrey
Neil is the author of this post. To read more about Neil, see our
About page.
Latest posts by Neil Godfrey (see all)
---
If you enjoyed this post, please consider donating to Vridar. Thanks!
---