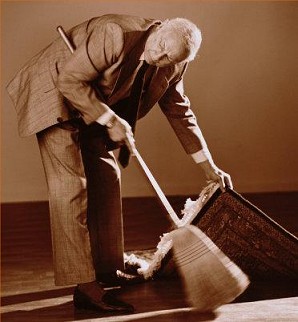 Roger Parvus has published a fascinating study of the letters of Ignatius and proposes that they originated from one who belonged to the breakaway group from Marcionism that was led by Apelles. Towards the end of his book (A New Look at the Letters of Ignatius of Antioch and Other Apellian Writings) he addresses the similarities other scholars have observed between the Johannine and Ignatian communities, and suggests that some of those "little contradictions and oddities" in the Gospel of John may also reflect an Apellean origin. (Hopefully I am not stealing too much of his thunder with this post, since I am hoping Roger will be able to argue his case for himself. But a touch of eagerness to write up at least little bit of one facet of his book has got the better of me here.)
I won't write up much of the detail in the book in this post — just enough to share with others some of the details one can easily read over in John's Gospel yet fail to notice the contradictions, and the implications of the contradictions, in some of the most familiar passages. Familiarity has a lot to answer for.
This is not an attempt to argue for a particular reading or redaction history of John. That would require much more serious depth. The point of this post is simply to show the possibilities of questions, of alternative understandings, relating to the origin of the Gospel of John from a not widely encountered perspective.
Look at John 10:8 where Jesus says:
All who have come before me are thieves and robbers
All? Most commentators have refused to take this word literally, for obvious reasons. It would immediately condemn all of the Old Testament prophets and patriarchs.
But then what about John 5:37?
You have never heard his voice nor seen his form
I know I felt a little uncomfortable when I first thought about that passage many years ago. The Jewish scriptures did say that the Jews had among them those who had heard God's voice and saw his form — at Sinai for starters.
And then recall John 3:13
No one has ever gone into heaven except the one who came from heaven—the Son of Man.
But the Jews read in their scriptures that God took Moses, Elijah and Enoch to heaven, and other literature informed them that Isaiah had also ascended there.
So are we not justified in beginning to question whether an early layer in this gospel did indeed reject the teachings of the Jewish Scriptures, and that this early layer really did mean it when it said that all who came before Jesus were thieves and brigands?
Even those scriptures themselves have the Jewish God ordering Moses to plunder and rob the Egyptians: Exodus 3:21-22; 12:35-36.
But Jesus did not only say that those who came before him were robbers. They also killed. John 10:10
The thief doth not come, except that he may steal, and kill, and destroy
In John 8 we read that Abraham is the father of the Jews, and Jesus accuses the Jews of trying to kill him and of doing the works of their father. (Apelles believed that the God of the Jews was an unjust God. May one infer from this that his command to order Abraham to kill his son Isaac was barbarous?) Has a "proto-Catholic" editor salvaged Abraham in the later version of this gospel by inserting denials such as "Abraham did not do this"?
`I have known that ye are seed of Abraham, but ye seek to kill me, because my word hath no place in you; . . . . .

They answered and said to him, `Our father is Abraham;' Jesus saith to them, `If children of Abraham ye were, the works of Abraham ye were doing;

and now, ye seek to kill me — a man who hath spoken to you the truth I heard from God; this Abraham did not;

ye do the works of your father.'
Similarly for John the Baptist.
Some of the passages referring to John the Baptist look like uncomfortable insertions, especially those in the famous prologue: John 1:6-8, 15.
So what should we make of John 5:34 where Jesus says he does not accept the testimony of any man?
But I do not receive testimony from man
Someone has flatly contradicted that statement by couching it with passages that go ahead and have Jesus talk about the testimony he received from John anyway.
Many familiar with the Gospel are aware of other uncomfortable (for the orthodox belief systems) passages, such as Jesus speaking of the law of Moses as "the Jews' law" rather than God's law.
Roger Parvus discusses other passages — e.g. the temple cleansing, the (non-)ascension — that lead to questions in the same direction. Hopefully some more of these can be shared here again soon.
The following two tabs change content below.
Neil Godfrey
Neil is the author of this post. To read more about Neil, see our
About page.
Latest posts by Neil Godfrey (see all)
---
If you enjoyed this post, please consider donating to Vridar. Thanks!
---