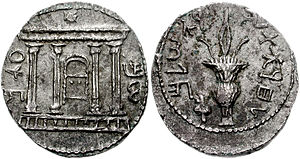 Thanks to Roger Parvus who forwarded me a scanned portion of Joseph Turmel's commentary on 2 Thessalonians (from "Les Ecrits de Saint Paul IV L'Epitre aux Philippiens, les Epitres aux Thessaloniciens . . ." par Henri Delafosse, 1928), I can share here an argument for the Man of Sin in 2 Thessalonians being Simon Bar Kokhba, leader of the Jewish revolt of 132-135 c.e.
The commentary was published in 1928 under the name of Henri Delafosse, about two years before Turmel was denounced by the Catholic Church as a heretic. From that time on he was free to publish under his real name.
Turmel's starting point is that 2 Thessalonians is not an authentic Pauline letter. It was written to undermine the message in 1 Thessalonians 5 that taught that Jesus would come unexpectedly, but that those alive at the time the letter was written would still be alive when that day came. 2 Thessalonians 2:1-12 directly contradicts this message of that earlier letter:
1Now we beseech you, brethren, by the coming of our Lord Jesus Christ, and by our gathering together unto him,

2That ye be not soon shaken in mind, or be troubled, neither by spirit, nor by word, nor by letter as from us, as that the day of Christ is at hand.

3Let no man deceive you by any means: for that day shall not come, except there come a falling away [apostasia] first, and that man of sin be revealed, the son of perdition;

4Who opposeth and exalteth himself above all that is called God, or that is worshipped; so that he as God sitteth in the temple of God, shewing himself that he is God.

5Remember ye not, that, when I was yet with you, I told you these things?

6And now ye know what withholdeth that he might be revealed in his time.

7For the mystery of iniquity doth already work: only he who now letteth will let, until he be taken out of the way.

8And then shall that Wicked be revealed, whom the Lord shall consume with the spirit of his mouth, and shall destroy with the brightness of his coming:

9Even him, whose coming is after the working of Satan with all power and signs and lying wonders,

10And with all deceivableness of unrighteousness in them that perish; because they received not the love of the truth, that they might be saved.

11And for this cause God shall send them strong delusion, that they should believe a lie:

12That they all might be damned who believed not the truth, but had pleasure in unrighteousness.
Turmel believed that the details laid out here for what this "man of sin" was to do are too precise and particular to be simply another imaginary prediction. Normally in "real" prophecy when a future figure is said to be destined to appear on the scene, the details are vague. They are certainly not as precise as what we read in the above chapter.
The prophesied villain in this chapter is said to:
be alive at the time this letter is being composed
be waiting in the shadows until some obstacle holding him back is removed
be revealed at or after a time of a "falling away"
exalt himself above all that are called god
exalt himself above all who are worshipped
appear to take possession of the temple of God, thus pretending to be God
perform lying signs and wonders
show himself to be a wicked liar who opposes the truth
lead his followers to believe a lie
be eventually destroyed by the spirit out of the mouth of Christ and by the brightness of Christ at his coming
This sets out a clear time line of detailed events beginning with what is known in the present circumstances.
The passage appears to be written as a prophecy, but Turmel suggests that this is a (mostly) fictitious device. The author knows the details of what is to follow once that obstacle is removed too precisely for it to be another imaginary prediction.
Some commentators have suggested the author had in mind one of the Roman emperors, perhaps Caligula or Nero. But most of the details simply don't match any particular emperor's actions. And those that do (being worshiped as a god and being impious by Jewish or Christian standards) apply to all emperors and none in particular.
The Bar Kokhba Revolt
Turmel takes his readers through an overview of some details known to us about the Jewish revolt under emperor Hadrian.
Around 130 Emperor Hadrian banned the custom of Jewish circumcision and built on the ruins of Jerusalem a new city named Aelia Capitolina.
This led to a new Jewish revolt comparable to the one of 66-70, but about which we have far less surviving information.
This revolt was described as an apostasia
by Justin in his 1 Apology 31:6 (link is to a page linking to a pdf file of Latin and Greek versions)
and by Eusebius in his Ecclesiastical History 4,6,1 (link is to a page leading to pdf of the Greek version).
It was said to be an apostantas
The revolt was led by Simon Bar Kosiba, better known as Bar Kochba, a name meaning Son of the Star. He took this name when Rabbi Akiba applied the prophecy of Numbers 24:17 to him:
A star [kokab] will come out of Jacob;
a scepter will rise out of Israel.
Bar Kokhba claimed to be the Messiah appointed by God to restore the Kingdom of Israel.
To prove his claim he performed tricks ('miraculous signs') — most notably appearing to breathe out fire from his mouth.
Hadrian spent the years 130-132 in Syria, Egypt, then again in Syria — in the neighbourhood of Palestine. During this time Bar Kokhba did not make a move.
In 132 Hadrian left for Athens. Bar Kochba saw this as his opportunity. He declared called on Jews to wage a holy war. They all responded to his call to arms — all except the Christians.
The Christians viewed Bar Kokhba as a false messiah. They could not follow him without denying their faith in Jesus Christ (Christ = Messiah).
Bar Kokhba's original name was Bar Kosiba. Turmel writes:
Pour eux Barcochba était un faux Messie, un homme de mensonge [a man of lies], comme l'indiquait son premier nom (Coziba signifie mensonge).
"Lie" sounds like an unfortunate name, and I wonder if the French should be translated to mean that Bar Kohba was seen as a liar because that was not his real name. But a quick check of an online lexicon shows me that "kazab" (cf. coziba) is a transliteration of a Hebrew word for "lie".
Bar Kokhba turned on the Christians for their defiance, executing those who would not deny or blaspheme Jesus. Justin (1 Apology 33.6 – English translation) wrote:
For in the Jewish war which lately raged, Barchochebas, the leader of the revolt [αποsτασεως] of the Jews, gave orders that Christians alone should be led to cruel punishments, unless they would deny Jesus Christ and utter blasphemy.
Since 70 c.e. Jerusalem had been a Roman military base, with Jewish settlements round about. Access to Jerusalem had been forbidden to the Jews. Bar Kohba drove the Romans out and took possession of Jerusalem.
Bar Kokhba struck coins bearing the image of the Temple beneath a star, and the inscription "Jerusalem Liberated". The Temple represented either a modest shrine that had been earlier built by the Jews in Jerusalem, or a hastily built temple structure, no doubt on a modest scale, after expelling the Romans in 132. The star represented Bar Kochba himself.
The 132-135 war ended with a reported Roman massacre of 500,000 Jews and a death penalty on any Jew approaching Jerusalem.
Understanding 2 Thessalonians 2:1-12
Turmel writes that Bible commentators are at a loss to understand what is meant in this passage by "the falling away" or "apostasia". They are also at a loss to explain the obstacle that prevents this defection from erupting until it is removed.
Also perplexing is the identity of the Man of Sin who exalts himself above all that is called god or that is revered, and how all this relates to the Temple. Even more unfathomable are the false miracles to be performed what it means that his followers will believe a lie.
Turmel believes all of these mysteries are resolved against the light of the Bar Kokhba rebellion. Without the perspective of the Bar Kokhba war this passage in 2 Thessalonians is an incoherent cluster of mysteries.
This Jewish rebellion was known as an "apostasy" ("falling away") by contemporaries Justin and Pausanias.
It broke out in 130, but because of the presence of Hadrian's army in Syria, but was kept "underground" until 132 when Hadrian left for Athens, thus removing the obstacle that prevented the spirit of revolt from declaring itself openly. From 130 to 132 the "spirit of iniquity" was kept in the shadows out of fear of the Roman army in neighbouring Syria.
Roman emperors were the objects of religious cults. They were worshiped as gods and sacrificial altars were erected for them. By rebelling against Hadrian Bar Kokhba was setting himself above someone called god. The emperor was "august", reverenced in worship, and Bar Kokhba was exalting himself above one who was worshiped.
The Christians, however, viewed Bar Kokhba as the enemy, the adversary, the son of perdition, the wicked one, since he sought to kill them unless they renounced their faith. Their Jesus was also God and the Messiah, so it appeared to them that Bar Kokhba was also exalting himself above their God and the Messiah they worshiped. They saw Bar Kokhba as one who wanted to replace God himself in their lives.
The coins Bar Kokhba minted graphically portray his own symbol, the star, he himself, appearing to take possession of the Temple as his own.
And of course he claimed to be the Messiah, though his original name meant "Lie", and he "proved" his claim by breathing out fire from his mouth. Those who followed him, therefore, were following and believing a Lie. He was really the persecutor of the "true people of God", the Christians.
The future — the destruction of the Man of Sin — and dating the epistle
One detail was not fulfilled historically, however. Jesus did not return and vaporize Bar Kokhba with the breath of his mouth.
That part of the "prophecy" was the hope of the author. Just as Bar Kokhba could breathe deadly fire, so the author anticipated Jesus returning to destroy him with the deadly breath from his own mouth. Lex talionis, the law of (an eye for an eye) retaliation.
So when the author departed from his observation of current affairs and ventured to predict the future, he failed. And this failure, says Turmel, dates the composition of this epistle to the early months of 135 c.e.
The author has written up all he has witnessed as if it had been a prophecy from Paul.
The primitive character of the epistle
Turmel makes a few more observations. The epistle has not yet been touched by Marcionism. It is also before the time of what became "Catholic orthodoxy". It is composed in terms of a primitive theology that could have come from the pen of Paul.
The "strong delusion" that God is said to send is a concept straight from the Old Testament which speaks of God blinding the eyes and hardening the hearts of his rebellious people.
The Satan appearing in verse 9 also is also a Jewish concept. If a supernatural being is the idea here, one can find him in Job 1:7 and Zechariah 3:1. But perhaps, offers Turmel, the term "satan" should be understood in its original sense of enemy. If that is the case, then verse 9 should better be translated beginning "the coming of this powerful enemy . . . ".
.
The following two tabs change content below.
Neil Godfrey
Neil is the author of this post. To read more about Neil, see our
About page.
Latest posts by Neil Godfrey (see all)
---
If you enjoyed this post, please consider donating to Vridar. Thanks!
---