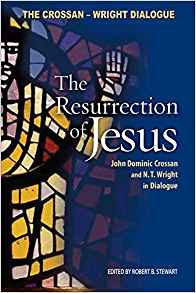 Not long after addressing that "curious criterion" of biblical studies that holds that the less likely something seems to be in the Gospels, the more likely it is to have been historically true, I unpacked a carton of my books that included The Resurrection of Jesus: John Dominic Crossan and N. T. Wright in Dialogue, and found in there a classic example of that curious criterion in action.
Actually it is a slight oversimplification to describe this criterion the way I did in my opening line. More "strictly", it is summed up by the incredulous claim: "I can't see why anyone would make it up." Surely claiming authenticity for any data on the grounds that one "can't think of a reason it would have been made up by anyone" is the nadir of intellectual laziness. When taken to its extreme, it can be used to prove the most sensational claims of the miraculous. And that is exactly where Bishop and Scholar N. T. Wright does take it. He is referring to the Gospel of Luke's account of the resurrected Jesus appearing to his disciples and breaking bread and eating bread and fish with them:
If you have an empty tomb and something's happened to the body, and then if the apparitions are not just apparitions, such as you have when somebody you love has just died, but actually involve some extraordinary physical things. You know, according to Luke 24, there must be a broken loaf lying on the table somewhere which they didn't break — somebody did that — and so it's not just eating broiled fish. There's a bunch of physical phenomena going on, and this is where the stories are so odd, as well as these kind of paraphysical phenomena — I don't think anyone could have made up these stories, actually, I think they're so bizarre — and that's part of the point. . . . (pp. 37-8, my emphasis)
Historians (not theologians) generally treat bizarreness as an indicator of fiction, and the more bizarre the more likely to be fictitious.
But N. T. Wright is "a leading New Testament scholar" whose work is certainly discussed with all seriousness by other scholars as diverse as ("liberal") John Dominic Crossan and ("independent") Maurice Casey.
Another curiouser rationale for this sort of scholarship was posted recently in a scholar's blog castigating mythicists for failing to accept the collective judgments of the scholarly experts in their interpretations of "facts", in the process comparing them with creationists who fail to accept the facts put forward by evolutionary scientists. The entire post was a bizarre muddle of conceptual confusions that is surely meant to sound reasonable only to those who need some background noise while they lull themselves to sleep. To try to follow each point of argument in concrete detail, referring to specific examples of each point made — in other words, to try to follow the reality of what is being said, not just let the grand conceptual generalizations bedazzle and muddle the thinking — gives one a headache from trying to connect sentence and phrases that have no logical connection at all.
I might do a detailed response to it some day. Just to give one example, though a key one: "facts" that are studied and that verify evolution are seemingly compared with "facts" that are studied by Historical Jesus scholars. What this misleadingly glosses over, however, is (1) that the HJ scholar has no comparable "facts" about Jesus, but only interpretations based on criteria; and (2) the HJ scholars have never seriously addressed the question of the historicity of Jesus, but always assumed it. (This poster of this blog article knows this from my earlier detailed demonstration of this from the writings of the likes of E. P. Sanders.) What the HJ scholars seek to discover is the kind of person Jesus was, not whether he existed or not.
This of course is totally unlike anything done by scientists in relation to evolution. They study facts that do support the theory of evolution that has been addressed head on and demonstrated.
So one can find many books and articles listing the standard questions of creationists and the standard responses of the evolutionists. It is all black and white and any lay person can understand the basic logic and the clear hard facts presented. No-one will be convinced against their will, but everyone with average intelligence can understand and accept the clear reasoning and facts of the evolutionists. This, of course, is something the HJ scholar cannot do in relation to mythicists because mythicists, at least the ones that interest me, are engaging with the source material and drawing on the studies of the scholars, finding their arguments to be logically invalid (circular, non-sequiturs, false-dilemmas), and proposing models that avoid these logical inconsistencies and make more rational sense of the evidence (as opposed to so-called "facts").
But all this has been said a hundred times. When I get the energy I hope to finish off my posts on Spong's arguments for the scriptural (as opposed to literal historical) bases for the events of Jesus Christ's life and death. And I'll be wondering all the while why he singles out just two details to have a historical background while none of the other details does. No, not really, it is very obvious why this seemingly arbitrary distinction must be made.
The following two tabs change content below.
Neil Godfrey
Neil is the author of this post. To read more about Neil, see our
About page.
Latest posts by Neil Godfrey (see all)
---
If you enjoyed this post, please consider donating to Vridar. Thanks!
---