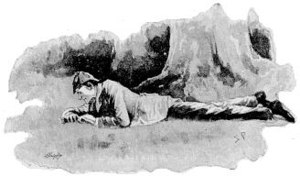 Let's close 2010 with a wonderful New Yorker article from May this year. It is a cleverly written discussion of the state of Historical Jesus studies by Adam Gopnik, What Did Jesus Do? Reading and Unreading the Gospels. One might even suggest that Gopnik demonstrates the ability of complete outsiders to see how starkly naked is the emperor of historical Jesus studies. I quote the opening paragraph and highlight some key points.
When we meet Jesus of Nazareth at the beginning of the Gospel of Mark, almost surely the oldest of the four, he's a full-grown man. He comes down from Galilee, meets John, an ascetic desert hermit who lives on locusts and wild honey, and is baptized by him in the River Jordan. If one thing seems nearly certain to the people who read and study the Gospels for a living, it's that this really happened: John the Baptizer—as some like to call him, to give a better sense of the original Greek's flat-footed active form—baptized Jesus. They believe it because it seems so unlikely, so at odds with the idea that Jesus always played the star in his own show: why would anyone have said it if it weren't true? This curious criterion governs historical criticism of Gospel texts: the more improbable or "difficult" an episode or remark is, the likelier it is to be a true record, on the assumption that you would edit out all the weird stuff if you could, and keep it in only because the tradition is so strong that it can't plausibly be excluded. If Jesus says something nice, then someone is probably saying it for him; if he says something nasty, then probably he really did.
The article even proceeds to compare the scholarly search for the historical Jesus with an imaginary search for, — wait for it — the "historical" Sherlock Holmes or Superman! Now where have readers of this blog's commenters ever heard such comparisons before, I wonder.
But no, this article is not a "pro-mythicist" piece. Only half a sentence mentions Earl Doherty's name. No other mythicists are cited in this 5,218-word essay. Much more is written about the likes of Bart Ehrman, John Dominic Crossan, L. Michael White, Paul Verhoeven, Paul Johnson and James Tabor.
Still, that single mention of Doherty (he defends mythicism "with grace and tenacity"), and the mere public mention that Jesus-mythicism has been marginalized from the seminaries, was apparently enough to offend one theologian enough to come out and complain that he cannot ignore posting diatribes against the mere idea of mythicism because it continues to get "public attention" — referring to this New Yorker article that appeared seven months earlier.
Regrettably, this same scholar has, ten weeks after publicly announcing his determination to refrain from "public ridicule and scorn" and desire to have a "different" approach, returned to the same old insults and condescending ridicule against a commenter who has asked him to justify his dogmatic insistence that there can only be one possible conclusion to be drawn from a particular passage in Paul's letters. The scholar might even be right, but his inability to present unequivocal evidence to support his dogmatism, and his resorts to rambling nonsequiturs and insults, contradicts his resolution in October to confine his future focus to "matters of evidence". (When caught out citing a reference that did not say what he indicated — something I have personally witnessed a number of times with this scholar now — rather than apologize, he insultingly ridiculed his questioner.)
Regrettably, some historical Jesus scholars don't seem to understand that it is their unquestioned assumptions that are challenged. Simply repeating their own arguments over and over does not address the questions about the logic and assumptions in those arguments raised by others. Simply insulting people and falsely accusing them of failing to engage seriously with the scholarly literature suggests that their academic discipline really is, unlike the hard sciences, built on shifting sands.
To conclude with part of Adam Gopkin's conclusion that hits at the core of uncertainty at the heart of historical Jesus scholarship, and sums up how absurd it is to compare its authority of academic status to the authority of, oh let's just pick out another academic field at random, let's say, evolutionary scientists:
The argument is the reality, and the absence of certainty the certainty. Authority and fear can circumscribe the argument, or congeal it, but can't end it. In the beginning was the word: in the beginning, and in the middle, and right there at the close, Word without end, Amen.
The following two tabs change content below.
Neil Godfrey
Neil is the author of this post. To read more about Neil, see our
About page.
Latest posts by Neil Godfrey (see all)
---
If you enjoyed this post, please consider donating to Vridar. Thanks!
---