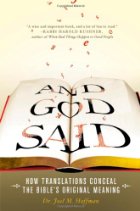 I nice little book, And God Said: How Translations Conceal the Bible's Orginal Meaning, by Dr Joel M. Hoffman, gives us some valuable and interesting insights into the complexities involved with translating from Hebrew to English. He entertainingly discusses some culturally entrenched mistranslations that we have inherited in most of our Bibles, too.
I am sure I am not the only one with an interest in Bible study who has been known to struggle to find original meanings of Hebrew words by piecing together data from a number of lexicons and dictionaries. Hoffman has a discussion highlighting three common methods of understanding Hebrew that don't work very well. I can understand his advice being fit for amateurs but he seems to be saying that even professional translators have also at times fallen into these traps:
Unfortunately, three common methods of understanding Hebrew are rampant among translators, and none of them works very well. The three methods are internal word structure, etymology, and cognate languages. (p.21)
The news is not all bad, though. Hoffman does discuss a fourth method that really does work. But first he addresses the three bad wolves.
Wrong: Internal word structure
Hoffman illustrates the problem here with English language analogies.
The word "patent" by definition means a "non-obvious art", with "art" being use in its technical sense to embrace science as well what we think of as art. But the key part of the definition is "nonobvious".
In fact, Section 103 of Title 35 of the U.S. Code, the part of U.S. law that deals with patents, specifically notes that "non-obvious subject matter" is a "condition for patentability."
He incidentally refers to one wag who managed to patent the simple stick though describing it in a way to hide its obviousness, and I have seen a patent go through for "a circular transportation facilitation device" (the wheel!) — again clever scientific jargon can be used to make something obvious seem quite novel.
Now since the suffix "-ly" usually turns a word into an adverb, one might expect that patently would mean doing something in a non-obvious way. But of course we know the word means the exact opposite!
Again, the word "host" means someone who welcome guests at parties. But "hostile", once again, has an opposite meaning. If we tried to use the word "host" to understand "hostile", or vice versa, we would get a completely wrong answer.
Knowing the meaning of "intern" does  not help us in any way to establish the meaning of "internal".
Police officers do not work in offices. And sweetbread is neither sweet nor bread.
The point is that words don't get their meanings from their parts. Language doesn't work that way.

At least, language doesn't always work that way, and that's the catch.
Hoffman describes how cherubs came to be associated with baby-faces. It was through a famous medieval biblical commentator, Rashi, comparing a Hebrew word for cherub with a similar sounding Aramaic one that did indeed mean "like a child" or "apprentice."
There are two words hikriv in Biblical Hebrew: one means "make near" and the other, more common word, means "sacrifice". To greatly simplify Hoffman's explanation, he remarks on a common mistake by many people to let their ideological preference interfere with confusing the meanings of the two. Even though the word for "sacrifice" has nothing to do with "making near", because of its homonym, they very often interpret the "sacrifice" as including the meaning of "drawing near" (to God). But this is not correct.
Wrong: Etymology
Etymology is about where a word comes from. It thus tells us what it used to mean, not what it does mean.
In a lovely bit of irony that demonstrates our point, the word "etymology" comes from the Greek for "true meaning.
Thus glamour and grammar come from the same source. But one is pushed to find any common meaning between the two nowadays.
Hoffman also informs me, much to my chagrin, that stationery and stationary also have the same origin. Monks of old would sit at fixed — stationary — tables outside the dark areas of their buildings to do their writing. Later as more people became literate they would go to these stationary booths to buy their writing materials from the monks. All those teacher hours wasted in misleading pupils of the importance of knowing the difference between stationary and stationery!
Like internal word structure, etymology has intuitive appeal. It just seems obvious (even though it's not true) that a word's history ought to determine, or at least influence, its meaning. (p. 32)
Hoffmann illustrates the Bible's own love of etymology with its many stories written to explain why a word exists: Adam, Eve, Isaac, Jacob, Bethel, Beersheba, Taberah, Gilgal.
Wrong: Cognate Languages
A work appearing in more than one language is a cognate."To demand" in English and "demander" in French are an example of a cognate. Hoffman narrates a moment when an international incident almost resulted when a French President, Mitterand, through a translator "demanded" that the U.S. President visit France. While the English word has the meaning of forcefully demanding, the French meanings is merely "to ask".
So while there is some common thread joining the meanings of the two words, it is clearly wrong to deduce the meaning in one language from its use in another.
Another example given is the English word sombrero meaning "Mexican hat", while in Spanish it means just "hat". (So a baseball cap in Spanish is a sombrero.)
Right: Context
Finally Hoffman brings us to the right way to do the job. Context is "the most reliable way of determining what a word in a dead language means."
Hoffmann uses "driveway" as an example. If we attempt to understand this word from its internal word structure (a road or way where we drive cars) we would be wrong. By finding enough sentences that use the word driveway we will be able to discern that it is associated with parking cars. We will see many phrases like "Park in the driveway", or sometimes "drive up the driveway" or "drive into the driveway" – but always in the context of parking. We will rarely if ever see "drive in the driveway".
Similarly, contexts will inform one unfamiliar with English that "ice-cream truck" and "fire truck" are vehicles where people buy ice-cream, or are called out to put out fires.
The word "opposite" is more complex, and context will enable us to eventually work out its various meanings. At one level, opposite means completely unlike or altogether different, explains Hoffman. But if one is asked for the opposite of dog, a common answer will be cat. Yet cats and dogs are not completely unlike at all. So the word "opposite" can include the meaning of "complementary" or "the other of a pair".
One of the most common words in the Hebrew Bible is leimor.
The word literally means "to say," and it's most commonly translated as "saying." This is where we get (terrible) translations like, "God spoke unto Moses, saying . . ." Let's look at the context of leimor and see if we can figure out what it really means. (p. 37)
I won't go through the cases here that Hoffmann examines, but here is his conclusion:
The word leimor is used for questions, statements, songs, blessings, commandments, etc. In fact, leimor is used for anything that involves direct quotation. Indeed, it introduces direct quotation. We don't have a word like that in English, but we have something just as good. We have punctuation. The role of quotation marks is to mark direct quotations.
And that's just the beginning. If you want to know what else the Bible translators have got wrong you'll have to read the book or pick other discussions of it — or wait for a few occasional posts I might do in the future.
The following two tabs change content below.
Neil Godfrey
Neil is the author of this post. To read more about Neil, see our
About page.
Latest posts by Neil Godfrey (see all)
---
If you enjoyed this post, please consider donating to Vridar. Thanks!
---