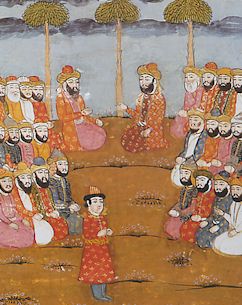 I used to say I did not see myself as a Jesus mythicist. That was because I thought the idea of Jesus' existence or nonexistence was less important than being able to explain the evidence we have for the origins of Christianity — wherever that explanation might lead. The interest, surely, is in understanding how Christianity happened. (Many Christians may want to investigate a "historical Jesus" but that sounds to me more like a faith interest, not a historical one.)
R. Joseph Hoffmann describes himself as a Jesus agnostic because he has concluded that "the sources we possess do not establish the conditions for a verdict on the historicity of Jesus".
That sounds reasonable to me.
(The essay by Hoffmann, and my reply to it and Hoffmann's rejoinder, that prompted this post, can be found at Did Jesus Exist? Yes and No on Hoffmann's New Oxonian blog.)
We have primary evidence to corroborate the existence of people such as  Julius Caesar, Alexander the Great and George Washington.
Marxist historian Eric Hobsbawm acknowledged the advisability of not assuming the historicity of a narrative of a particular Robin Hood type "social bandit" merely on the strength of narratives that lacked independent corroboration. Mere plausibility of a narrative, even claims of eye-witness memory, are insufficient without independent corroboration.
So thus far, given that "the sources we possess do not establish the conditions for a verdict on the historicity of Jesus",  Jesus agnosticism is the only logical way to go.
So if someone like Doherty attempts to explain the origin of Christianity without a historical Jesus, and even sees the Jesus of that religion emerging over time as a mythical construct, as a Jesus agnostic I might express some interest in examining his thesis.
If the evidence is suggestive enough, I might even find myself leaning from agnosticism on Jesus towards the view that Jesus was always from the beginning a mythical construct, and not a historical person who was eventually buried beneath the later mythical overlays.
Muhammad mythicism
Hoffmann reminded me that serious scholarly work is being done that points to the possibility that Muhammad himself was a mythical creation. I have not looked into these studies, but an initial look at some Wikipedia articles led to this interesting note on the historian John Wansbrough:
He caused a furor in the 1970s when his research on early Islamic manuscripts, including the analysis of the repeated use of monotheistic Judeo-Christian Qur'an led him to posit that the rise of Islam was a mutation of what was originally a Judeo-Christian sect trying to spread in Arab lands, rather than by simple cultural diffusion. As time evolved the Judeo-Christian scriptures were adapted to an Arab perspective and mutated into what became the Qur'an which was developed over centuries with contributions from various Arab tribal sources. Wansbrough's research suggests that a great deal of the traditional history of Islam appeared to be a fabrication of later generations seeking to forge and justify a unique religious identity. Within this context, the character of Muhammad could be seen as a manufactured myth created to provide the Arab tribes with their own Arab version of the Judeo-Christian prophets.
There are some interesting synopses of the works of related scholars linked from that same article: Patricia Crone, "Christoph Luxemberg" and others.
I don't know the details of these studies, but on the face of it, one must concede that the above portion I have highlighted in bold sounds plausible.
Even Jesus agnostic R. Joseph Hoffmann appears to regard this work on "Muhammad mythicism" as "serious" scholarship.
So why is "Jesus agnostic" Hoffmann so "prickly" (by his own admission) when the possibility of the nonhistoricity of Jesus is seriously raised in an effort to explain the evidence we have for the rise of Christianity? It seems somewhat ironic that a "Jesus agnostic" can find only words like "absurd theorists", "musings", "lack of profundity", "frankly ridiculous" and "depressing" when he broaches the subject of Jesus mythicism.
It seems to me that for this scholar, Jesus agnosticism means effectively nothing more than that we can know nothing about the real historical Jesus behind the myths. And even though the evidence won't allow for "a verdict on the historicity of Jesus", you are "depressing" if you seek an explanation for Christianity that leaves no room at all for a historical Jesus in there somewhere.
He does pay passing remarks to accepting the possibility of the nonexistence of Jesus, but fails to explain what this might mean in any genuine attempt to explain Christianity. Reading Hoffmann's post, one would almost be excused for thinking that there has been a steady stream of scholars, albeit a minority, who have been seriously questioning the existence of Jesus. If this is so, and if, as Hoffmann says, "Christianity" has benefited from them in some way, it seems odd that few if any can be found nominated for his "Jesus Prospect". But he may well know of names that I am unaware of, of course.
Not knowing "who Jesus was or even whether he was", Hoffmann argues, is a fortuitous outcome of the work of scholars of Christianity because, he writes, such uncertainty has spared Christianity from the propensity found in Islam to resort to extreme violence to defend its certainties.
This is a very bold claim. To be sure I understand it, however, I would like Hoffmann to define what he means by "Christianity" and "Islam" in this context. Is Islam, as distinct from the "Moslem religion" really a counterpart to "Christianity"? Do the biblical scholars who doubt the existence of Jesus really have any impact on "Christianity" at all? I can recall some very violent acts and threats by Christians in years past when blasphemous movies and stage plays were making their mark. Given the histories of Christianity and the Moslem religion, can a simple one-to-one comparison be made like this? Should not the fact that Christianity is the religion of the dominant powers who have extended their imperialism and waged monotonously regular wars against Moslem countries be considered as a factor in any such equation?
I think Edward Said would have thought so.
I can't help but wonder — I sincerely would like to be proved wrong — if there is a certain amount of what Said might call "orientalism" at work here. It is "serious work" if scholars dismantle Muhammad as a myth. But the only ones allowed to "doubt" the existence of Jesus are "real scholars" — but only if they "do not doubt" the (hidden) historicity of Jesus! Anyone who seriously studies Christianity and concludes that the evidence suggests Jesus is a myth from the get-go is to be confined to the outer fringe of "absurd theorists". But Muhammad is fair game. Why?
(Not that the "Muhammad mythicists" are necessarily culpable of "orientalism" in their scholarly exercise. But one has to ask why a Western scholar of Christianity cannot seem to countenance the genuine legitimacy of those who are engaged in similar inquiries into Christian origins. Is the answer related solely to the latters' nonscholarly status? In my previous post on Burton Mack's conclusion in his Myth of Innocence I alluded to another possibility I have been discussing for some time now. Even nonChristian biblical scholars seem to need a historical Jesus somewhere, even if irretrievably buried beneath the myth.)
I am all for Jesus agnosticism. I think it is probably the best way to go. But a genuine agnosticism on the question will not misrepresent Doherty's work as a re-hash of Wells'. It will not idly suggest that serious Jesus mythicist arguments fail to comprehend the nature or function of New Testament religion itself. And it will not express intolerance of anyone who does suggest an explanation for Christianity that appears in some ways comparable to "serious" scholarly arguments for a mythical Muhammad.
There is a certain type of agnosticism that is intolerant of positions to its left and right. But usually they really mean intolerance against the left far more than against the right. That sort of agnosticism strikes me as close-minded as the fundamentalists that also sit on the left and right of the agnostic. There is such a thing as "fundamendalist" agnosticism, too, I have learned.
The essay by Hoffmann, and my reply to it and Hoffmann's rejoinder, that prompted the above post, can be found at Did Jesus Exist? Yes and No on Hoffmann's New Oxonian blog.
The following two tabs change content below.
Neil Godfrey
Neil is the author of this post. To read more about Neil, see our
About page.
Latest posts by Neil Godfrey (see all)
---
If you enjoyed this post, please consider donating to Vridar. Thanks!
---