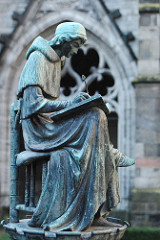 In 2006 James Crossley's Why Christianity Happened was published. (James G. Crossley belongs to the University of Sheffield, the same whose Biblical Studies program was the subject of international controversy late last year, and with which a recent commenter on this blog was heatedly involved.) As "a sociohistorical account of Christian origins (26-50 CE)" (the book's subtitle) I found it left much unanswered, but I did find some of his remarks in his introductory chapter on the history of New Testament historiography and its application of social sciences of interest. Here are a few excerpts:
Will always get largely Christian results
As it stands presently, NT scholarship will always get largely Christian results, be they the nineteenth-century liberal lives of Jesus, the Bultmannian dominated neo-Lutheranism, or the results of smaller subgroups, such as the social reformer/critic Cynic Jesus associated with the Jesus Seminar: all different but all recognizably Christian. (p. 23)
A dubious academic field
Crossley cites Maurice Casey as noting that, although major British universities do indeed genuinely hire on merit, "when some 90 percent or more of the applicants are Protestant Christians, a vase majority of Christian academics is the natural result. Moreover, the figure of Jesus is of central importance in colleges and universities which are overtly Protestant or Catholic, and which produce a mass of books and articles . . .  The overall result of such bias is to make the description of New Testament Studies as an academic field a dubious one."
Crossley remarks with regret that the September 2000 annual British New Testament Conference "opened with both a glass of wine and a Christian prayer. . ."
should an academic meeting that explicitly has no official party line really hold a collective prayer at its opening . . . ? . . . Would other contemporary conferences in the humanities outside theology and biblical studies even contemplate prayer? Would the participants of nontheological conferences even believe that other academic conferences do such things?
Turning back the Enlightenment
Crossley points to "a particularly significant example", a "subgroup of biblical scholarship associated with social-scientific approaches". Such groups "often require defenses against accusations of reductionism and secularism." (p. 23)  He remarks on Philip Esler addressing fellow delegates at a 1994 conference with:
Then we too may reach Emmaus, having had the experience described in the words from the Scots version of Luke's Gospel as read at the liturgy . . . . (p.24)
Despite the diverse views of the delegates at this St Andrews Conference on New Testament Interpretation and the Social Sciences,
crucially, all the differences were ultimately harmonized under the umbrella of Christian faith.
Stephen Barton of Durham University's Department of Theology and Religion has warned "that the epistemological roots of much social-scientific methodology lie in Enlightenment atheism and so,
awareness of this genealogy should also act as a safeguard against unwittingly allowing the agenda of interpretation to shift in a secularizing direction, away from evangelical imperatives native to the NT itself and central to the concerns of those who read the NT with a view to growing in the knowledge and love of God. (p. 16)
I had thought the Enlightenment was a good thing, and secularism in academia the way forward to further enlightenment. Even as a staunch Christian I used to thank both God and the Devil for allowing secularism to bring tolerance for all and the possibility of unfettered enquiry. (Well, maybe I am now thinking I wished I had thanked the Devil too.)
Resurrection and Virgin Birth
Crossley continues:
It is because of this scholarly context that some quite peculiar academic arguments can be made and most frequently in what would seem to be historically unlikely cases, such as the resurrection and virgin birth. It is only in the world of NT scholarship and theology that when Jesus' resurrection is studied, the major historical debates focus around whether or not these supposed events are beyond historical enquiry or if the "spiritual meaning" is more important than the literal understanding. In this context, major proponents (e.g. Gerd Lüdemann and Michael Goulder) of the bodily resurrection not happening are often regarded (rightly or wrongly (sic)) as mavericks.
We recently saw this illustrated almost verbatim by Associate Professor of Butler University James McGrath. (In my Did Jesus Exist on Youtube post I discuss how James made that statement — that "a historian" cannot study the resurrection so he must study "the crucifixion" and explain Christianity with reference to that.)
Historically naïve (twice over)
Crossley comments on a work titled An Interdisciplinary Symposium on the Resurrection of Jesus. The "interdisciplinary" should not be confused with contributors coming from fields as diverse as ancient history, history, sociology or anthropology. No, the term covers, rather, the comparatively inbred fields of Christian theology, philosophy of religion, and biblical studies.
Crossley remarks on the historical naivety of one of the contributors of this volume (Gerald O'Collins) when he asks:
What are we to make of the moral probity of Mark in creating such a fictional narrative (and one that touches on an utterly central theme in the original Christian proclamation) and of the gullibility of the early Christians (including Matthew and Luke) in believing and repeating his fiction as if it were basically factual narrative?
Crossley comments on O'Collins' question:
This is far too rooted in modern concepts of truth and ignores the well-known fact that people in the ancient world created fictional stories of past events, including ones that are utterly central for their beliefs: for example, Joseph and Aseneth on table fellowship between Jews and Gentiles or b. B. Mesi'a 59b on rejecting the legal authority of the wonder-working and divine-voice-supported R.  Eliezar. These are serious issues for the Jews involved, but no historian thinks the stories really happened, no historian should criticize ancient authors of immorality simply on the general point of inventing historical scenarios. (p.25)
So near and yet so far. James Crossley himself fails to see how cocooned his own thinking is in the assumed historical grounding of the Gospel narratives. Gerald O'Collins is addressing a point that needs honest examination at far more than the ethical issue of supposed "ancient concepts of honesty". But that's for another post another time.
The N.T. Wright phenomenon

Continuing:

But could we assume that those Christians who argue in favor of the historical reality of the bodily resurrection would treat non-Christian religions with the same degree of openness to the evidence? . . . It should be clear that Christian stories can be treated differently because of Christian dominance, which allows the more literalistic advocates to make such claims.
He is thinking in particular of N. T. Wright as one of these "literalistic advocates".
Would another disciplines in the humanities seriously consider as historically reliable something as spectacular as someone literally rising from the dead but also argue that it provided a catalyst for the rise of a major new movement?
But even James Crossley in his discussion of N. T. Wright apparently cannot speak bluntly as one might expect of any post-Enlightenment thinker, but must couch his discussion with phrases like:
The recent arguments of Wright on the resurrection require much more careful consideration than can be given here
and
irrespective of whether he is right or wrong
And in response to Stephen Barton's warnings against the Enlightenment's influence on thinking,
I am not saying they [Barton's comments] are inherently wrong
But it probably too easy to be too harsh. Crossley has had to contend with very heated criticisms from his "more partisan" colleagues (pp. ix).

But back to Crossley's point:
it is almost certainly the context of a Christian-dominated scholarly community that has allowed his views of the bodily resurrection to be published as a major book in the study of Christian origins and to gain praise from some of the most famous scholars in the field. Certain major reviews contain criticisms of Wright's arguments but not the argument favoring the historical accuracy of the bodily resurrection . . . . One such example is a review by James Dunn . . :"But in the end what Christian heart could fail to rejoice at such a trenchant defence of Christianity's central claim regarding Jesus?" (p.26)
Only halfway there
Crossley seems to see only half the picture, however. He correctly writes that Christian dominance of the "discipline" of NT studies
allows Christian academics to make arguments that (rightly or wrongly (sic)) would hardly be permitted in other academic disciplines, not to mention some extremely weak arguments. The lack of a significant number of non-Christian or even scholars deliberately attempting to see beyond their Christian background has prevented serious secular alternatives to Christian origins being properly discussed.
Crossley laments the loss of Marxist historical perspectives in Christian studies at a time, especially prior to the 1970s, when Marxist historians were making very respectable contributions to other historical disciplines. He welcomes the changes wrought through feminist studies, and expresses a hope for a future intake of larger numbers "from the working and lower classes" into scholarship.
But in all of this, he appears to remains oblivious to the insubstantial evidence for the cultural icon of the central Christian narrative that he studies. He refers to historians like Eric Hobsbawm and E. P. Thompson, but when one reads his own "sociohistorical" account of Christian origins, the difference of his work with theirs is scarcely describable. (And it's not simply the obvious quantitative difference over the amount of available evidence, either.) He relies on late rabbinic sources to reconstruct practices in the early first century, apparently forgetting his own remarks (above) about the well-known practice of ancients creating fictional 'Sitz im Lebem' narratives, and apparently overlooking the basics introduced by von Ranke on how to assess sources for the establishment of factual evidence, and naively accepts the Gospel narrative parables of Jesus as evidence of socioeconomic realities in early first-century Galilee. But the difference is that he ties these sayings to socioeconomic models of sociologists like John Kautsky. This is the same special pleading substitutes for evidence as found among scholars with a faith interest. I do not dismiss Kautsky's models, but I do wonder about the translucence of whatever is supposed to be created when one ties the model with a gospel saying or few, and some basic raw archaeological data about new cities being built in Galilee.

It is time, rather, for even "independent" historians to have the courage to examine critically and honestly the real foundations of our inherited icon that has been aged in millennia. Crossley has appeared to come close to what is needed at times. But even he cannot recognize the foundational methodological and logical flaws bequeathed by an academy originally created to serve the faith. What is needed is a fresh look at the sorts of questions our available evidence will allow us to ask. Crossley can see the hollowness of much "partisan" scholarship. Until he examines the reasons for his assumption of the Gospel narrative as the bedrock of historical foundations, his own arguments will likewise remain bereft of solid evidence and sound methodological foundations.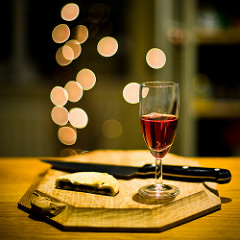 The following two tabs change content below.
Neil Godfrey
Neil is the author of this post. To read more about Neil, see our
About page.
Latest posts by Neil Godfrey (see all)
---
If you enjoyed this post, please consider donating to Vridar. Thanks!
---