A standard formula-problem found in historical Jesus works is that the question that needs to be explained is how or why Jesus' disciples were able to persuade so many Jews that a crucified criminal was indeed the Christ. And of course, to explain why the disciples became convinced of this themselves.
These are indeed extremely improbable scenarios.
One "biblical scholar and historian" who is also a Christian writes:
As we have already seen, what precisely motivated [the disciples] to believe that Jesus had been raised . . . is difficult if not impossible to say from a historian's perspective. (The Burial of Jesus: History & Faith, p. 121)
And again,
There seems to be little hope of gaining access by means of the later written sources to the actual experiences that early Christians had, the ones that convinced them Jesus was alive. Even Paul only alludes to his own direction-changing experience, and never describes it. Perhaps this is appropriate: religious experiences are regularly characterized by those who have them as ineffable, as "beyond words." The Gospel of Mark suggested that Jesus would be seen, but doesn't describe the experience, at least not in our earliest manuscripts. . . .

But this much can be said: the act of completely surrendering has transformed many lives. Such unconditional surrender to God seems to have been central to Jesus' own spirituality. There would be something fundamentally appropriate if it turned out to be central to the rise in the earliest disciples of the conviction that Jesus had been raised, as it has been for Christians all through the ages since then. (pp. 115-116)
This historian is writing for his fellow-faithful. In doing so he has given away his bias that would seem to preclude him from any ability to continue his historical enquiries until he finds a truly historical explanation for the rise of the Christian faith. He is content with an explanation that opens up room to find his faith — the inexplicable, even the ineffable — in history. (And given that this particular faith is dependent upon historical events, Schweitzer's pleas notwithstanding [- see below], this is surely an inevitable conclusion for a committed Christian.)
This is not good enough for truly post-Enlightenment historiography. History is often enough defined as an investigation into what is human, what can be naturally explained.
If our questions and models bring us up against a brick wall of "ineffability" then it is time for historians to ask new questions and try new models until they do find the natural and explicable answers.
The Gospel narratives, particularly that of the earliest Gospel of Mark, make no sense as history. Read naively they prompt silly questions like: Why did Jews come to believe a crucified criminal was their messiah? Such silly questions are embraced with utmost sober seriousness presumably for the same reasons they were a subject of boast by Tertullian: "I believe because it is absurd."
They are questions grounded in faith and therefore also supportive of faith. Even non-Christian scholars embrace them because the faith narrative has become part of our very cultural identity.
The historian who is prepared to set aside assumptions and hypotheses that have been found wanting, or that are self-authenticating being found exclusively within the Christian narrative itself, will necessarily be operating from the cultural fringes. But that is the only historian who is likely to stumble upon an answer to the real historical question (how did Christianity begin?) that is completely natural, human and explicable of all the evidence. There will be no need to be content with "the ineffable" or "difficult if not impossible to say" in place of an explanation.
Granted, not all biblical historians do accept the unknown or "impossible to say" in place of a genuinely historical explanation. But they do still work within the culturally rooted paradigm and are up against  a model that has more to do with faith and myth than with human reality. This explains why there is so little in common, and much that is mutually exclusive, among the many Jesus reconstructions by  biblical historians working within the constraints of the model that remains an inheritance of faith. The wildly opposing results generated through their paradigm ought to suggest a new paradigm and new questions are timely. But how to begin with something that is so much a part of our collective identity?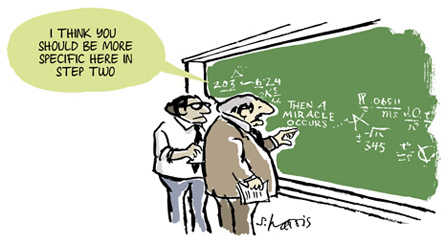 And once again, as quoted here before:
Moreover, in the case of Jesus, the theoretical reservations are even greater because all the reports about him go back to the one source of tradition, early Christianity itself, and there are no data available in Jewish or Gentile secular history which could be used as controls. Thus the degree of certainty cannot even by raised so high as positive probability.

. . . Modern Christianity must always reckon with the possibility of having to abandon the historical figure of Jesus. Hence it must not artificially increase his importance by referring all theological knowledge to him and developing a 'christocentric' religion: the Lord may always be a mere element in 'religion', but he should never be considered its foundation.

To put it differently: religion must avail itself of a metaphysic, that is, a basic view of the nature and significance of being which is entirely independent of history and of knowledge transmitted from the past . . .
From pages 401-402 of The Quest of the Historical Jesus, 2001, by Albert Schweitzer.