So the velociraptor had feathers.
Check out some great new illustrations here.
And the latest publication in the Hobbit debate believes its identity is all in the wrist — and homo sapiens lived beside a cousin as "recently" as 12,000 years ago. (There are other useful links from this news page, too.)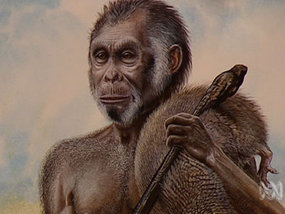 More background to the latest news (linked above) can be found here on the Wikipedia site, and other info from a counter-creationist site can be seen here.
And there's always "the book".
(pic from Lateline & http://www.abc.net.au/news/stories/2007/09/21/2039663.htm