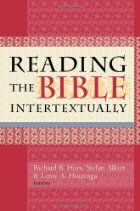 This post continues Leroy Andrew Huizenga's argument that the Gospel of Matthew's Jesus is modelled on Second Temple Jewish beliefs about Isaac being bound in order to become a sacrificial offering at the hand of his father Abraham (an episode known as the Akedah). Huizenga's argument depends on their being much more to the Jewish understanding of this event than what we read today in Genesis 22. The first post looked at evidence we have from before the first century (the Dead Sea Scrolls and Jubilees) that
Isaac was believed to have been a willing participant freely offering himself up as a sacrifice;
this was believed to have occurred at Passover — indeed explains the institution of the Passover;
this happened was said to have happened on Mount Zion
God himself was thought to be the one who behind the scenes was offering him up as a sacrifice
this event was understood to have had some form of saving or life-giving benefit.
This post looks at the evidence from the first century itself for the prevalence of such views of Isaac and the Akedah — the time acknowledged as the era when Christianity and the Gospels were coming into being.
Of particular significance is Huizenga's point that the first-century evidence itself further points to these understandings being long embedded as part and parcel of Jewish culture. They were not recent innovations.
Moreover, the concise manner of presentation of these aspects in the latter three texts reveals their antiquity and pervasive cultural currency: recent innovations would require detailed presentation but longstanding legends need only the slightest mention for their evocation. Isaac's willingness, for instance, functions as a resource, not a novelty, an explanans, not an explanation. (p. 67 of Reading the Bible Intertextually, chapter 5 The Matthean Jesus and Isaac)
Leaving aside Huizenga's argument for a moment, this reminds me of the cryptic references in the Book of Genesis to the fallen angels procreating with human women before the flood. The passing remark presupposes a knowledge of what we read in the apocryphal literature and is thus one of several reasons to think of Genesis as being a late composition. Continue reading "Isaac Bound & Jesus: first century evidence"