I was disappointed, and for some reason even a little surprised, to read Jerry Coyne's response, Islamophobia again, to my recent post and see that he chose not to deal with the key points I raised. In fact, he merely repeated his own arguments as if my own rebuttal of them was nowhere on record. What was most disappointing was his upfront declaration that he had no interest in engaging with contrary views, even referring readers to a Christopher Hitchens quotation expressing disdain for any opinions but his own and inviting anyone who wishes to challenge those opinions to kiss his arse.
So there is clearly no interest on Jerry's side to seriously debate the issue. His mind is made up and has no room for anything new when it comes to the question of Islam.
Much of his post is elaborating on the recent events in Bangladesh. At least a hundred thousand demonstrators (estimates vary between 100,000 and 500,000 in the news sources) have come out into the streets calling for the deaths of atheist bloggers. That is how the news has been filtered into the Western media and that's all there is to the story as far as Jerry and others are concerned. Presumably anyone who has any further information that might change that view of theirs will be invited to kiss Jerry's arse.
This blog is all about sharing information and inviting readers to look deeper behind what is most commonly presented to the public. Concerning what is going on in Bangladesh, I really did expect intelligent and thoughtful sceptics to be a little more astute and diligent with checking sources before swallowing what they see on mainstream TV news.
So at the end of this post I will present a few facts — facts easily obtainable by anyone with unfettered access to the internet — that Jerry and others presumably do not think are relevant.
Jerry writes:
Can you imagine Catholics, for example, rallying by the hundreds of thousands to call for the death of anti-Catholic bloggers? Or murdering them?
Not in this day and age, no. But I do know of some ugly moments in history . . . And that's Jerry's problem here. He has assumed a situation in Bangladesh needs absolutely no reference to history there, or to the different religious groups and political roles they have played in recent decades and months, is validly comparable to a Catholic area in the United States. This is the danger of people not knowing or understanding, or not even being interested in understanding, another people on their own terms. Now Jerry has quickly added that what is happening in Bangladesh has nothing to do with colonialism or politics because the demonstrators are clearly saying "Death to the atheist bloggers" in the name of Islam.
That's it. End of story. Kiss his arse if you want to actually understand some context and background to what has brought those demonstrators out to the streets with those cries, or suggest that this is worth a serious comparison with how Catholics in twenty-first-century America behave.
Jerry completely avoids my argument when he repeats this nonsense:
I still can't quite understand why it's sort of okay for atheists to level strong criticisms at other religions (Sam, after all, wrote Letter to a Christian Nation, and I spent an entire week on this site documenting the immorality of the Catholic Church [e.g., here and here]), so long as that religion is not Islam. We're not accused of Catholicphobia or Baptistphobia, but only Islamophobia. I think this reflects a double standard, for such accusations hold Muslims to lower standards
Rubbish. I have criticized Islam. (Not often, I admit, because my experience is mostly with Christianity.) I have no problems with anyone, not even Muslims, criticizing Islam. There is a lot to criticize, especially given that they have not had the history of Reformations (plural) and Enlightenment challenges that Christianity has experienced. They have a lot of catching up to do.
From time to time since starting this blog I have had a few Muslims (not all!) take great offence at some of my comments or posts. Jerry did not notice or understand my explicit comparison of the sorts of criticisms that are leveled against other religions and those that are lately leveled against Muslims by our leading lights of new Atheism.
He then reprises the accusations he says he regularly hears against new Atheism and its association with Islamophobia. I don't know if he really hears all of these arguments, because his first point, "it's racism", fails to grasp what is actually being said about Islamophobia. Islamophobia is not racism in the normal sense of the word, but it does take negative racist stereotypes and imputes them into a whole religion, and inevitably that implies all adherents of that religion. That's a neat way of enabling one to claim the odd Muslim (or Jew or black man) that one knows really is a nice person without detracting from the general collective demonization or dehumanization.
Is this dehumanization?
When anyone imputes to other groups the potential to act in a way that is not normally 'human' — e.g. on the mere say-so of an authority, and for no other reason or unusual conditioning, go out and kill others; or believe that parents en masse threatened to kill their children in order to gain entrance into a first world country (we once had a Prime Minister here who had much/most of the nation believing just this about some Muslim refugees!) — then one is dehumanizing them.
Jerry also says his critics argue that Islam is no worse than any other religion. I don't know what others say, but there is no doubt Islam has some major problems that are not faced by Christianity today, and that has to do with history as mentioned above. But let's stop using abstractions for people. Let's talk about adherents of religions. That's where the conflict and any future solution lies. It's the adherents who define the religion in real terms. And critics of Islam need to know a lot more about Islamic populations than they glean from mainstream media soundbites.
And Jerry misses the point completely about the question of "not all Muslims being violent". Jerry is not listening — he tells people to take a ticket and go and . . . . — so he keeps repeating the same old the same old the same old. I don't know how I could have made the point any clearer in my previous post but (or therefore?) he ignores the real argument completely.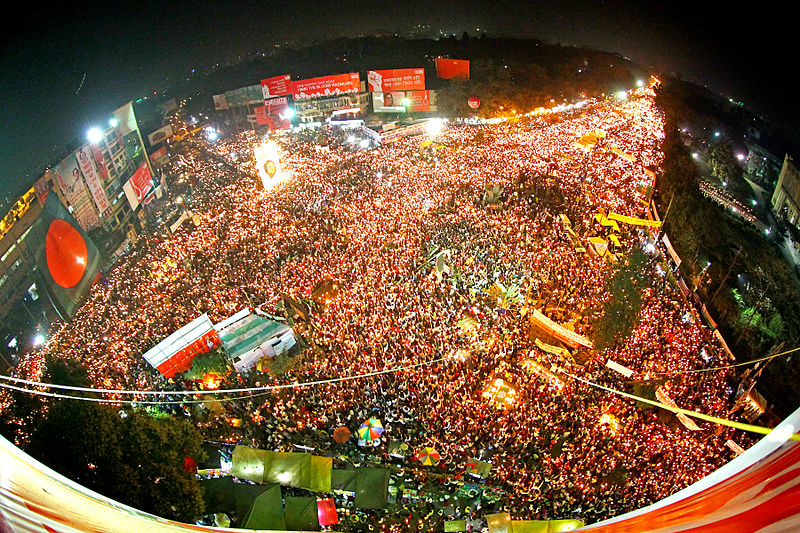 Bangladeshi Demonstrators Calling for the Deaths of Atheist Bloggers
No doubt anyone with his or her mind made up will only find in what follows validation for their Islamophobia. But for others . . . .
An Agence France Presse release:
There has been vociferous debate between staunch atheists and fundamentalists in Bangladesh's social media for years, but it took a deadly turn in February when an anti-Islam blogger was murdered. Continue reading "Jerry Coyne's reply, Bangladeshi Muslim Demonstrators, and Atheist Bloggers"