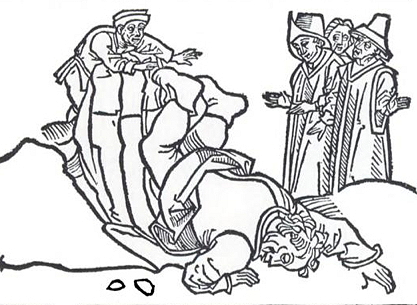 With the previous post in mind . . . .
Aesop told him a fable: "A woman who had buried her husband was sitting at his tomb, weeping and overcome with grief. A plowman saw her and began to desire her, so he left his oxen standing with the plow and came over to her, pretending to weep. She paused and asked, 'Why are you crying?' The plowman answered, 'I have just buried a good and wise wife, and when I cry, I find it makes my grief easier to bear.' The woman said, 'I have also lost a good husband, and when I do as you do, I also find it takes away some of the grief.' So he said to her, 'If we have suffered the same fate, why don't we get to know each other better? I shall love you as I did her, and you will love me as you did your husband.' He thus persuaded the woman, but while he was lying with her, someone untied his oxen and led them away. When the plowman got up and discovered that his oxen were gone, he began to wail in genuine grief. The woman asked, 'Why are you crying again?' And he replied, 'Woman, now I really do have something to mourn!' So you ask me why I am grieving when you see my great misfortune?" (p. 222)


Wills, Lawrence M., trans. 1997. "The Book of Xanthos the Philosopher and Aesop, His Slave, Concerning the Course of His Life." In The Quest of the Historical Gospel: Mark, John, and the Origins of the Gospel Genre, 177–224. London: Routledge.
It was a common enough motif, and no-doubt a regular part of life. The Life or Romance of Aesop is dated "probably in the first or second century C.E."
Lawrence Wills further identifies many similarities between the Life of Aesop and the gospels of John and Mark. The low-class style, the initially despised man whose inner wisdom and divinely bestowed gifts astonish many others, the hero's ability to teach great (and unconventional) wisdom to others, his ability to outsmart even the best teachers of his day, his prophecy of war and doom for a city he visits, his tendency to deliver lessons in parables or fables, his rebuke of the citizens of a holy city and their determination to execute him by a dishonourable death in return, and the city is punished by the gods for its crime