Here's another interview with David Newheiser (personal webpage). This one goes into more depth on the philosophical history and "varieties" of atheism. See the New Books Network –  The Varieties of Atheism: connecting religion and its critics.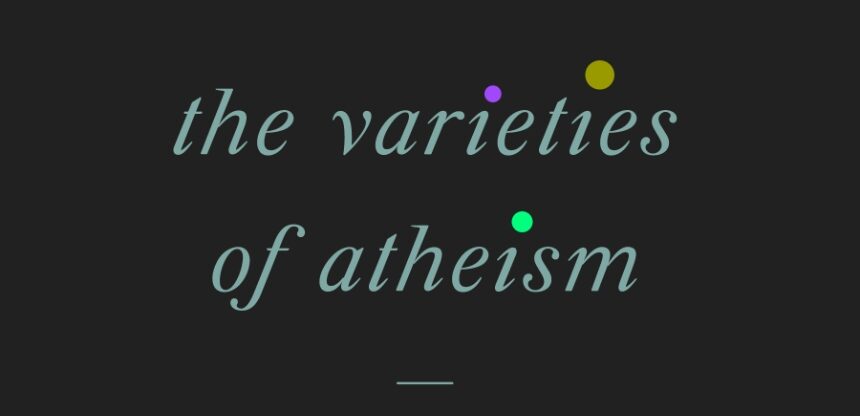 I loved the books by Richard Dawkins, Christopher Hitchens, Daniel Dennett, even some parts of Sam Harris, when they first came out — but in the interview I found myself in agreement that those works represent a kind of two-dimensional atheism. It's as if they say that all it means to be an atheist is to reject the idea of god and to continue with life as if nothing else needs to change. (And usually the type of religion they attacked was the fundamentalist variety — which is not wholly satisfactory.)
When does atheism become "an identity"? In what social and political contexts? Atheism surely involves an emotional engagement and outlook to life and how the world could be. Atheism changes things on an ethical and political level.
David Newheiser is a senior research fellow in the Institute for Religion and Critical Inquiry at Australian Catholic University. He is the author of Hope in a Secular Age: Deconstruction, Negative Theology, and the Future of Faith.

The Varieties of Atheism: Connecting Religion and Its Critics (U Chicago Press, 2022) reveals the diverse nonreligious experiences obscured by the combative intellectualism of Sam Harris, Richard Dawkins, and Christopher Hitchens. In fact, contributors contend that narrowly defining atheism as the belief that there is no god misunderstands religious and nonreligious persons altogether. The essays show that, just as religion exceeds doctrine, atheism also encompasses every dimension of human life: from imagination and feeling to community and ethics. Contributors offer new, expansive perspectives on atheism's diverse history and possible futures. By recovering lines of affinity and tension between particular atheists and particular religious traditions, this book paves the way for fruitful conversation between religious and non-religious people in our secular age.

New Books Network –  The Varieties of Atheism: connecting religion and its critics.
The following two tabs change content below.
Neil Godfrey
Neil is the author of this post. To read more about Neil, see our
About page.
Latest posts by Neil Godfrey (see all)
---
If you enjoyed this post, please consider donating to Vridar. Thanks!
---