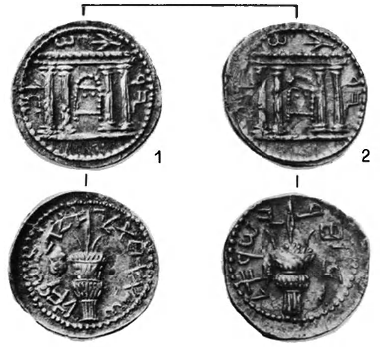 (Continuing the series outlining key points of Thomas Witulski's case for a contemporary interpretation of the Book of Revelation: the two witnesses being Bar Kochba and Eleazar.)
Back to Josephus. Year 70 CE. The siege of Jerusalem.
Josephus writes that he had pleaded with his countrymen to give themselves up to the Romans and save their Temple. The zealots, led by John, despised his words. But many, including those of the upper classes, did choose to side with the Romans.
(111) As Josephus spoke thus, with groans and tears, his voice broke down with sobs. (112) Even the Romans were moved by his distress and admired his determination; but John's men were the more incensed with the Romans and eager to get hold of Josephus. (113) However, many citizens of the upper class were moved by this address. Some of them were too frightened of the partisan guards to move, though they had given up themselves and the city for lost; but there were others who, watching their opportunity to escape, sought asylum with the Romans. (114) Among them were the high priests Joseph and Jesus and several sons of high priests, namely three sons of Ishmael who was beheaded in Cyrene, four of Mat­thias and one of another Matthias. This man had run away after the death of his father who had been murdered with three sons by Simon son of Giora, as explained above. Many other citizens of good family went over with the high priests. (115) Caesar received them with all possible kindness and, realizing that foreign customs would make life distasteful for them, he sent them to Gophna and ordered them to remain there for the time being; he even promised to return every man's possessions as soon as he could after the war. (116) So they retired willingly and with complete confidence to the little town that was allotted to them . . .  (Jewish War, VI – Cornfeld edition)
If the above account can be trusted, it appears that many religious leaders and landowners sided with the Romans and retained or had their status and possessions returned to them at the end of the war.
. . . it does not seem unlikely that many of these "new settlers", so useful and acceptable to the Romans, remained rooted in their new locations, becoming masters of properties whose original owners had either been slain, or taken prisoner, or had fled the country. (Alon, 63)
Others were not so fortunate:
Naturally, there were Jews whose land was confiscated outright by the Roman government itself. This was the treatment meted out to anyone suspected of anti-Roman activity. The process continued even after the fighting was over. After Vespasian had taken Beth Aris and Kfar Taba in "Idumaea", having killed ten thousand in the process and captured one thousand Jews whom he sold as slaves, "he expelled the remainder and stationed in the district a large division of his own troops, who overran and devastated the whole of the hill country." (Alon, 62)
and
The war thus brought in its train major changes in the distribution of land ownership through: 1) the loss of ownership-title by those who remained on the land, and who could thus be thrown off their property at a moment's notice; 2) total confiscation from resisters and political undesirables; 3) government lease or grant to non-Jews . . . ; but occasionally as out-right grantees), who would then clear the Jewish inhabitants right off the land; and 4) simple transfer of title from Jewish to non-Jewish owners. (Alon, 63)
In a later rabbinic account we read a memory of those days:
One of the wealthiest men of Jerusalem before its destruction, Nakdimon b. Gorjon, most probably perished during the siege of the capital. After the catastrophe his daughter is found by R. Johanan b. Zakkai and his disciples starving and picking grains of barley from horses' dung, and, when questioned by the rabbi, explained that the money of her father and her father-in-law was all gone. Such cases of utter impoverishment may have been numerous, while such as continued on their property may also have been many. (Büchler, 30)
But many Judeans were not opposed to Rome and only wanted peace. We have accounts of some of them attempting to undo the marks of circumcision — as well as some being re-circumcised when the rebellion broke out. A Sibylline oracle from Egypt's Judeans praised Hadrian in quasi-Messianic language. Even rabbinic literature documents memories of Hadrian in positive terms. After 70 CE many Judeans did re-establish a religious life that can be interpreted as the formal beginning of rabbinical Judaism. See articles on Johanan ben Zakkai and related links. (Each of these points could be extended to a post of its own but I am trying to just skim along the highlights of W's discussion.)
Still, Hadrian's program ran into a diametrically opposing religious outlook of many other Judeans: Ezekiel 37 promised Israel would be freed from the gentile nations and submit only to God; God would be the one to protect and save them, not Hadrian.
For Thomas Witulski (Apk 11 und der Bar Kokhba-Aufstand : eine zeitgeschichtliche Interpretation) it is important to see the visit (adventus) of Hadrian in the above context. The character of such a visit could quite conceivably have provoked an uprising of nationalist-religious Jews who were disadvantaged as a result of the impoverishing situation following the war with Vespasian and Titus. One can imagine the bitterness of these Judeans not only against the Romans but particularly against their compatriots who profited from Roman rule.
The Bar Kochba Rebellion
The coins and letters of Bar Kochba make it clear that Bar Kochba's aim was the liberation of Judea from Rome. Coins were dated accordingly: Continue reading "The Simon Bar Kochba Rebellion"