Nathanael Vette (NV) is demonstrating how authors of the Second Temple era drew upon Jewish Scriptures to create narratives through a wide range of literary genres, and once we are aware of the many ways they went about doing that, we can expect to find that much of the Gospel of Mark is likewise composed from Scripture not only explicitly but even implicitly, subtly, sometimes even barely noticeably.
Judith
Although Judith was most likely written around the turn of the second to first centuries BCE, the surviving evidence leads some scholars to suspect  there was little interest in the work until the late first or early second century CE. (Lawrence Wills: "By the turn of the first to second centuries CE, then, a textual tradition of Judith was already popular enough to be referenced.") NV notes that Judith's "manifold historical blunders" are not necessarily the reason for its scarcity in the earliest records (making it "something of an outlier in the miscellanea of Second Temple literature") since Daniel and Esther are also replete with "equal historical absurdity". (You can read the story online at the Early Jewish Writings site.)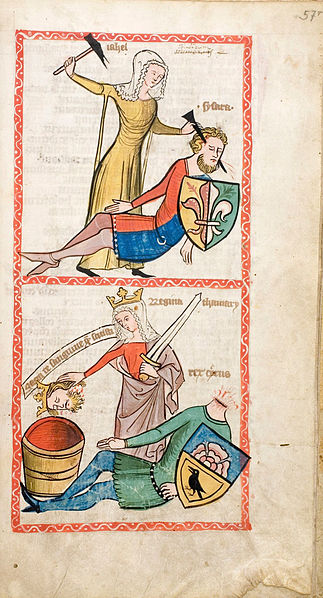 Just as I was beginning to wonder how much relevance this narrative might have for an interpretation of the Gospel of Mark, a footnote by NV ripped my complacency from me the moment I followed up its references:
For some, Judith's absurdities are a sign the author intended it to be read as a kind of historical fiction; so André-Marie Dubarle, Judith: Formes et sens des diverses traditions. Tome I: Études, Analecta Biblica Investigationes Scientificae in Res Biblicas 24 (Rome: Institut Biblique Pontifical, 1966), 162-4; Enslin, The Book of Judith, 38; Moore, Judith, 76-85; Gera, Judith, 60; Lawrence Μ. Wills, Judith, Hermeneia (Minneapolis, MN: Fortress, 2019), 78-95; or as a 'legend' in Benedict Otzen, Tobit and Judith, Guides to Apocrypha and Pseudepigrapha (London: Sheffield Academic, 2002), 124-6. The label of historical fiction is also applied to the equally fabulous Daniel, Esther and Letter of Aristeas. There is, however, no evidence that these texts were read as fiction during the Second Temple period. A simpler explanation is that the authors merely suffered from a lack of adequate historical information. This surely lies behind the absurd detail in the Pirḳê de Rabbi Eliezer that 'Pharaoh, king of Egypt [of Exod. 5-14] went and ruled in Nineveh [in the time of Jonah]' (PRE 43:9). That this may also explain the historical inaccuracies in Judith is explored in an unjustly overlooked article by Alan Millard, 'Judith, Tobit Ahiqar and History', in New Heaven and New Earth: Prophecy and the Millenium [sic]. Essays in Honour of Anthony Gelston, eds. Peter J. Harland and Robert Hayward, VTSup 77 (Leiden: Brill, 1999), 195-203. There is less to commend Ernst Haag's view (Studien zum Buche Judith: Seine theologische Bedeutung und literarische Eigenart, Trierer Theologische Studien 16 [Trier: Paulinus, 1963]) that Judith's historical inaccuracies are simply part of its theological agenda. (p 86 — my bolding in all quotations)
If one cauterizes the Gospel of Mark from its historical theological status and reads it as literature alongside other early stories of Jesus, both canonical and extra-canonical, historical absurdities also emerge as they do in Judith: a Pilate cowered by a mob demanding the release of an insurrectionist and the execution of an innocent man, Pharisees touring and synagogues dotting the landscape of Galilee in the early first century, a Sanhedrin trial for a capital offence conducted at night on the eve of a holy day, Pharisees portrayed as vicious martinets, the Jerusalem temple so small a single man was capable of disrupting its traffic and business . Should we think the author of the Gospel of Mark "intended it to be read as a kind of historical or biographical fiction"?
Compare the Enslin reference: Continue reading "Creating Pseudo-History (and Comedy) from Scripture — a review of Writing with Scripture, part 4"