Reviewing The First Biography of Jesus: Genre and Meaning in Mark's Gospel by Helen K. Bond.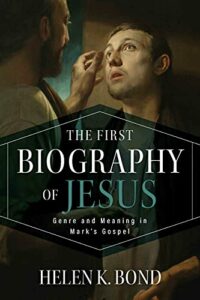 (In which I finally get around to reading Bond's The First Biography of Jesus.)
After the initial trickle of "Gospels Are Biographies!" books, we might have expected a flood of works exploring the implications of such a designation. After all, when we approach a text, we usually try to identify (at least provisionally) its genre in order to understand it. If scholars in the past had failed to recognize the true genre of the canonical gospels, then we must have myriad assumptions to sweep away, interpretations to reassess, conclusions to re-evaluate, and new questions to ask.
Missing Books?
Yet here we sit, still waiting for that big splash. In the first chapter, Bond herself recognizes the dog that didn't bark. As an aside, I would note that the usual suspects, naturally, have added the biographical credo as an ancillary argument — Bauckham for touting eyewitness testimony and Keener for promoting historical reliability. But where are the massive monographs written by grad students, the insightful papers on the cutting edge of gospel research? Where are the 400-page books laden with turgid prose that recycle the same ideas ad nauseam?
All in all, the list of scholarship is not particularly long for an issue that seemed so pressing only a few decades ago, and it is still possible (not to mention largely unremarkable as far as reviewers were concerned) to write a long book on gospel origins without devoting any attention to their genre at all. (Bond 2020, p. 52-53)
You might wonder whether modern scholars had actually been more interested in changing the consensus than building upon it. Maybe. But you should understand that redefining the genre of the gospels represents a small part of a much larger overall project, namely the rewriting of New Testament scholarship's own history and a redrawing of its self-conception. This process of reconstruction has gradually remapped the terrain and redrawn the borders, so that scholars who once dwelt securely in a fairly broad mainstream now sit in no man's land, out in the mud which lies beyond the barbed wire. NT scholarship's Overton Window has slid far to the right, and erstwhile respected scholars are now rebuked for sounding too radical, for going too far, for being too skeptical, for engaging in oldthink.
Nothing demonstrates this recent change better than the now fashionable stance against form criticism. Bond has little good to say about it, and what she does say often misses the mark. For example: Continue reading "Mark: The First Biography of Jesus? (Part 1)"