For more detailed discussions of how Jewish ideas of the sacrifice/binding of Isaac were a template for the sacrifice of Jesus Christ for Paul and the evangelists refer to the posts in the archives for
Akedah
and
Levenson: Death and Resurrection of the Beloved Son
. This post looks specifically at how the Servant of Isaiah 53 came to be associated with Isaac.
Before the origins of Christianity the idea that Isaac was a willing volunteer to be sacrificed at his father Abraham's hand was part of the smorgasbord of Jewish theological understandings. How did this notion arise? The answer to that question brings us to another Jewish idea that became the raw material from which Paul or other earliest Christian exegetes, including the authors of the gospels, drew inspiration for their teachings about Jesus Christ.
In the Genesis 22 narrative Isaac is a passive figure. The focus is entirely on Abraham's faith and pious actions. Yet in the writings of Josephus, 4 Maccabees, and Pseudo-Philo's Liber Antiquitatum Biblicarum (Biblical Antiquities) and the subsequent Palestinian Targum focus turns to Isaac as knowing what God requires of him and willingly, even enthusiastically, seeking to be sacrificed. Where did that idea come from?
In 4 Maccabees the blood of the (Maccabean) martyrs of the mid-second century BCE is said to atone for the sins of Israel, and by offering to die they imitate Isaac.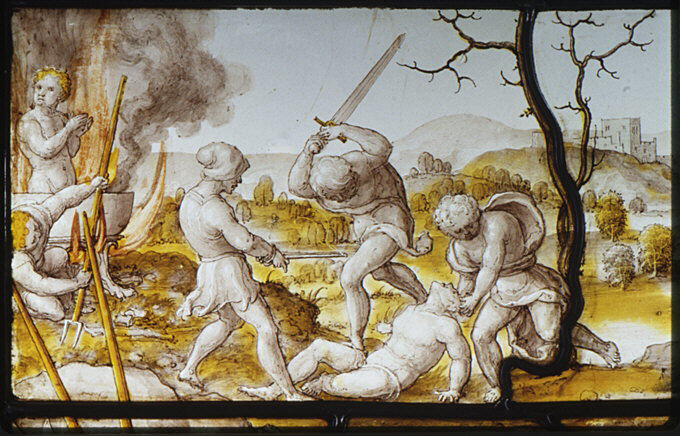 In the Palestinian Targum we finally see clues that explain how this interpretation of Isaac came about: Isaiah 53, the famous passage about the Suffering Servant, was linked to two just men who were prepared to die to save Israel.
There exist at least two midrashic passages in which the self-offering of a just man mentioned in the Torah is interpreted by quoting Isaiah liii. The first relates to Moses' intercession for Israel after the worship of the golden calf. He implores God either to pardon his people, or else to blot his own name from the Book of Life (cf. Ex. xxxii. 32). According to Sotah 14a, Isaiah liii. 12 refers to this event:

He delivered his soul to death… and he took away the sins of many.

The second text, Sifre on Numbers xxv. 13, §131, applies the same verse of Isaiah to Phinehas, who was considered to have endangered his life by his zeal for God. His self-sacrifice and atonement are given a permanent value, and will continue to expiate Israel's sins until the time of the Resurrection.

(Vermes, 203)
Vermes adds a third reference, one that applies Isaiah 53's Servant directly to Isaac.
Jacob, called the young one, and Abraham, called the old one, are there, and Isaac, the Servant of the Lord ('abda de YHWH) who was delivered from bonds by his Master. (Targum of Job 3)
Isaac is identified as the Servant of the Lord because of the midrashic interpretation of Isaac being "bound" by Abraham and then freed from those bonds.
It is precisely on account of his having been bound, i.e. because of his self-sacrifice, that Isaac appears to have been given the title, "Servant of the Lord". 

It would seem, therefore, safe to assume that the targumic haggadah on the Akedah resulted from the association of Genesis xxii and Isaiah liii. In addition, it is almost certain that this association was due to reflections on the significance of martyrdom. If the blood of martyrs is viewed by God as an expiatory sacrifice, a fortiori, the self-offering of Isaac atoned for the sins of his descendants.

(Vermes 203)
From that point, from the association of "binding" and "unbinding" in Genesis 22 with the Servant of the Lord in Isaiah 52:13-53:12, the figure of Isaac was delineated with other characteristics of that Isaiah 53 passage:
Isaiah's servant, like Isaac, is compared to a sacrificial lamb
Isaiah's servant, like Isaac, was ordained by God to be sacrificed
Isaiah's Servant was cut off from the land of the living yet was promised to see his descendants. (Refer above to the links to archives where Levenson shows that some Jewish interpreters even believed Isaac's blood had been spilled but that God restored him to life again.) Most significantly, the Servant is the just man who offers himself, in submitting to God's will, for the sake of cleansing the sins of Israel.
In a recent post we saw how Paul was able to find "Christ crucified" "on a tree" in the Scriptures. Geza Vermes as early as 1961 elaborated on the above explanation for how Jewish interpreters were constructing concepts that were picked up and applied by Paul and other pioneering Christian authors.
(Another interesting point brought out in Vermes' discussion is that the Jewish interpreters also viewed the daily sacrifices as serving the purpose of reminding God of the sacrifice of Isaac, the truly valuable sacrifice because it was that of a righteous man, not a mere animal. But that's another discussion. )
– – – o 0 0 – – –
For the record — earliest writings presenting Isaac as a willing sacrifice:
Josephus:
Now Isaac was of such a generous disposition as became the son of such a father, and was pleased with [Abraham's explanation of what he was about to do]; and said, "That he was not worthy to be born at first, if he should reject the determination of God and of his father, and should not resign himself up readily to both their pleasures; since it would have been unjust if he had not obeyed, even if his father alone had so resolved." So he went immediately to the altar to be sacrificed. (Jewish Antiquities, 1.13.4)
Josephus was not alone. In 4 Maccabees Isaac is portrayed as the ideal martyr:
Isaac offered himself to be a sacrifice for the sake of righteousness. (4 Macc 13:12)

Isaac did not shrink when he saw the knife lifted against him by his father's hand. (4 Macc 16:20)
Compare later
Cause our chastisement to be an expiation for them. Make my blood their purification and take my soul as a ransom for their souls. (4 Macc 6:28f)

They have become as a ransom for the sin of our nation, and by the blood of these righteous men and the propitiation of their death, Divine Providence delivered Israel. (4 Macc 17:22)
"Pseudo-Philo" in Liber Antiquitatum Biblicarum (Biblical Antiquities),
. . . . and required of him his son for a burnt offering? and he brought him to be laid upon the altar, but I restored him to his father. And because he resisted not, his offering was acceptable in my sight, and for the blood of him did I choose this people. (LAB 18:5)

. . . . and gave him a son in the latter days of his old age, and brought him out of the barren womb, and all the angels were jealous against him, and the orderers of the hosts envied him 2. And it came to pass, when they were jealous against him, God said unto him: Slay for me the fruit of thy belly and offer for my sake that which I gave thee. And Abraham did not gainsay him and set forth immediately. And as he went forth he said to his son: Lo, now, my son, I offer thee for a burnt offering and deliver thee into his hands who gave thee unto me. 3. And the son said to his father: Hear me, father. If a lamb of the flock is accepted for an offering to the Lord for an odour of sweetness, and if for the iniquities of men sheep are appointed to the slaughter, but man is set to inherit the world, how then sayest thou now unto me: Come and inherit a life secure, and a time that cannot be measured? What and if I had not been born in the world to be offered a sacrifice unto him that made me? And it shall be my blessedness beyond all men, for there shall be no other such thing; and in me shall the generations be instructed, and by me the peoples shall understand that the Lord hath accounted the soul of a man worthy to be a sacrifice unto him. 4. And when his father had offered him upon the altar and had bound his feet to slay him, the Most Mighty hasted and sent forth his voice from on high saying: Kill not thy son, neither destroy the fruit of thy body: for now have I showed forth myself that I might appear to them that know me not, and have shut the mouths of them that always speak evil against thee. And thy memorial shall be before me for ever, and thy name and the name of this thy son from one generation to another. (LAB 32:2-4)
So when we find in much later rabbinic writings we can be confident that
xxii. 8. And Abraham said: The Word of the Lord shall prepare a lamb for Himself. If not, my son, you shall be the burnt offering. And they went together with a quiet heart.

xxii. 10. Abraham stretched out his hand and took the knife to kill Isaac his son. Isaac answered and said to Abraham his father: Bind my hands properly that I may not struggle in the time of my pain and disturb you and render your offering unfit and be cast into the pit of destruction in the world to come. The eyes of Abraham were turned to the eyes of Isaac, but the eyes of Isaac were turned to the angels of heaven. Isaac saw them but Abraham did not see them. In that hour the angels of heaven went out and said to each other : Let us go and see the only two just men in the world. The one slays, and the other is being slain. The slayer does not hesitate, and the one being slain stretches out his neck. . . . 

xxii. 14. Abraham worshipped and prayed the Name of the Word of the Lord, and said: O Lord, You are He that sees and is unseen! I pray: all is revealed before You. It is known before You that there was no division in my heart at the time when You told me to offer Isaac my son, and to make him dust and ashes before You. But I departed immediately in the morning and did Your word with joy and fulfilled it. Now I pray for mercy before You, O Lord God that when the children of Isaac come to a time of distress. You may remember on their behalf the binding of Isaac their father, and loose and forgive them their sins and deliver them from all distress, so that the genera- tions which follow him may say: In the mountain of the Temple of the Lord, Abraham offered Isaac his son, and in this mountain – of the Temple – the glory of the Shekhinah of the Lord was revealed to him.
In the Bible Isaac has an entirely passive role when Abraham offers to sacrifice him. Yet later rabbinical writings assign him an active heroic role: he is portrayed as knowing beforehand that he is to be sacrificed and he goes willingly to accept death at his father's hand. He even begs his father Abraham to bind his hands so he will not involuntarily struggle to stop the knife.
---
Vermes, Geza. 1973 (1961). Scripture and Tradition in Judaism: Haggadic Studies. 2nd ed. Studia Post-Biblica ; v. 4. Leiden: Brill.
---
The following two tabs change content below.
Neil Godfrey
Neil is the author of this post. To read more about Neil, see our
About page.
Latest posts by Neil Godfrey (see all)
---
If you enjoyed this post, please consider donating to Vridar. Thanks!
---