Hermann Detering has a new essay (70 pages in PDF format) that will be of interest to many Vridar readers — at least for those of you who can read German. In English the title is The Gnostic Interpretation of the Exodus and the Beginnings of the Joshua/Jesus Cult. 
See his RadikalKritik blog: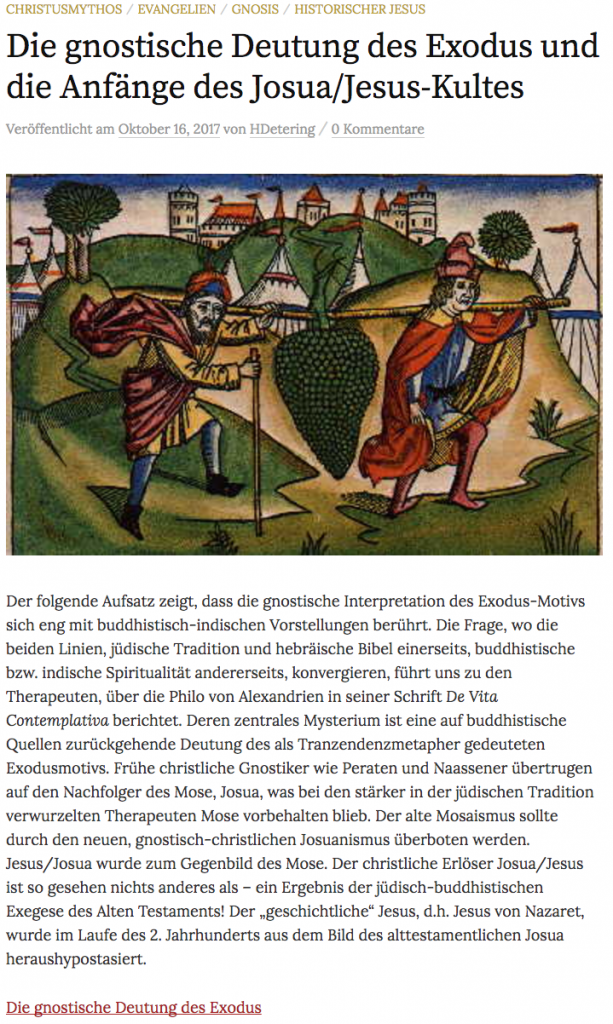 The work begins with reference to Philo's allegorical interpretation of the Exodus and concludes with references to Buddhism. . . .
5 Zusammenfassung

Ausgehend von der gnostischen Interpretation des Exodus-Motivs und der Frage ihrer religionsgeschichtlichen Herkunft stießen wir auf die zentrale Bedeutung des als Transzendenzmetapher gebrauchten Bildes vom "anderen Ufer", das in der indischen/buddhistischen Spiritualität eine erhebliche Rolle spielt. Die Frage, wo die beiden Linien, jüdische Tradition und hebräische Bibel einerseits, buddhistische bzw. indische Spiritualität andererseits, konvergieren, führte uns zu den Therapeuten, über die Philo von Alexandrien in seiner Schrift De Vita Contemplativa berichtet.

Nachdem die buddhistische Herkunft der Therapeuten plausibel gemacht wurde, konnte gezeigt werden, dass ihrem zentralen Mysterium eine auf buddhistische Quellen zurückgehende Deutung des Exodusmotivs zugrundeliegt. Diese Deutung enthält zugleich den Keim für das christliche Taufsakrament. Frühe christliche Gnostiker wie Peraten und Naassener übertrugen auf den Nachfolger des Mose, Josua, was bei den stärker in der jüdischen Tradition verwurzelten Therapeuten Mose vorbehalten blieb. Der alte Mosaismus sollte durch den neuen, gnostisch-christlichen Josuanismus überboten werden. Jesus/Josua wurde zum Gegenbild des Mose.

Der christliche Erlöser Josua/Jesus ist so gesehen nichts anderes als – ein Ergebnis der jüdisch-buddhistischen Exegese des Alten Testaments! Der "geschichtliche" Jesus, d.h. Jesus von Nazaret, wurde im Laufe des 2. Jahrhunderts aus dem Bild des alttestamentlichen Josua heraushypostasiert. 
Translators . . . . Where are you? We need you now!
The following two tabs change content below.
Neil Godfrey
Neil is the author of this post. To read more about Neil, see our
About page.
Latest posts by Neil Godfrey (see all)
---
If you enjoyed this post, please consider donating to Vridar. Thanks!
---