Each time I visit Thailand I find myself wondering if I am in a country with religious parallels to the ancient Mediterranean world in which Christianity emerged. Obviously there are enormous differences, too, and it would be silly to ignore those and try to say that Thailand, like a number of other east Asian countries are replicas of the world of the New Testament. But history does rhyme, does it not? Take a look at these photos…
Everywhere one turns there is an image of the king or his wife looking benignly upon all and sundry. Thais overwhelmingly demonstrate adoration for their beloved king. People have photographs of him in their homes, in their business offices, in their work factories. And of course in public places, roadways, buildings. King Bhumibol Adulyadej (Rama IX) died in October last year but there is a year long period of national mourning and the amount of black being worn by shoppers and office workers cannot fail to be noticed. Westerners who come from a tradition of mocking their leaders should understand the seriousness of Thai customs and their lèse-majesté laws. Do let the reader understand!
Check out the official name of a certain hospital building, too. The same name cum date cum title cum occasion, in full just as you see it here, is attached to the building itself.

But that's just what we should expect in a city whose full ceremonial name is nothing less than
"City of angels, great city of immortals, magnificent city of the nine gems, seat of the king, city of royal palaces, home of gods incarnate, erected by Vishvakarman at Indra's behest."
But you can call it Bangkok, or if you want to impress the locals, Krung Thep.
Then there is the religious variety. Thailand is a Buddhist country but people are seen pausing to pray to images or other reminders of Hindu and Chinese deities or spirit protectors as well. One even sees the occasional reminder of Christianity as one of their options.
Buddhist temples are ubiquitous, of course.
But then there are any Hindu deities everywhere, too, and people don't mind what their provenance, they will very often be seen praying to them without discrimination.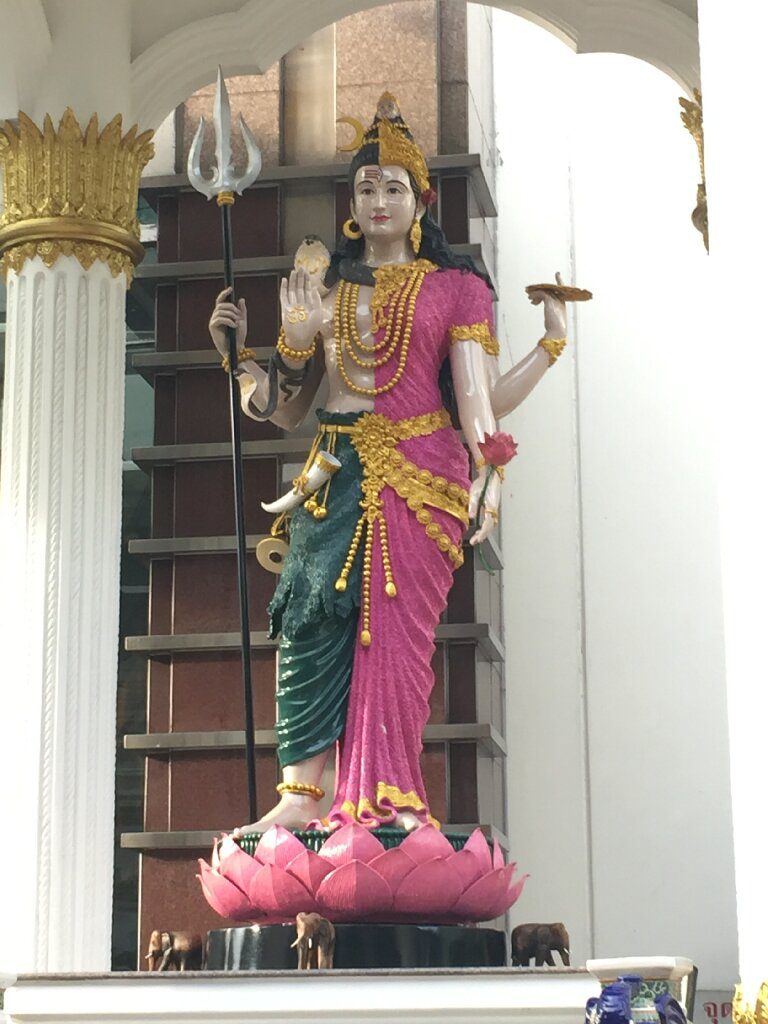 And Chinese temples, too
And in the midst of all this menagerie I suddenly spotted a crucifix attached to a lintel of god-knows-what. The people below were trying to make a living selling odds and ends and had nothing to do with the cross as far as I could tell. (To be fair to the Christians in Thailand they also have large expensive hospitals and churches, too.)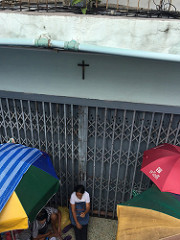 And no walk down millennia of rhyming cultures would be complete without sacrificial animals for sale. In this case, fish in one bucket and snakes in the other.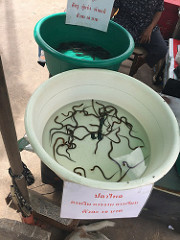 And praying in public without any self-consciousness. It seems everyone has in their own homes and businesses, and in their household gardens, shrines like this public one.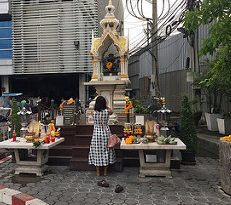 No travel would be complete without the ambiguities in translation. Is Inn a personal name among Thais?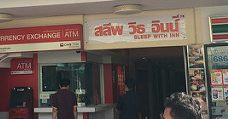 And of course travel never fails to broaden the mind. I confess my sheltered puritanical upbringing never exposed me to some of the soap shapes like these (not talking about the yellow ones). And museums have taught me that artisans have never tired of the same themes across the millennia. Another for Brown's human universals?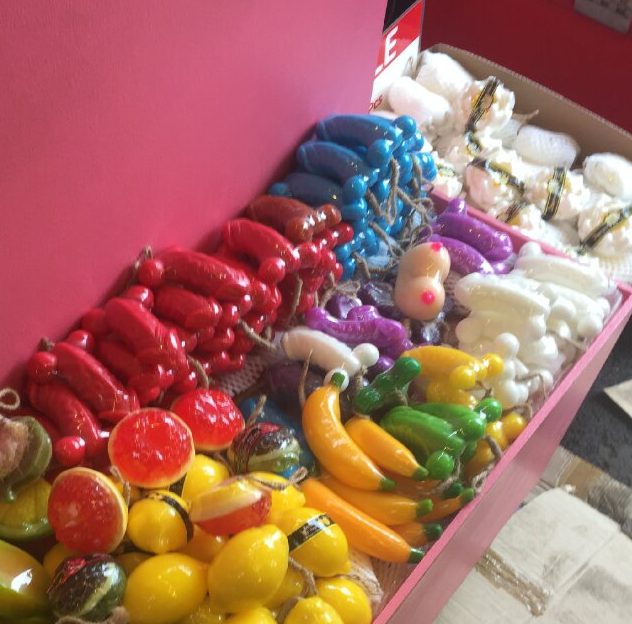 The following two tabs change content below.
Neil Godfrey
Neil is the author of this post. To read more about Neil, see our
About page.
Latest posts by Neil Godfrey (see all)
---
If you enjoyed this post, please consider donating to Vridar. Thanks!
---