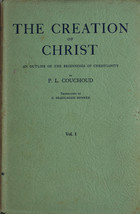 Thanks to Frank Zindler the full text of P.L. Couchoud's Creation of Christ (translated by C. Bradlaugh Bonner, published 1939) is now available online.
Back in 2012 I posted outlines of Couchoud's work here on Vridar. Since then Frank Zindler has digitised both volumes and made them available for public download.
For future reference the PDF files are on my vridar.info resources website under the heading: "The Creation of Christ: An Outline of the Beginnings of Christianity" by P. L. Couchoud.

You can also access them here: